As Apple's (NASDAQ:AAPL) shareholders are anxiously awaiting tonight's earnings call, there are two extremely important items to remember.
1. No matter what happens tonight, Apple is in good shape to tackle a general market that has seen an already rocky 2014. If irrational activity causes Apple's price per share to drop, since 30% of the company is made up of cash, Apple has an excellent opportunity to buy back shares at a lower price (less cash needed to purchase same amount of shares).
2. Additionally, 2014 should be a revolutionary year for Apple. Shareholders have been eagerly awaiting new products, which should finally be arriving this year. Any forward guidance might not include the impact new products would have on Apple in the longer term.
In this article I will focus on one such new product that I believe will truly revolutionize a growing industry.
Following an article I published 10 days ago, Apple's Story: The Beginning Has Arrived, the WSJ announced (over the weekend) that Apple "is laying the groundwork for an expanded mobile payments service, leveraging its growing base of iPhone and iPad users and the hundreds of millions of credit cards on file through its iTunes stores." The patent for such a device was filed in June of 2013 and here's an image of how it would work: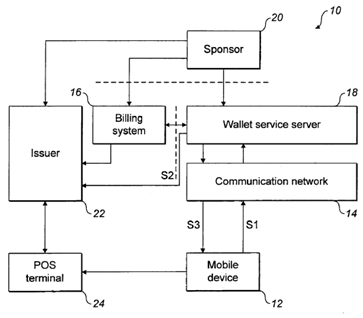 In its description, Apple described the product as "a system and method for delivering upon request credits having monetary value to a mobile device using a communications network."
It then says the following:
"Credit may be offset, or sponsored, by one or more token providers and issued to the user, upon authorization, to enable the user to use the mobile device to purchase items."
This certainly is intriguing and something I have been eagerly awaiting for many years. While the concept of paying users some value through points, tokens, and miles already exists, in its current form it is extremely inefficient and almost always disfavors the users/customers.
In its article following the release of Apple's payments patent, Venturebeat pointed out that "Apple is late to the virtual wallet game, a market that is led by long-time payments innovator PayPal." While Apple might be late to the actual concept of virtual payments, the company arrived just in time to revolutionize an industry that is currently entirely in disarray and is looking for a leader. And what is Apple's core strength? Not in introducing new ideas and spending resources in promoting them to the general public. Apple's strength is in finding weaknesses in these relatively new hot industries, reengineering the concepts in entirely novel ways, and revolutionizing them while in the process becoming their market leaders. This is exactly what Apple has done with the Mac, the iPod, the iPhone, and the iPad.
Except the payment system could take that to the next level.
The way I see it, in addition to having the capability of being an alternative to PayPal, Apple might not necessarily be betting on an enormous revenue source from a Payments division. Instead, Apple could use the payments system to attack Google's (NASDAQ:GOOG) advertising revenue model that is currently in some form posing as a competitive threat to Apple's hardware model.
Advertising revenue currently makes up the bulk of Google's $33 billion TTM gross revenue. That revenue is made possible through the generous time users spend on the internet and the amounts of money advertisers are willing to pay Google in return for Google's users and ad services. The model clearly works. Google offers its users a free browsing experience, which generates attractive gross revenues and allows Google to build cool gadgets like self-driving cars and Google Glasses. More importantly, the company is able to offer free operating systems to smartphone companies across the world in return for advertising revenue generated from user clicks. A very impressive model that creates an extremely lucrative upside for Google.
At the same time, it's the users that make Google's vast gross margins possible and that allows Google to pay generous compensation and benefits packages to employees while also creating nice shareholder value for investors. However, it also leaves an enormous weakness in its current model and Apple as its main competitor with such enormous scale has the opportunity to easily exploit the weakness.
How exactly would that happen?
Using its very large base of 575 million users, which could soon reach 10% of the entire world, Apple could attract advertisers by offering a unique service. Apple could share revenues with users who are participating in clicking on and watching advertisements on its OS.
How would this work? The following flow chart shows the major differences in the revenue models between Google and how I envision Apple Payments to partially work. Notice that the major difference is in the way Apple would treat its users by making them "partners" in its business model and sharing revenues with them (vs. Google, which just offers users an experience).

In the Apple model, users will have the ability to opt in - by signing an agreement with Apple - and the iPad maker could create an algorithm that would pay users for their organic clicks on advertising through its iOS. For example, a company could select to post an advertisement for 10,000 customers with specific spending habits. Each click will cost the company 20 cents. If I am such a customer and I view 100 such ads over a month's time, I would make $20.
So if the mobile ad market is expected to explode to $42 billion by 2017 and Apple can heavily participate in the market through its payments model, the company would allow some of its most active users to truly take advantage of the program. Imagine active users receiving real money that could 1. subsidize the cost of their hardware purchases and 2. buy necessities like food and clothing, or reduce their monthly wireless bills. If users' purchasing behavior is closely linked to the advertisements they are clicking on, the model would increase payments for user clicks from advertisers. This would create a real exchange: bidders would be the companies and askers would be the users through Apple's algorithm. It would truly revolutionize the advertising space.
The flow chart above clearly shows that through its mobile payments system, Apple could clearly create a competitive advantage over Google's current advertising model - one in which users could favor iOS over Android simply because they're being paid to use Apple. It would also pose as one of the most serious threats to Google's current revenue model in its history.
Please message me with any questions or feedback.
Disclosure: I am long AAPL, . I wrote this article myself, and it expresses my own opinions. I am not receiving compensation for it (other than from Seeking Alpha). I have no business relationship with any company whose stock is mentioned in this article. This article represents my views only and not the views of any company that I am affiliated with. This article is intended for informational and educational purposes only and shall not be construed to constitute investment advice. Nothing contained herein shall constitute a solicitation, recommendation, or endorsement to buy or sell any security or private fund.