Polaris Industries (NYSE:PII) manufactures a diverse array of motorcycles, watercraft and snowmobiles and markets parts, accessories and related lifestyle products. Here is the description from the company's website:
"Polaris is among the global sales leaders for both snowmobiles and off-road vehicles and has established a presence in the heavyweight cruiser and touring motorcycle market with the Victory and Indian motorcycle brands. Additionally, Polaris continues to invest in the global on-road small vehicle industry with Global Electric Motorcars, Goupil Industrie SA, Aixam Mega S.A.S., and internally developed vehicles. Polaris enhances the riding experience with a complete line of Polaris and KLIM branded apparel and Polaris accessories and parts." (Website)
Polaris began as a snowmobile company. From there, Polaris expanded into watercraft, off-road all-terrain vehicles, Victory street motorcycles and recently reinvigorated the iconic Indian motorcycle marquee. Unlike Harley-Davidson (NYSE:HOG), which I analyzed in this article, Polaris is a multi-product manufacturer. In this way, they are similar to the Japanese vehicle manufacturers that diversify their products. That isn't to say Polaris doesn't compete with Harley-Davidson in the heavy cruiser market, including luring Arlen Ness and family away to direct the styling and customizing of the Victory line. Polaris has successfully balanced their product lines, and this has been rewarded in the market, as this five-year chart shows.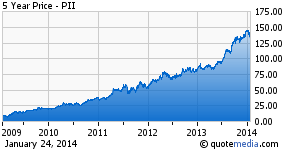 The question that I will explore is "Is this strong run since 2009 over, or is Polaris positioned for continued success in their markets and a good candidate for the investor?"
One strength Polaris has is their broad product mix. Across the motorsport markets the company competes in, their product line has distinctive features and market share. While specific products are seasonal, Polaris has done a superb job balancing this seasonality through consistent and smart growth across the product lines. Watercraft, off-road vehicles and Victory motorcycles balance snowmobiles and parts and accessories/lifestyle products provide lower price but high margin sales. Cross-marketing to expand their market occurs while some dealerships also carry other motorcycle manufacturers, providing even further diversification.
The multiple product lines are well-balanced, driving consistency across the company. Polaris isn't over-reliant on any one product line with each vehicle type contributing to the over-all strong financial results of the company. 2012 sales were $3.2Billion (again from the company website), and 2013 full year results are due out on 28 January-possibly right as this article is published. The company will hold a conference call at 9AM and post the call two hours later. Based on the strong earnings growth previously in 2013 this is expected to be a positive earnings call. Last quarter's presentation hints at a record setting year, increased margins and profitability and at least the maintenance of the higher dividend paid in 2013.
Off-road vehicles continue to be the sales leader for Polaris but other areas show strong year over year growth so far in 2013. While Victory street motorcycles doesn't move the number of units Harley-Davidson does, it has grown into a competitive and enduring brand with interest and a niche in the mind of most motorcyclists. However, the Victory line was the only product line showing a decrease in performance in 2013, with a small reduction in sales of 6%. This should quickly be reversed overall for street motorcycles as Indian sales begin to accrue. Just like Harley-Davidson, Polaris Victory realized lifestyle products are a natural brand extension that both drive solid profits (already 33% ahead of 2012 sales after three quarters of 2012) and this drives customer loyalty. While sometimes done, rarely do you see a motorcyclist wearing a branded jacket on a different motorcycle! I can only imagine buyers of new Indian motorcycles will spend fairly large sums of money on Indian jackets, t-shirts and lifestyle products as it is one of the most iconic motorcycle brands ever. Polaris did an outstanding job reviving the marquee while tying it back to the history of the brand which should drive accessory sales.
The reintroduction of the Indian motorcycle marquee is one of the new areas of growth for 2014. While other investors and companies have tried to reintroduce the brand over the past two decades, none had the resources Polaris has dedicated, nor the experience the company gained introducing and building the Victory brand, to put into the project. At the recent International Motorcycle Show I attended in Long Beach CA, the Victory display was as large as the Polaris one and was completed dedicated to the Indian brand. While the tie-in to Polaris wasn't hidden or kept secret, Indian was a stand-alone display with all the new models displayed and available to sit on, walk around and get to experience first-hand. Corporate and local dealership personnel were on hand (as were the requisite vehicle show models). Having also toured the Harley-Davidson display and not seen their new smaller cruisers for 2014 on display, it was apparent Polaris Indian was maximizing this opportunity to make a big splash. Polaris expects to sell as many Indian motorcycles in 2014 as Victory motorcycles. If this can be done without taking away from Victory sales, this will double the number of street motorcycles to over 500,000 units. One key difference from earlier attempts to reestablish Indian is the pricing-Polaris has priced the motorcycles at normal market prices for the size cruiser and accessories, where previous "new" Indians were much more expensive than similar Harley, Victory and import heavy cruisers.
Space, and my personal experience, does not allow me to discuss the other "new for 2014" introductions but they are broad and across the company. International sales, military sales, small on the road vehicles, newer off-road models, parts and accessories - all are being grown. No area seems to be left to wander as Polaris seeks to be a major if not the leading player in each of the segments they compete in. Even credit and acceptance are getting healthier-one major concern for Harley-Davidson as well.
Taking all of this into account, it is apparent that Polaris is "firing on all cylinders". The company is well-run across diverse yet complimentary product lines without losing its way. This is recognized by both institutional and fund managers and in the stock price. There hasn't been a major downturn in the stock in the past five years. Of note, the broad downdraft last week affected Polaris sharply, with the stock losing nearly $9 a share from a near 52 week high on Wednesday to around $133 at Friday's close. This is likely an overreaction and some excessive profit taking after the large run of over 50% gain in just over 12 months. The stock has a dividend yield of 1.3% and is likely to announce the upcoming dividend on January 28th when it reports earnings. Per this article, consensus expectations are for 25% earnings growth.
Personally I think Polaris deserves analysis as part of a diversified portfolio and offers a better opportunity overall than Harley-Davidson due to its diverse product line, the introduction of Indian motorcycles, and its strong financial position. However, care must be taken as the full product line could be considered a discretionary purchase and over-all economic health could impact Polaris like any other company that is as reliant on direct consumer sales. Countering this is the new movement into military sales and international growth. With its broad product mix, Polaris has some ability to weather a larger downturn but does have some risk an investor would be wise to consider. But overall I think Polaris will continue to be a rising star.
Disclosure: I have no positions in any stocks mentioned, and no plans to initiate any positions within the next 72 hours. I wrote this article myself, and it expresses my own opinions. I am not receiving compensation for it (other than from Seeking Alpha). I have no business relationship with any company whose stock is mentioned in this article.