Finding the right ETFs can be an effective way to match or outperform the broader market while diversifying among many companies. An ETF that outperforms the SPDR S&P 500 (NYSEARCA:SPY) and the SPDR Dow Jones Industrial Average (NYSEARCA:DIA) by a significant margin is the Vanguard Small Cap Growth ETF (NYSEARCA:VBK). This low-cost ETF is a collection of 680 small-cap growth companies. Since small-cap companies typically have more growth ahead as compared to many of their larger counterparts, their stocks typically outperform over the long-term. This is reflected in VBK's strong performance.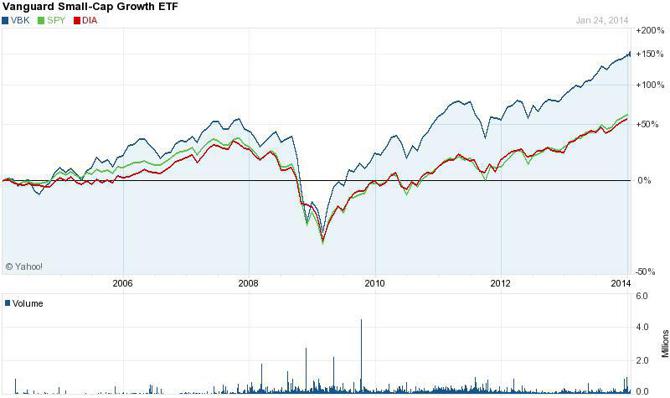 Vanguard is usually a wise choice for investors due to its low-cost funds. The expense ratio of an ETF can be an easily hidden factor that reduces investor's returns over time. Vanguard maintains low expense ratios, which benefits investors. The Vanguard Small-Cap Growth ETF has an expense ratio of just 0.10%. This is 93% lower than the average expense ratio of funds with similar holdings. As a comparison, the SPDR S&P 600 Small Cap ETF (NYSEARCA:SLY) has an expense ratio of 0.24%.
Here's a look at the top 10 holdings in the fund:
| | | | | |
| --- | --- | --- | --- | --- |
| Company | % of fund | Market Cap | Forward PE | 5-yr. Expected Annual Earnings Growth Rate |
| Fortune Brands Home & Security (NYSE:FBHS) | 0.63% | $7.9B | 24 | 39.7% |
| Westinghouse Air Brake Technology (NYSE:WAB) | 0.56% | $7.36B | 22 | 15% |
| Jazz Pharmaceuticals (NASDAQ:JAZZ) | 0.51% | $9.19B | 20 | 19.3% |
| The Cooper Companies (NYSE:COO) | 0.50% | $6B | 16 | 15% |
| Dick's Sporting Goods (NYSE:DKS) | 0.48% | $6.7B | 17.28 | 15.5% |
| Lincoln Electric Holdings (NASDAQ:LECO) | 0.48% | $5.85B | 18.6 | 13.8% |
| Toll Brothers (NYSE:TOL) | 0.48% | $6.5B | 16.3 | 46.5% |
| GNC Holdings (NYSE:GNC) | 0.46% | $5B | 15 | 19.5% |
| Level 3 Communications (NASDAQ:LVLT) | 0.46% | $7.4B | 56 | 4% * |
| Alkermes (NASDAQ:ALKS) | 0.46% | $6.9B | 36.6 | 22.7% |
Interestingly, these companies are all mid-caps by definition of having market-caps between $2 billion and $10 billion. They were trading closer to the actual small-cap definition of under $2 billion in market cap about a year ago, before 2013's strong performance. This is a good thing because these companies have proven themselves as small-caps and are growing at an above average pace. These companies are likely to reach the large-cap stock classification as they continue to grow. *Note that although Level 3's earnings growth looks small, the company is expected to grow earnings at 200% in 2014.
Although the fund is fairly valued with a PE of 25, the stocks that comprise the ETF have expected earnings growth that exceeds the growth of the SPDR S&P 500 and the SPDR Dow Jones Industrial Average, which is between 9% and 12%. The strong earnings growth of VBK's components is what drives the ETF to outperform SPY and DIA.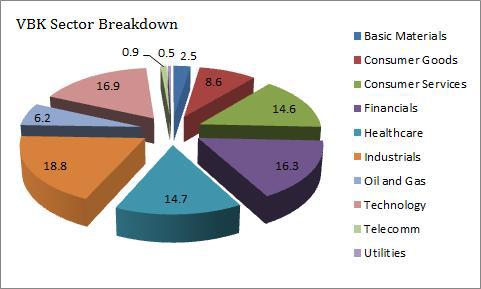 Small-cap stocks are considered to have more risk than their larger counterparts. However, this fund owns hundreds of companies, so investors have their money spread out among a large breadth of stocks across numerous sectors. If a few companies fail, the high performing companies more than compensate for those losses. This is evident in the long-term performance of the fund. VBK did fall a few percentage points more than SPY and DIA during the 2008 financial crisis (VBK -59%, SPY -56%, DIA - 54% from the peak in Oct 2007 to the bottom in March 2009). However, VBK recovered more vigorously after the crisis as its outperformance widened since then.
To conclude, I think that the rewards of picking a small-cap oriented ETF such as VBK would outweigh the risks over the long-term. If an investor intends to hold the fund for more than 10 years, then the risk of loss due to recessions are minimized. The recovery phase of the economic cycle shows that VBK achieves higher percentage gains than the standard market indexes. The current sell-off in the market should create a good entry point for a long-term position in VBK.
Disclosure: I have no positions in any stocks mentioned, and no plans to initiate any positions within the next 72 hours. I wrote this article myself, and it expresses my own opinions. I am not receiving compensation for it (other than from Seeking Alpha). I have no business relationship with any company whose stock is mentioned in this article.