Research in Motion (RIMM) got slaughtered when it missed its earnings. Now that RIMM has come down in share price, is it a better buy than Apple (NASDAQ:AAPL)? After all, as RIMM points out, it's the number one seller of smartphones in the United States.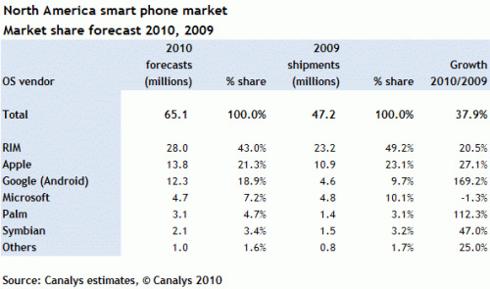 RIMM still holds a commanding position in the smartphone space. They're right to be proud. It's a great achievement.
What RIMM doesn't say (and, as far as I can tell, no one else has noted) is that Apple has surpassed them in total smartphone revenues. This quarter RIMM reported sales of $4.1 billion in revenue for their whole company. Apple surpassed them, selling $4.6 billion worth of iPhones in Q4 2009 and, more recently, $5.6 billion in Q1 2010. Remember, the iPhone didn't exist until mid 2007. iPhone sales have gone from zero to $5.6 billion in about 900 days. It's very hard to compete against that explosive growth.
Despite selling fewer phones, the ASP for the iPhone is far greater than RIMM's $311. AT&T (NYSE:T) reportedly pays Apple $600 a phone. Revenue/phone sold for RIMM for the quarter was $388 while Apple's was $638 a phone (see here - pdf). Apple gets a premium on its smartphones pricing, whereas RIMM, Nokia (NYSE:NOK) and PALM (PALM) are forced to discount theirs. In investing, it's best to follow the growth. And, here, Apple has already left the pack far behind.
Note: Revenue/phone for RIMM is $4.08 billion/10.5 million devices, for AAPL $5.58 billion/8.74 million units.
Disclosure: Author holds a long position in AAPL