Much has been made of the "turnaround story" at YRC (NASDAQ:YRCW) in the past nine months, and although some of this speculation comes with merit, it is mostly just that - speculation. After delving into the company's financial history, and taking a closer look at key characteristics of trucking's less than truckload (LTL) industry, it becomes clearer just how behind YRC is in comparison to its peers. Let us examine a few major areas through the lens of Michael Porter and his views on competitive advantage, to further support the contention that YRC is the weakest player at the table, both operationally and strategically.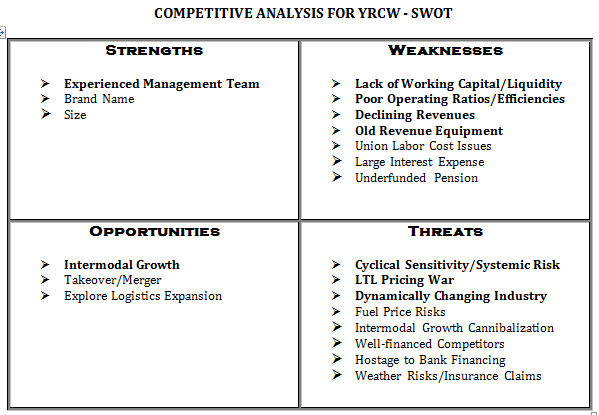 Strengths
Management Team:
Beginning with YRC's strengths, while few and far between, given the financial state of the company today we must still place a strong focus on the current management. This turnaround team is, in essence, a group of "highly paid consultants" given the task of steering a debt-ridden ship back on course. While the team, including its board of directors, is quite experienced in areas ranging from corporate restructurings to transportation logistics; let us concentrate our attention on a few members, namely: current CEO - James L. Welch, current CFO - Jamie G. Pierson, and elected Series A Director - Harry J. Wilson. With over 30 years of experience in the transportation industry and prior history as the President and CEO of Yellow Transportation, Mr. Welch brings with him a prior knowledge of the company, one that may be well-suited for such a "turnaround story." Likewise, Mr. Pierson, who has been with the company since 2011 and heavily involved with their operations and restructuring, brings with him a keen understanding of YRC's finances. Finally, Mr. Wilson, the President and CEO of MAEVA Advisors (a turnaround and restructuring boutique), offers a working understanding of YRC's financing arrangements and balance sheet, as he served as an advisor for the company's 2011 restructuring. While this last bit regarding Mr. Wilson's role with the company seems to encroach on a conflict of interest, let us discount that for the time being. After looking into the 2012 Proxy Statement, it is clear that the risk profile for these members is quite asymmetric, with high base salaries serving as a floor for their compensation and a seemingly unlimited upside built around EBITDA and operating targets. This really makes one think that they are worth the pretty penny YRC is shelling out for them. For example, Harry Wilson, per the 2012 proxy statement, will have collected almost $5.5 million in "advising fees," and the meter is still running. The question however remains; how much experience does it take to right the wrongs of years of overspending on acquisitions and years of under-spending on fleet replacement? One does not need an MBA in finance to make decisions to purchase new tractor equipment. It is just common sense. The debt on YRC's balance sheet is not overly complex. It is high interest rate, 10% - 14% coupons on $1.35 billion, maturing in one to two years. While we give credence to the fact that management has improved YRC's financial position since 2011, it still seems that there is only so much they can do to return this company to sustained profitability.
Weaknesses
Lack of Working Capital:
Moving forward, let us examine a few of the glaring weaknesses that have kept YRC's LTL business stuck in neutral, while its peers continue to accelerate with the modestly improving economy. A few handicaps stand out more than the rest on a long list of disadvantages, namely YRC's: 1) Lack of Working Capital, 2) Outdated Revenue Equipment, 3) Declining Revenues, and 4) Poor Operating Ratios.
In our opinion, the lack of free capital hurts this company the most today as the very nature of the LTL business is centered on making capital expenditures to purchase new revenue equipment with the goal of maintaining a relatively fresh and up to date fleet. Aside from it being obvious by looking at the rusting YRC tractors and trailers on the road today, using the most recent 10-K filings along with some independent calculations, we have constructed a table to more accurately highlight just how archaic YRC's revenue equipment is in relation to certain LTL competitors.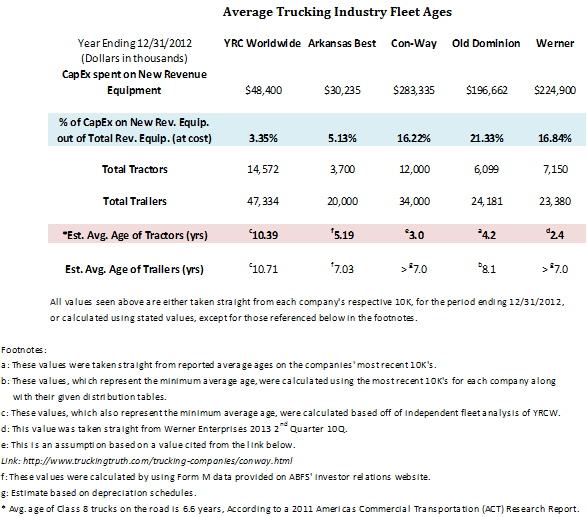 Old Revenue Equipment:
As one can see, YRC's revenue equipment (at a bare minimum) averages over 10 years of age, making their fleet roughly twice as old as the average age of Class 8 trucks on the road today, and approximately three to four times as old as the average age of their peers' fleets. The uphill battle of fleet modernization only becomes more difficult considering the company's current liquidity crunch, not to mention, the steep hikes in tractor MSRP values over the past decade due to EPA restrictions on emissions, and the resulting SmartWay standards for engines. No cash means no new tractors owned by the company - one that should be spending at least $200 million a year on revenue equipment, when taking into account peers of comparable size (i.e. Con-Way Inc.). The situation only worsens after realizing that substantially all of the 2013 capital expenditures on revenue equipment thus far have been spent on engine replacements and trailer refurbishments - not a single new tractor or trailer - and that YRC plans to continue this for all of 2014. Clearly, their fleet will not be getting any younger in the next year; meanwhile their peers continue to make regular investments in their capital stock.
Declining Revenues:
If their lack of liquidity and their archaic revenue equipment do not hint that YRC is in the midst of a contractionary period, then maybe the following weakness will help shed light on the difficulties facing the company. In 2008, YRC reported operating revenues of roughly $8.9 billion - in their most recent 10-K they reported operating revenues of $4.8 billion, a drastic fall from what used to be industry leading figures. Indeed, while one reason revenues have been declining at YRC is because of their prior restructuring, a second reason may point to the loss of some of their client base. Since the average length of most LTL contracts is usually about one year, and because the industry is highly competitive in nature, it is quite feasible to imagine that some of YRC's customers have been taken by their competitors. We know this to be true because all of the other major competitors have seen revenue increases from 2008 - 2012, while the U.S. economy has expanded annually at a growth rate between 2 and 3%. With revenues declining, or stagnating at best, EBITDA cannot grow, especially considering that a majority of the revenue equipment YRC owns has little depreciable value left. In order to help convey the points made above, we constructed a table to illustrate the history of revenue growth (decline) for six major players in the LTL industry, specifically: Con-Way (NYSE:CNW), YRC, Arkansas Best (ABFS), FedEx Freight (NYSE:FDX), UPS Freight (NYSE:UPS), and Old Dominion (NASDAQ:ODFL).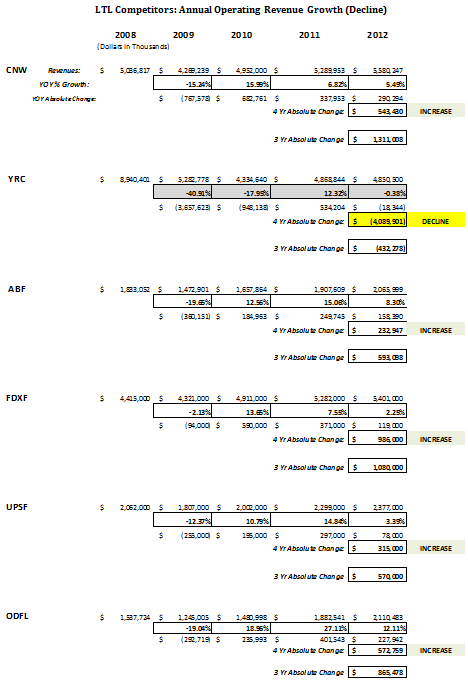 Looking at the revenue history in the table above, one can see that YRC has really taken a plunge in the past five years, all the while allowing the rest of the industry to catch up, and in the case of Con-Way and FedEx Freight, even pass it by. What's really concerning however is the trend in the past three years where, with the sluggish revival of the economy, every other LTL peer has picked up revenues, while YRC has declined. Even taking into account just the year-end 2012 results, we see YRC's revenues fall by 0.38%, while others such as Arkansas Best, and Old Dominion display revenue growth of 8.30%, and 12.11% respectively.
Poor Operating Ratios:
Understanding some of the key metrics for the LTL industry allowed us to narrow our scope in regards to YRC's list of weaknesses and helped us identify the next major handicap. In a highly competitive environment based on pricing and volume, operating ratios and efficiencies dictate just how much flexibility a company has within its operations. In the specific case of YRC, a company restricted by bank EBITDA covenants, the EBITDA metric also affects this flexibility. We decided to construct a few tables using the 10-K and 10-Q, annual and quarterly, filings for a group of LTL companies and segments in order to exemplify the scarce breathing room available to YRC. The first table illustrates a five-year history of operating ratios (1 - operating margin) along with EBITDA generation in each respective year.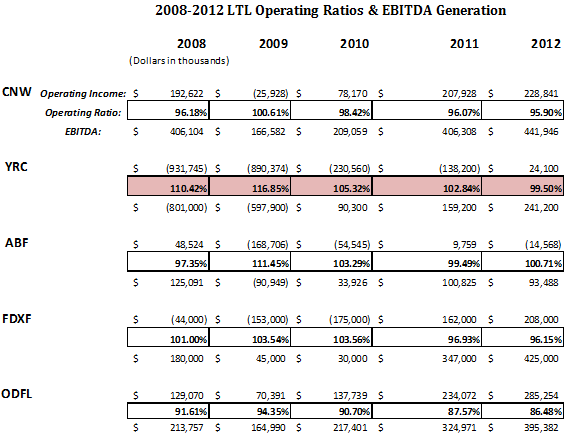 Although this history shows a clear improvement from YRC's 2008 and 2009 operating ratios and EBITDA, there is still much left to be desired, especially when compared to Old Dominion's industry leading margins. The issue deteriorates after realizing that YRC's aged fleet will require more maintenance as time passes and that several of their outdated gas guzzlers add to fuel expenses that other companies have cut down on by transitioning to the more fuel efficient, EPA compliant, engines as mentioned earlier. What's really shocking however, is the fact that a company such as Old Dominion, which brings in less than half the revenues of YRC, generates roughly twice the EBITDA. This just goes to show how poorly run, and inefficient, YRC actually is. The second table uses the same methodology to illustrate this year's quarterly (up to and including Q3) operating ratios and EBITDA numbers for the same group of carriers.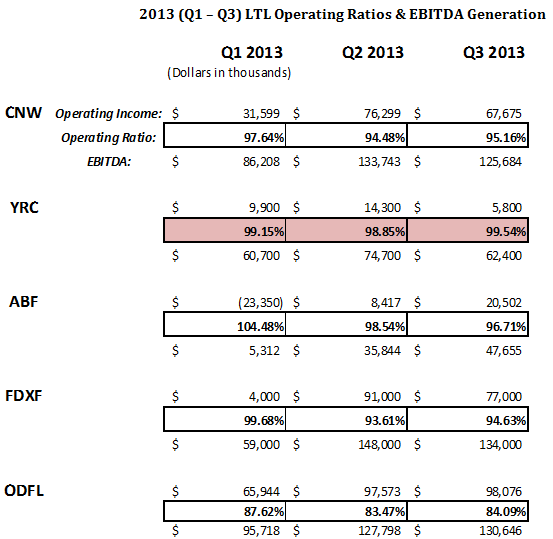 Here we see what appears to be YRC making progress with a quarter over quarter improvement from Q1 to Q2, however, YRC's Q3 operating ratio speaks against such turnaround theories as the company slips operationally while fellow LTL trucker ABFS returns to profitability. With all the other LTL peers showing clear signs of operating improvement from Q1 to Q3, YRC continues to struggle, which should make us wonder: does this company have the financial flexibility to survive another cyclical economic downturn? The economic downturn is coming, likely late 2014, or 2015, not a question of "if," only a question of "when."
Threats
Cyclical Sensitivity:
Since we have just brought up the topic of the economy's impact on the trucking industry, let us bypass the opportunities analysis and first focus on the impending threats that YRC faces. A few of these strike us as having more relevance relative to the rest in the case of YRC, the first of which is the extreme cyclical sensitivity of the industry to the economy. In the past month, UPS, CNW, and SWFT pre-announced worse than expected Q4 results due to a combination of severe winter weather, a contracted holiday shopping season and online orders placed later in the year than usual (resulting in delayed shipments). Think about this for a moment - if the winter weather is taking a toll on these companies' newer fleets, what do you think it would have done to YRC's old, poorly maintained, revenue equipment? Furthermore, Q1 and Q4 are historically adverse quarters, mainly due to the weather and associated maintenance and fuel costs, which is all the more reason to be wary of YRC's next two earnings announcements. In a broader sense however, if the economy were to dip back into a recession, YRC would have no room to make the necessary adjustments, as they are over levered, inefficient, and barely profitable. We believe YRC will report a "throw away" quarter in Q4 as the losses will be very, very large.
LTL Pricing War:
Juxtaposed to this systemic risk is the non-systemic threat of a highly competitive industry in and of itself. The cost structure of the LTL segment, as opposed to TL, is heavily comprised of fixed costs required to maintain a network of trucks, which brings us to our second major threat: YRC is a highly levered company operating in a space with razor thin margins, little room for error, and very powerful competitors. Why should this be viewed as a noteworthy threat? Well, in the case of another pricing war, such as the one that took place in 2009, YRC would likely have limited remaining options (no ability to raise capital), for taking on more debt is out of the question. The company's already poor operating ratio cannot afford to take any more of a hit than it has, especially considering the nature of the LTL business along with the large amount of debt YRC has maturing in the next nine months. As suggested above, YRC has relatively fixed labor costs, in the sense that LTL carriers cannot shed a significant portion of their labor expense simply to adjust to slowdowns in business without closing down networks or terminals (thereby reducing capacity). To make matters worse, the fact that YRC is a union shop places even more pressure on their already thin margins. Simply put, YRC would really have little to no pricing power in the event of a LTL pricing war. Given a choice among three or four trucking companies, why would any customer select a vendor with a 10-year old truck fleet, the highest wage cost in the industry, and a market laggard in technology and logistics? Premium customer service levels will never overcome all of those critical shortfalls. To demonstrate the tight margin environment YRC is working in, we have included another table below.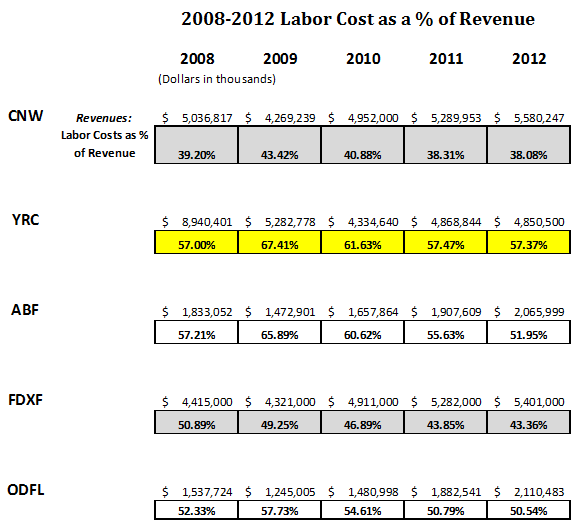 Here we can see how unionized labor costs have really been eating into this company's operating profits (or lack thereof) for quite some time now, and have been responsible for the brunt of their expenses. This unfortunate scenario is the very reason YRC Teamster employees were asked to continue sacrificing by voting on an extension of the current MOU, which by now you probably know was ratified. For a company in the precarious financial situation that YRC is in, especially given the added pressures of high union labor expenses, everything must go operationally perfect these next couple of quarters.
Dynamically Changing Industry
To make matters worse, from a strategic standpoint YRC is not fit to operate in the current LTL industry. Neither does it hold pricing power over its competitors, nor has it focused on differentiation to secure a niche market for itself. There has been a wide-scale transformation of the industry in the last decade - a transformation that YRC has not kept pace with, while its peers have. With the onset and rapid growth of online purchases, there has been a shift away from what used to be traditional break-bulking, to what is now small package delivery - shipped directly to the end user instead of to middlemen or warehouses. Aside from this, intermodal transport has also been showing strong growth within the transportation industry. YRC seems to have fallen behind in this area as well; possibly so much that intermodal has cannibalized some of their truckload and LTL revenues. Stack containers on trains with one operator are twice as efficient and cost effective as trucks on a traffic-clogged highway driven by union labor. Again, the lack of financial flexibility naturally makes it difficult for a company such as YRC to focus on strategic opportunities, but at some point in time that is exactly what they have to do (or should have done), considering their operational efficiencies have not done them much good. This brings us to the final section of the SWOT analysis.
Opportunities
Intermodal & Logistics Growth:
Although in the section above we have mentioned intermodal growth as a threat to YRC, this does not mean it cannot serve as a strategic opportunity for them if they were to take advantage of it. We understand the strained monetary position of the company, but give it the benefit of the doubt that it can explore options for growth in this relatively new sector. Along these same lines, there may be the potential for an expansion of the company's small logistics segment. Several of YRC's LTL peers operate relatively large logistics units, and YRC might want to consider doing the same if it wants to stay competitive. While the options may be limited, we think that some strategic move has to be put into action in order for this company to survive going forward.
In regards to YRC's competitive advantage, one might contend that operational efficiency, while essential to any carrier in such a thin margin industry, by itself is not enough, for it can be readily duplicated. The fact that YRC cannot succeed at even this is worrisome, and leaves little opportunity to explore strategic alternatives for their current business model. Hindered by a plethora of weaknesses - their lack of capital, an asset base whose value is in question, their current borrowing at distressed credit rates, and their already thin margins - YRC faces great adversity moving forward. The outlook becomes even bleaker after realizing the substantial threats in the face of the company, including a powerful and capitally infused industry of competitors, the possibility of an economic downturn, and a potential LTL pricing war. Hopefully, the current management has a trump card up their sleeve, because from our research and corresponding views regarding the company, there is not much room left for error.
Disclosure: I have no positions in any stocks mentioned, and no plans to initiate any positions within the next 72 hours. I wrote this article myself, and it expresses my own opinions. I am not receiving compensation for it (other than from Seeking Alpha). I have no business relationship with any company whose stock is mentioned in this article.