Worldwide equity selloff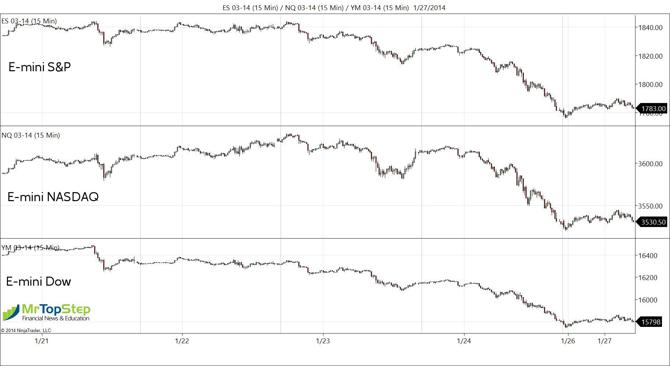 It started in China and it swept Asia. Then it moved to Europe where 12 out of 12 markets traded sharply lower. The Dow closed out the day down 1.96% and down 3.5% on the week. The S&P closed down 2.09% on Friday and down 2.6% on the week and the NASDAQ closed down 2.15% on Friday , 2.2% on the week and 0.77% on the year.
I am not here to talk about what isn't what or could be. What I am here to tell you is the foundation of the stock market is starting to show some very big stress cracks.
On Twitter last week I said, I am not here to point out moving averages or support and resistance. That is for smarter people than I. I am not a tape reader and I do not get any of the calls the trader at SAC got.
I follow price action and momentum. I keep track of something so basic that most traders don't even look at it: premium levels, fair value (FV) and volume.
Are the volumes back?
Low volume has been the hallmark of the rally in the S&P. While I respect my trading peers I do not think they have a clue when it comes to how the actual business is going. They don't realize how much business is down.
That is why I always point out the ranges and volumes. If there were 2 million people trading futures in 2006 there are 300,000 today. I don't run a clearing firm but I don't have to, to know most firms are hanging on by a string. There were over 500 clearing and sub-clearing firms in the 80s. Today there are fewer than 30.
Yes, the new regulations have handcuffed the big bank trading desks; most bank FX operatiosn don't trade an open position anymore. Hedge fund regulation has slowed them and MF Global and PFG did the rest of the damage.
This is why I harp about volume. When there is nothing going on, there is none.
It's not over
It's hard to think that the S&P futures [ESH14:CME] can drop 56.5 handles in two days and say it doesn't matter. If this were 6 months ago I would be saying buy everything in sight. But it's not 6 months ago and with tomorrow's two day Fed meeting coming up and another taper the markets find themselves in a position the have not been in a long time: having liquidity being pulled away.
PPT / QE, whatever you like to call it. Over the next several months as the Fed backs away we will really get to see what the markets are made of.
The Asian markets closed sharply lower and in Europe 10 out of 12 markets are sharply lower. When it comes to economic reports this week will be completely different; there are 20 economic reports, the two-day FOMC meeting and 10 T-Bill or T-Bond auctions and announcements. As for today, the eco lineup starts with the New Home Sales number and the Dallas Fed Mfg. Survey, 4-week T-Bill Announcement and a 3- and 6-Month T-Bill Auction.
Our view
The VIX was up 32% last Friday. Traders, it's time to shuffle your feet . The days of easy money are coming to an end. The debt ceiling needs to be raised and tomorrow starts the Fed's two day meeting. The reason the futures are up so much this morning is because of the extreme "discount" of the futures price versus the S&P cash on Friday's close. Those who profited from the discount are now wisely taking profits.
After 3:00 on Friday the futures kept going down. This morning the ESH14 is re-aligning itself to where the S&P cash may open. Our view is that it's impossible to say what the S&P will do next. After a 56.6 handle selloff in two days the markets look horrible but you can't rule out some type of bounce. We don't know if it's today or tomorrow but we think the S&P could see 1765, 1750 , 1730-1735 this week, You take it from there…
As always do not forget to keep an eye on the 10 handle rule and please use stops when trading.
In Asia, 11 of 11 markets closed sharply lower: Shanghai Comp. -1.03%, Hang Seng -2.11%, Nikkei -2.51%
In Europe 9 of 10 markets are trading lower: DAX -0.44%, FTSE -3.08%
Morning headline: "Asian and European Markets Down; S&P 500 Futures Seen Higher"
Total volume: 2.56M ESH14 and 13K SPH14 contracts traded
S&P Fair Value: 1784.29 (5.46 below futures)
Economic calendar: New Home Sales, Dallas Fed Mfg. Survey, 4-week T-Bill Announcement and 3- and 6-Month T-Bill Auction.