[ charts]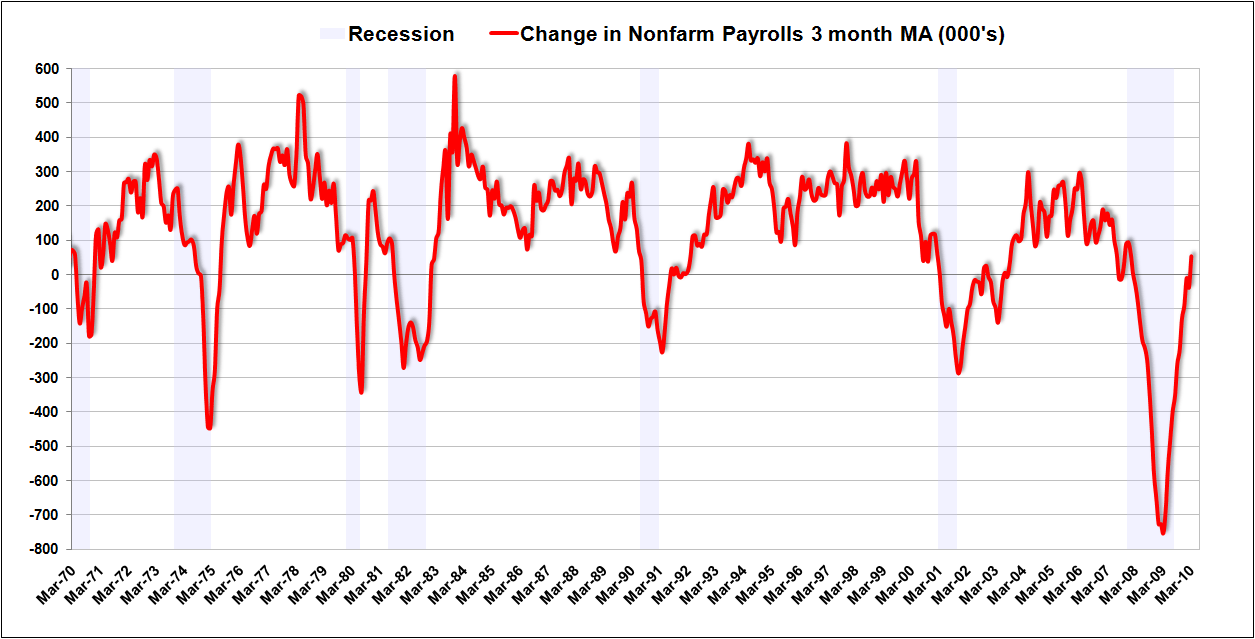 As usual, far too much attention was paid to the headline employment number released on Friday. The BLS reported net job creation of 162,000 in the month of March, the best single month for jobs in 3 years. That number was below consensus and included 48k workers hired for the census. Stripping out census workers the private sector added 114k jobs. As mentioned many times previously, that kind of job creation is not even enough to keep up with new entrants into the labor force. Details of the establishment survey were as follows: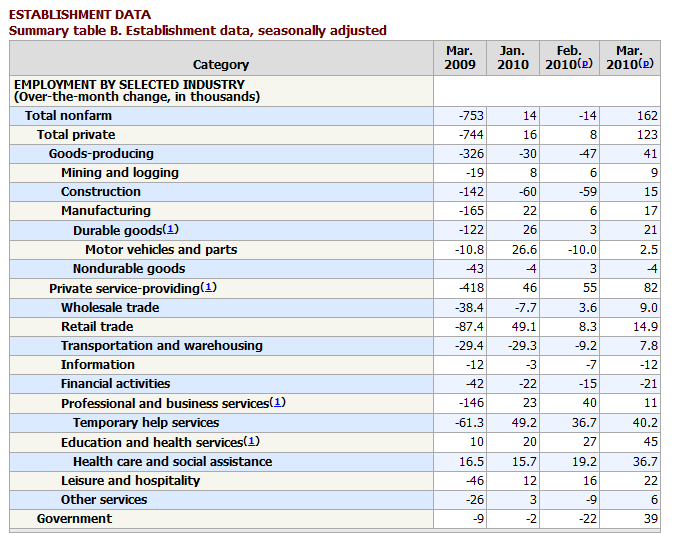 With the latest revisions to prior months the BLS numbers suggest a tentative bottom in the US employment market in February, representing a peak to trough decline of 6.1% in the number of employed. The chart below tells the story.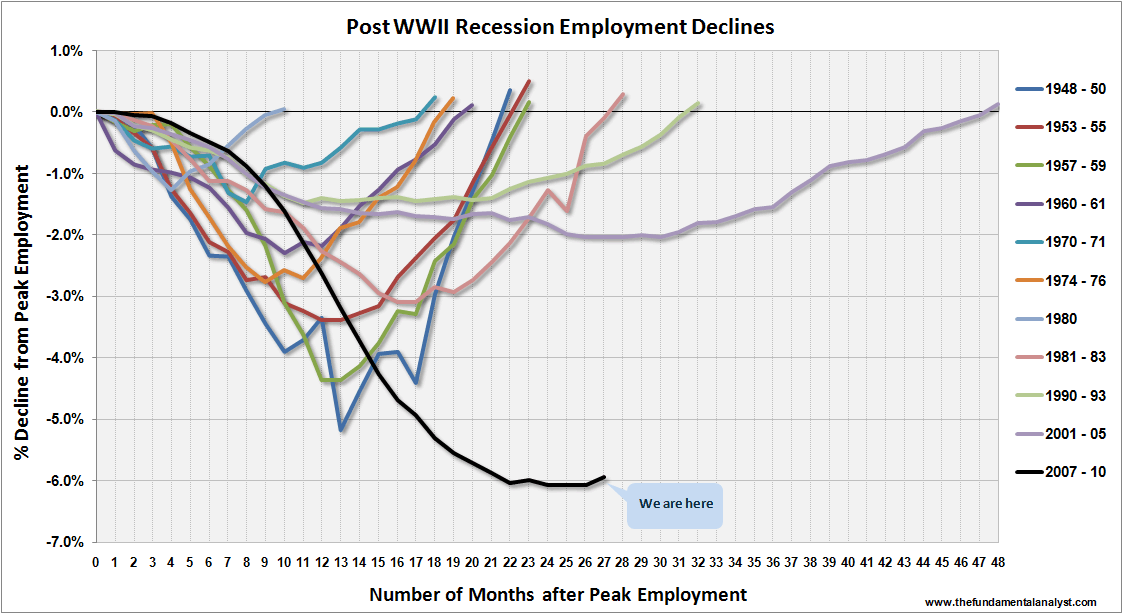 If you believe as I do, that the household survey is a better indication of the employment market around turning points then it is very difficult to refute the notion that the US employment market has hit a bottom. The household survey has showed positive job growth for 3 straight months, totaling over 1 million net jobs added to the economy.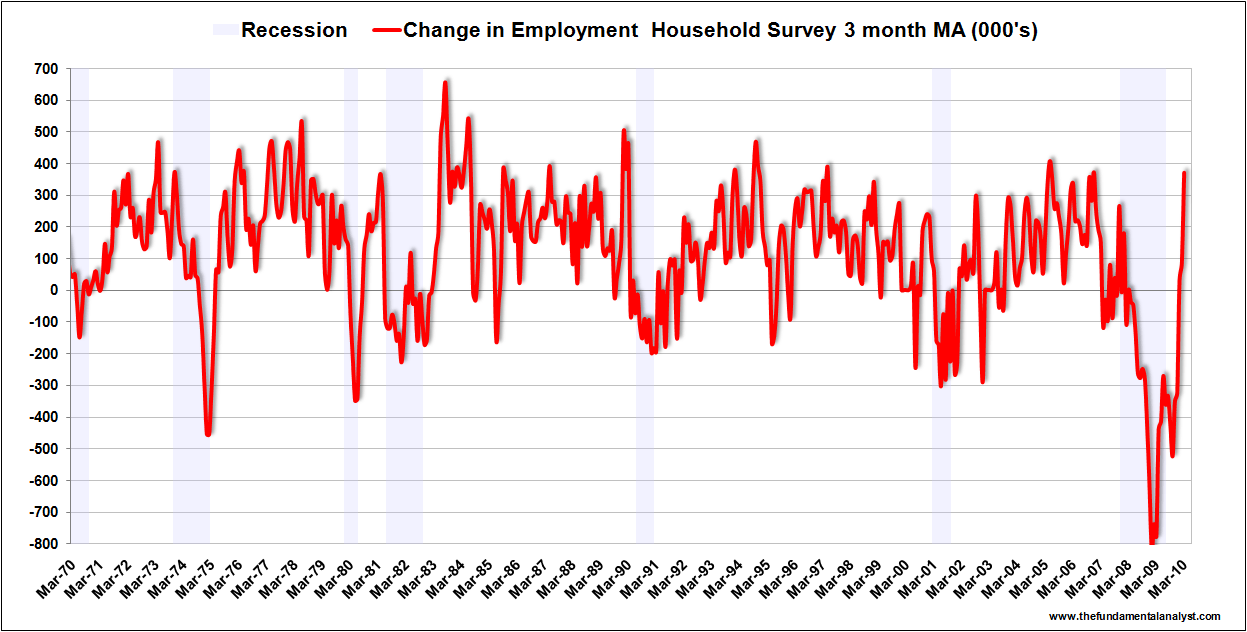 As has been historically the case when the employment market starts to pick up, more people start looking for work which drives the labor force participation rate higher. This rate also seems to have bottomed, having risen for 3 months straight.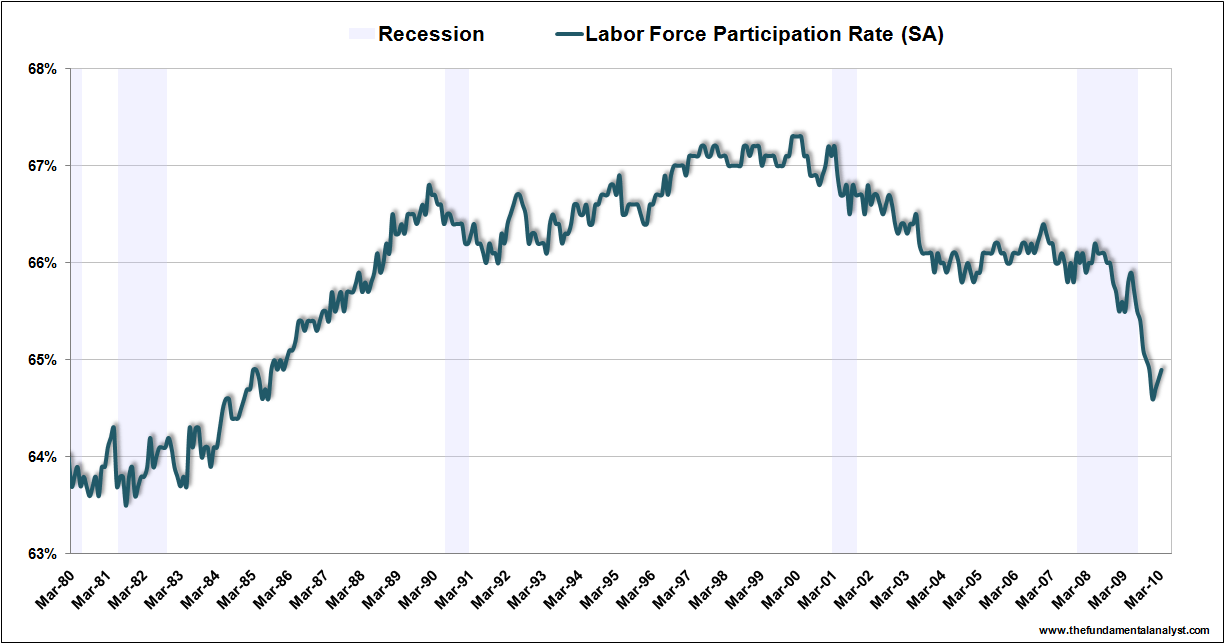 Of course, a rising participation rate has the effect of keeping the unemployment rate high as more people are counted as looking for work. The US unemployment rate stayed at 9.7% in March for the third month in a row and is likely to stay elevated for at least a couple of years.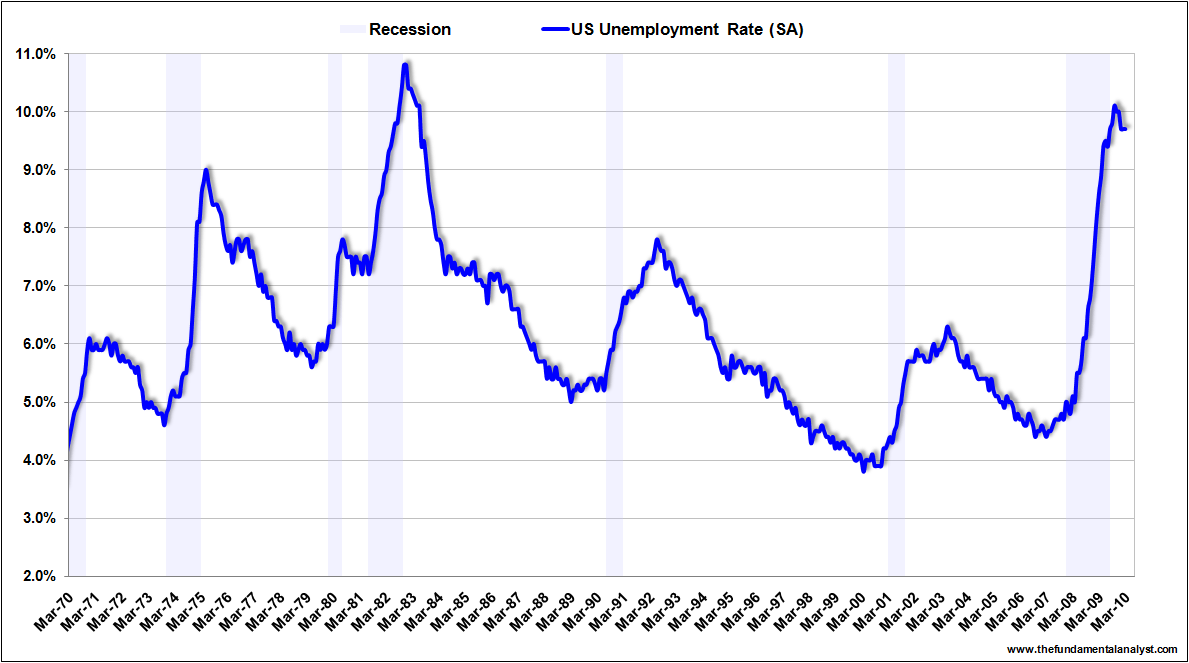 Average Weekly hours worked ticked up to 33.3 hours in March from 33.1 in February, still leaving a lot of room for companies to give current workers more hours rather than hire additional workers.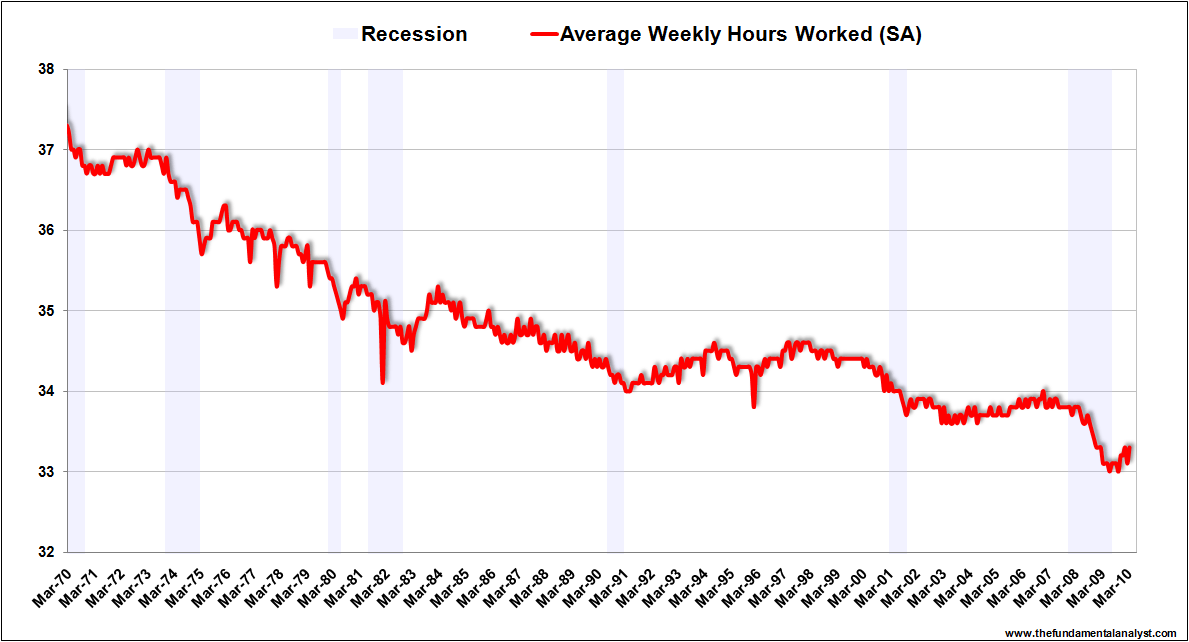 On the duration front, the picture continues to get worse for the long term unemployed. Those that have been unemployed for more than 6 months hit a new record of 6.5 million representing more than 44% of those unemployed.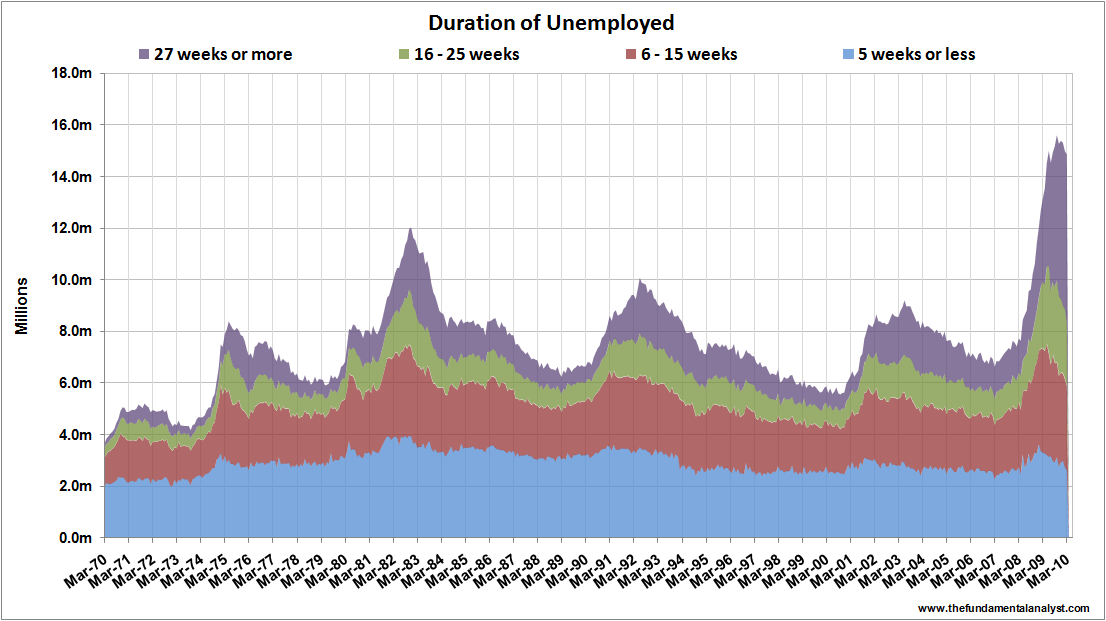 To illustrate the point further, the average number of weeks an unemployed person remains unemployed hit a new record of 31.2 weeks in March.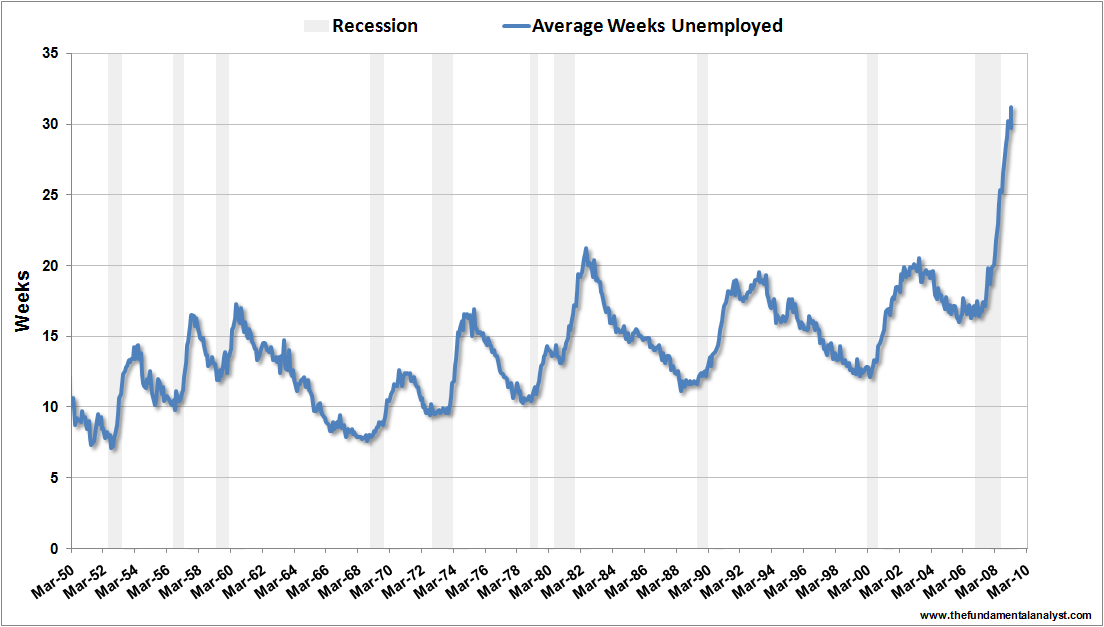 The evidence suggests the bottom is in for the US employment market. However, I would add one caveat and that is that it has hit a bottom….for now. The second half of 2010 looks uncertain as the specter of Fed rate rises looms (although I expect the Fed to stay on hold until 2011) a new wave of mortgage rests hits, the inventory cycle rebound dissipates and the federal deficit balloons. That is not a forecast for a double dip recession but one must at least entertain the possibility.