Scanning the globe for investment destinations can be a daunting task. When it comes to stock markets, however, relative strength analysis serves a useful purpose of highlighting under- or outperforming markets (or individual stocks) at a glance. Having perused a bunch of these charts, the Japanese situation stands out as being of particular interest.
Firstly, let's look at the long-term chart of the Nikkei 225 Average. Japan's stock market had an extended multi-year rally that started in earnest in the 70s and accelerated sharply in the 80s. The Nikkei peaked on December 29, 1989 at 38,915. During the devastating deflationary period that ensued, the average dropped by a massive 80.5% to 7,607 on April 28, 2003. The Nikkei staged a recovery from 2003 until 2007 when the sub-prime fallout came into play.
Click to enlarge: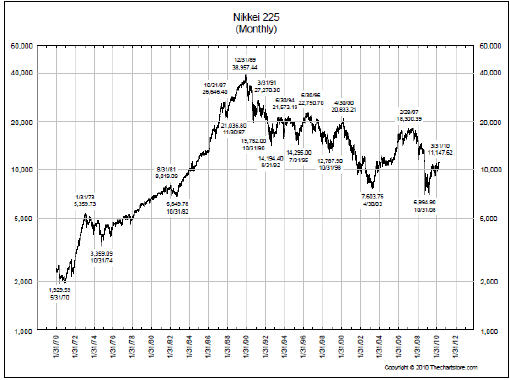 Source: The ChartStore.com
Putting the Nikkei 225's performance in perspective makes for interesting reading, as shown by its relative performance compared with the S&P 500 Index in the chart below. A falling line, which was the case until the end of 2001, depicts Japanese stocks underperforming American stocks. Over the period 2002-2010 the relative performance of the Nikkei 225 and S&P 500 mapped out a broad sideways pattern.
Click to enlarge: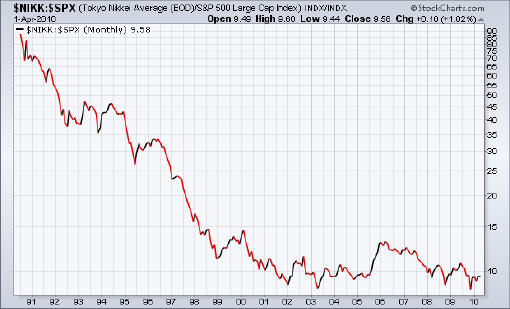 Source: StockCharts.com
Zeroing in on the shorter term, the Nikkei 225 has underperformed the S&P 500 since the beginning of 2006, but the tables seem to have started turning since November as indicated by the relative strength graph (bottom section) in the graph below.
Click to enlarge: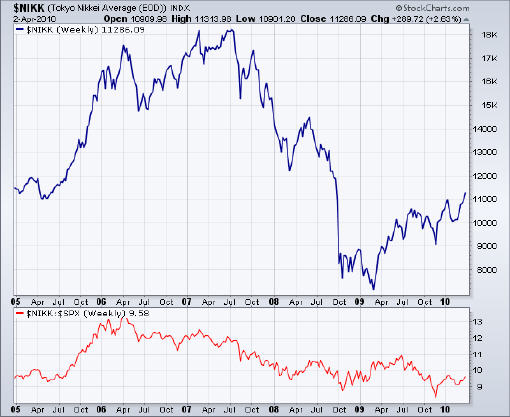 Source: StockCharts.com
Being cognizant of the fact that we have seen a number of false starts on the relative chart over the past few years, which factors might result in Japanese stocks maintaining their outperformance? One of the single most important drivers of Japanese equities over the past few years has been the currency as shown by the strong historical inverse relationship between the yen and the Nikkei 225 in the graph below. I have argued the case for a weak yen in a post, Help Japan – sell the yen, a few days ago, and believe a weaker yen will help Japanese exporters (and eventually the overall economy), just as the weak U.S. dollar has been a boon for their U.S. counterparts.
Click to enlarge: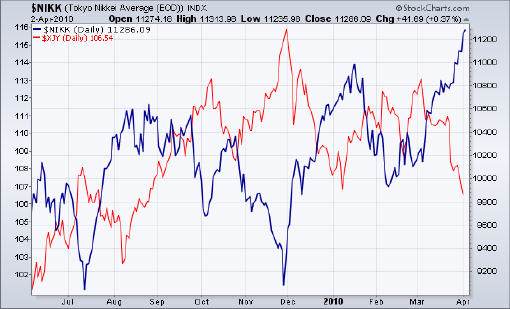 Source: StockCharts.com
There are a number of ways to play Japanese stocks by means of ETFs, for example the iShares MSCI Japan Index Fund (NYSEARCA:EWJ) or, for those more aggressively minded, the leveraged (2x) ProShares Ultra MSCI Japan Index Fund (NYSEARCA:EZJ). A full list of Japan ETFs is provided here by Stock-Encyclopedia.com. On a tactical implementation note, given the strong rally in equities over the past few months and the sharp decline of the yen over the past four weeks, it is advisable to build the position in increments whenever markets correct.