Polycom (NASDAQ:PLCM): A Decent Risk/Reward Opportunity
Overview
In a year when the market ripped 30%, PLCM failed to find its footing and shares remained relatively stagnant. The stock is just hanging around although it has made an 8% move to the upside over the last couple of weeks on a fairly decent fourth quarter report. There are some simple yet valuable trends unfolding that I believe should provide material upside to the shares with comparatively less downside. Currently, the stock is priced at 1.8x book value with an 8% free cash flow yield. This modest valuation coupled with the following points provides material upside over the next year:
PLCM returned over $500 million in capital to shareholders via share repurchases during FY13, representing a 3.1x multiple and a 4.5x multiple to the company's annual operating cash flow and free cash flow, respectively. Roughly, 23% of PLCM's stock was taken off the market, which will be accretive to earnings as cost cuts continue to be layered onto PLCM's operations.
In 2012, PLCM released one of the broadest, most comprehensive product suites in the industry's history, portions of which have potential to significantly improve gross margins going forward. PLCM's RealPresence ecosystem serves as a software-based delivery model that is interoperable with a wide range of conferencing solutions while providing recurring, premium managed services opportunities for PLCM, which in turn can potentially drive pull-through hardware revenues.
Continued cost cuts and operating margin optimization. Company has been rationalizing real estate and headcount and recently announced another slug of opex reductions on the 4Q13 earnings conference call.
Ultimately, I view this as a simple operating plan that just needs to be executed in order for the stock to react appropriately. Aside from cost cuts and new product launches, there are upcoming revenue catalysts. PLCM has announced major partnerships with tech giants including Microsoft (NASDAQ:MSFT), IBM, HP (NYSE:HPQ), and AT&T (NYSE:T) to do battle with its largest rival, Cisco (NASDAQ:CSCO), whom Polycom has steadily been taking market share from. There have also been substantial unusual expenses running through Polycom's income statement and the company has not been able to report a clean quarter this year as a result. The company is a strong cash flow generator and has shown an affinity to take money off the table via buybacks, which will only improve return on equity and valuation going forward, as the fact of the matter is that PLCM doesn't need the $584 million of cash carried on its books to fund its operations. I believe the stock has 15 - 25% upside based on improving fundamentals, comparable multiples, and strong cash flow, which may provide for further share repurchases.
New CEO, Continued Cost Cuts
Polycom has been through somewhat of a transitional period the last two years: in mid-2012, the company announced it was divesting its enterprise wireless voice solutions business for $110 million. The company subsequently announced it would be launching a "game-changing" series of products in 2H12 and early 2013 intended to aid Polycom in its quest to sell both software and cloud-based delivery models that will ultimately allow the company to layer ratable services revenues on top of the enterprise solutions already offered.
PLCM recorded over $50 million in cumulative restructuring charges over the last three years stemming from facility consolidation and workforce reductions (announced ~4% global headcount reduction in 1H12). The company didn't report a clean quarter through all of 2013, although management announced further cost cuts on the 4Q conference call and the stock has traded well on the cost cut / share buyback story. Despite booking an $0.11 GAAP loss per share for the year, PLCM generated $130 million in adjusted EBITDA and $113 million in free cash flow (8% yield on today's enterprise value) and distributed 4.5x that figure in share repurchases. I view the cost cuts as a simple way to boost operating margins (which is management's #1 priority for 2014) which will serve as a nice one-two punch when coupled with earnings accretion provided for by repurchasing 23% of the company, as well as upcoming revenue catalysts in the forms of major tech partnerships and growing services revenues.
Additionally, former CEO Andrew Miller resigned earlier in 2013 after personal expense reporting irregularities surfaced - last month, his replacement was named. Peter Leav joined PLCM after a fairly successful run at NCR Corp. (NYSE:NCR), a time during which the company grew revenues 24% and the stock was nearly a four-bagger.
Segments
Polycom has three operating segments:
UC Platform: enterprise infrastructure backbone driving connectivity with client's audio and video conferencing endpoints. Platform was 18% of FY14 revenue, or $244 million vs. $255.5 million in the prior year.
UC Group Systems: personal and room-based audio/video product. The previously mentioned New Group Series (five point margin improvement) is included within this segment. Group Systems was 66% of FY14 revenue, or $905 million vs. $956 million in 2013.
UC Personal Devices: extend voice and video content to computers, mobile users, and branch sites. 16% of 2014 revenue ($219 million) vs. $181 million in the prior year.

Tech Partnerships
Previously mentioned RealPresence is open and interoperable with hundreds of business applications (backwards/forwards compatible) thus it appears to be a nice feature for clients wanting to protect their IT investments. RealPresence is extremely important to Polycom, particularly in its fight against heavyweight Cisco: several of PLCM's major tech partners (including MSFT, IBM, HP, and AT&T) run their enterprise products through RealPresence… for example, RealPresence is the first and only MCU solution qualified for Microsoft Lync and over 70% of conferencing phones sold with Lync are made by Polycom.
Lync is growing exponentially (MSFT reported Lync revenue growth of 30% and 25% in its last two quarters), and Polycom management has noted their own Lync-related growth rates are tracking this closely. MSFT's Lync related revenue surpassed $1 billion in FY13 while its voice software license sales grew 150% on top of a 5 million seat installed base (MSFT is now shipping more enterprise voice lines than any other tech company in the world). PLCM is well-aligned with MSFT by supporting the Lync video standard while licensing key pieces of technology to MSFT in return. Avaya and Cisco lost significant chunks of market share in 2012 partially because of this.
AT&T is rolling out its Video as a Service offering in 4Q, which will utilize RealPresence infrastructure. PLCM released its latest cloud-based version of RealPresence in 4Q to coincide with this to deploy cloud-delivered video communications services through the AT&T Business Exchange. AT&T is selling its service as a Managed Service Bundle, which includes Polycom's products. This means AT&T will be driving pull-through revenues for PLCM endpoint products. Additionally, Cisco products were already a part of the AT&T Business Exchange - introducing Polycom to the channel means the company gains access to a giant chunk of the market it was likely previously cut off from due to Cisco penetration. The "bundling" aspect of the product offering is a plus due to the cost savings afforded to small/medium businesses, a historically underserved segment of the market.
In 3Q11, Polycom acquired HP's visual collaboration business, making PLCM's enterprise-grade video applications available for HP's webOS platform, substantially widening the company's addressable market. PLCM and HP both share a strategic ally in MSFT and the operating mechanics here are similar to the AT&T Business Exchange relationship. Furthermore, PLCM has a new product titled "CloudAxis" (software allowing RealPresence to collaborate with anyone instantly through a web browser) that is being bundled with RealPresence: this product has 90% margins and is meant to drive pull-through revenues from customers. Because it is typically sold as a part of the RealPresence platform, PLCM might sell $1 worth of CloudAxis which can pull $4-$5 worth of general RealPresence Platform revenue in with it (margin on this entire revenue opportunity is higher than Polycom's corporate average).
Growing Services Business
Polycom has a growing services business (21% four-year CAGR) that makes up about 28% of total revenue. Now that the company has launched its own software and cloud-based delivery models, Polycom can sell its own bundled offering with hardware revenue pull-through traits and larger managed services opportunities (clients outsource the maintenance of the RealPresence platform to PLCM who specializes in it, rather than the client maintaining a large in-house IT service team to deal with it). PLCM can then layer a ratable monthly services on top of this - the recently-launched software offering will also give the company a direct counterpoint to all the new things the startups are doing (i.e. Skype, freeware), except PLCM has the brand, balance sheet, public company status, and trusted reputation.
According to management, PLCM's "largest and most strategic customers" have an appetite for significantly higher levels of service engagement. Incremental service revenue streams associated with maintenance renewal rates flow through the company's income statement with very high gross margin profiles. Because the company was traditionally a hardware vendor, "services" included warranties and installations - services on hardware typically amount to 8-12% of product revenue relative to the 20% more common on enterprise software maintenance attachments. The move to a software-based delivery model allows PLCM to sell services at higher price points, which according to management, sell at a 50-60% premium versus "standard" maintenance contracts. The overall service market is roughly $1.5 billion today and should grow at an 8-9% 3-year CAGR.
PLCM's renewal rates were historically in the low 40% range - added 10 or 11 points throughout 2013 by the end of 3Q and noted a 10-point year-over-year renewal base improvement on the 4Q13 conference call. With respect to adding larger managed services accounts, management has noted several "large" $10+ million contracts, which are extremely accretive to operating margins.
Valuation
I believe Polycom's valuation is relatively modest in light of the following trends: (1) revenue generating initiatives/opportunities including partnerships and product rollouts from major tech partners and growing high-margin service revenue opportunities, (2) cost cuts and opex re-engineering to improve earnings power and margins, and (3) 8% free cash flow yields with EBITDA poised to grow in FY14, allowing for substantial returns of capital to shareholders which will improve ROE going forward.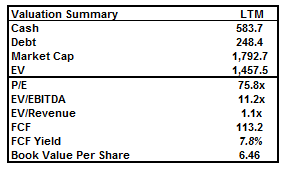 On January 15th, Riverbed Technology (NASDAQ:RVBD) rejected a buyout offer at $19 / share, several days after Citigroup noted it expected a similar outcome and that a financial buyer could pay over $23 / share and earn over 20% annually, while a strategic buyer could pay up to $25. In the same note, Citi stated that the buyout math for PLCM looked attractive as well and that a financial buyer could pay over $14 / share for the company (18% upside). This would peg PLCM's enterprise value at a modest 11.5x its trailing three-year average free cash flow, not unreasonable to me in light of the company's ongoing improvements or the fact that it earned $136 million two years ago on a substantially higher share count.
Management's goal is double-digit operating margins in FY14 and 15%+ margins in FY15. Holding revenue flat and applying a 10% margin gets me to about $0.55 in after-tax EPS, and 20% takes PLCM's earnings power to over $1 / share. Considering everything I've discussed, I believe revenue is poised to rebound somewhat which potentially understates my earnings estimates. I think worst-case scenario is the company continues to print weak top-line numbers (there's a possibility that legacy type products may decline faster than offsetting high-growth categories) while improving margins and generating cash flow, which could lead to more buybacks this year.
Summary
After the S&P's strong performance in 2013, I believe PLCM offers decent risk/reward. Shares haven't really budged over the last year despite building momentum with tech partners, stealing market share from larger competitors, right-sizing the company's cost structure, and repurchasing a boatload of stock. I like the combination of improving revenue initiatives in the form of tech partner product rollouts and PLCM endpoint interoperability, continued cost cut efforts, and returns of capital to shareholders and believe it will lead to double-digit upside at a 15 - 25% magnitude in 2014.
Disclosure: I have no positions in any stocks mentioned, and no plans to initiate any positions within the next 72 hours. I wrote this article myself, and it expresses my own opinions. I am not receiving compensation for it (other than from Seeking Alpha). I have no business relationship with any company whose stock is mentioned in this article.