Celsion (NASDAQ:CLSN) is a biotech company that I've followed for the past year and a half. Through the company's patented liposomal transport system, Celsion hopes to make breakthroughs in oncology by revolutionizing how cancer fighting drugs make their way to the tumor site. The company missed it's primary endpoint (progression free survival) in it's Phase III HEAT study that was disclosed about a year ago.
My last article on Celsion went into why it was, after not being covered for years, seemingly randomly upgraded by H.C. Wainwright, which slapped a price target on the company that would encompass a 100% gain behind the stock.
This morning Celsion announced that ThermoDox - it's liposomal delivery system of doxorubicin - could potentially increase overall survival in HCC (liver cancer) patients. As the company has continued to follow the O/S rates of patients from the HEAT study, it has claimed several times over that the post-hoc data continues to support further investigation, especially for patients that undergo RFA for 45 minutes or more.
Celsion's press release read:
Data from the updated HEAT Study analysis suggests that ThermoDox® may significantly improve overall survival, compared to control, in patients whose lesions undergo RFA treatment for 45 minutes or more. These findings apply to patients with single HCC lesions (64.4% of the HEAT Study population) from both size cohorts of the HEAT Study (3-5 cm and 5-7 cm) and represent a subgroup of 285 patients (41% of the patients in the HEAT Study). Updated OS data from this subgroup of patients is summarized below:

In the patient subgroup treated in the ThermoDox® arm, whose RFA procedure lasted longer than 45 minutes (285 patients or 63% of single lesion patients) clinical results indicate a 55% improvement in overall survival, a Hazard Ratio of 0.64 (95% CI 0.41 - 1.00) and a P-value = 0.0495. Median overall survival for this subgroup has not yet been reached.
In contrast, the patient subgroup treated with ThermoDox® whose RFA procedure lasted less than 45 minutes in duration (167 patients or 37% of single lesion patients) indicated a Hazard Ratio of 1.12 (95% CI 0.68 - 1.86) and a P-value = 0.66. Median overall survival for this subgroup has not yet been reached.
The Hazard Ratios reported above warrants additional clinical development and should be viewed with caution since they are based on a retrospective analysis and the HEAT Study has not reached its median point for overall survival analysis. Celsion will continue to follow patients in the HEAT Study to the secondary endpoint, overall survival, and will update the subgroup analysis based on RFA heating duration.

"The HEAT Study post-hoc data is compelling. The combination of ThermoDox® and an optimized RFA treatment appears to have a significant improvement in overall survival in HCC patients," stated Dr. Nicholas Borys, Celsion's Chief Medical Officer. "While this conclusion is reached based on a post-hoc evaluation, it is nonetheless supported by the consistency of the data seen over a one year follow-up period, and by what is now a statistically significant outcome for overall survival. Our investigators are convinced that RFA can and should be optimized in future trials."
While not news that is going to make or break the company, it certainly does seem like another step in the right direction for Celsion and those that have invested in 2014 (i.e. post-HEAT, post-reverse split, post-mess).
Celsion has an extremely strong partnership in China with Hisun Pharmaceutical that they can leverage, should the company continue to find some positive points. They can use this partnership to either try and fast track a clinical trial overseas, or to eventually tap into China's patient population for certain cancers.
While the fundamentals will ultimately determine the outcome of the fate of Celsion - glorious biotech cash cow or eventual biotech swirl and flush - I noted in my last article that the stock is likely to move upwards a bit regardless. Celsion is likely to run up on emotion like it did pre-Phase III last year - like many biotechs do before a binary event. People want to get in before the "main event":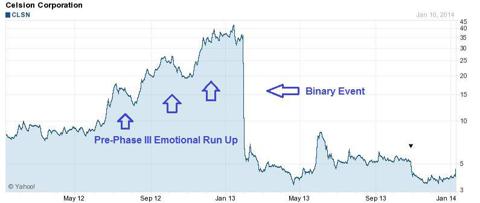 A caveat here is that Celsion seemed to show the same type of promise leading up to the HEAT study - only to be met with a "we missed by a lot" the morning that the company reported the Phase III results.
Having said that, as the days pass, Celsion continues to show baby steps in the right direction for eventually getting another Phase III trial for ThermoDox. Aside from continued encouraging O/S data from HEAT, the company recently collected promising data from its trial into recurrent chest wall cancer. Celsion stock, although likely to stay afloat and possibly move up in the short-term, remains tied directly to the company's sole drug in its sole pipeline - ThermoDox.
Best of luck to all investors.
Disclosure: I have no positions in any stocks mentioned, and no plans to initiate any positions within the next 72 hours. I wrote this article myself, and it expresses my own opinions. I am not receiving compensation for it (other than from Seeking Alpha). I have no business relationship with any company whose stock is mentioned in this article.