Renesola (NYSE:SOL) is one of the fastest-growing Chinese solar companies listed in the US.
It has increased its module shipments to 463 MW in the third quarter of 2013, which was a 6.6% increase from the second quarter. The company's gross margin also improved substantially to 8.1%. The company has guided further improvements in module sales to around 500 MW in the next quarter and a gross margin in the range of 9-11% for the next quarter.
The company is now among the top five solar panel suppliers in the world and is one of the most prominent suppliers of wafers. To put it simply, Renesola has become the biggest solar company in terms of shipments and it is still growing rapidly.
However, solar modules and wafers are only part of the story. In addition to solar modules and wafers, Renesola has expanded into a higher margin business, selling inverters, LED lights and power storage systems. Sales from these products are currently only a small part of the business, but they are likely to become a significant part of sales in the latter half of 2014. This will contribute to revenue and margin growth in 2014. These products differentiate Renesola from other Chinese solar companies as a completely integrated "green energy" company: from polysilicon to solar modules to energy storage solutions to energy saving LED lights.
The recent stock price decline was precipitated by the news that Renesola closed its phase I polysilicon plant in October 2013 and took a one-time write-down of 200 million dollars. This led to a 43% one-time net loss in the third quarter of 2013. Excluding this one-time loss, Renesola would only be a few cents per share short of making a net profit.
Mr. Market, due to his myopic vision, has punished the stock for taking a one-time write-down and for its closing of the polysilicon plant. However, in the eyes of the investor, the closing of the polysilicon plant was actually a smart business decision. Since the phase I plant was producing polysilicon at prices much higher (about 30$/kg, 4000MT) than are available on the open market ($18-$20/kg), it should save the company about 10 million dollars per quarter.
Renesola is still able to produce 65% of its polysilicon requirements in-house at a profitable rate (below $20 per kg). With polysilicon prices projected to increase as we move into 2014, Renesola should have an edge in profitability over its competitors, none of whom have any in-house polysilicon producing capabilities. A recent announcement by the Ministry of Commerce of the People's Republic of China in regard to the "Anti-Dumping and Countervailing" policy toward South Korean and American polysilicon manufacturers, should also position Renesola at a competitive advantage as it is likely to put an upward pressure on polysilicon prices. The anti-subsidy tariff imposed on solar polysilicon imported from the USA is 0%~2.1% and the anti-dumping tariff is 53.3%~57%. As for solar polysilicon imported from Korea, the anti-dumping duty imposed is 2.4%~48.7% and Korea is exempt from anti-subsidy penalties. Duties will be charged from January 2014 and will last for the next five years.
Since the results of the third quarter, the company has been awarded a contract to supply 420 MW of solar panels to a leading solar project developer based in Japan. This amounts to about 10% of the company's capacity for 2014 (the 420 MW modules will be supplied in 2 years; the capacity is around 2.1 GW of modules per year). Renesola will also provide 57 MW of modules to Isolux Corsan for a project in the UK. The 32 MW of modules were delivered in 2013 to Isolux and are already connected to the grid.
Margins are increasing.
Gross margins jumped to 8.1% from 7.3% and are projected to be between 9% and 11 % in the next quarter. Closure of the polysilicon plant will contribute about 2% increase in margins in the quarters going forwards. Module sales are also projected to rise in the next quarter. It is notable that the percentage of modules sold to high margin markets, the USA and Japan ,have increased quarter over quarter in 2013. Sales to the USA account for about 31% of the sales in the third quarter, compared to the first quarter of 2013, when only 5% of sales were to the US market. Japanese sales rose from less than 1% to about 5%.
Wafer prices have increased substantially in the last few weeks. This will increase the net margin on the company's less profitable wafer business which accounts for about 30% of MW sales for the company.
Pricing power is improving.
Average selling prices are increasing as we move into 2014. Furthermore, ASPs for modules is going to vary substantially with regional drivers such as import tariffs, incentive levels and technology preferences. Prices in the US and Japan may be 20%-30% higher than in other markets such as India and China. These regional pricing spreads will likely persist for the foreseeable future. Renesola's increasing share of US and Japanese market should contribute to improving net margins going forwards.
Residential solar market in U.S. is one that has consistently grown among the 50 states over the past several years and will grow consistently for next few years. Renesola has taken important steps to increase profitability and growth by increasing its sales in USA.
Sales and capacity are increasing.
The company's combined solar wafer and module shipments was ~851 MW this quarter. Total module shipments were 463 MW, which was an increase of 6% over the last quarter. Projected module sales will grow to 500 MW for the next quarter.
Renesola's strategy for the future is to develop global sales networks and distribution channels whilst expanding the OEM strategy. As of today, the company's OEM capacity is 950 MW and the current utilized capacity is around 600 MW. The company is going to expand another 900 MW in domestic China in order to meet strong demand.
The company recently announced the formal launch of ReneSola South Africa (NYSE:PTY) Ltd. ("ReneSola South Africa") in Cape Town. The office will be responsible for sales and marketing efforts across Africa and South Africa. Other sales offices are located in the USA, Germany, Japan, India, Brazil, Australia, Taiwan and Singapore.
Sales of additional green energy products.
Renesola has the biggest product portfolio among all solar companies in the world. Its products include polysilicon, wafers, cells, panels, inverters and mounting systems, LED lights and energy storage solutions.
Solar installations are growing worldwide.
Recently it was announced that China, the world's biggest solar market, has kept in place its annual installation target for 2014. The National Energy Administration reported, in a statement dated Jan. 20th 2014, that China plans to add 10 gigawatts of solar power
Developers in China installed a record 12 gigawatts of solar panels in 2013, almost matching the total amount of solar power in operation in the US. It may even exceed that of the US in 2014.
The concerns for overcapacity are overstated. Some companies, such as General Electric (NYSE:GE) and Sharp have exited the industry. Some of the tier II nonviable companies may stop production and there will be continued consolidation in the industry in 2014.
Global demand has become dependent on the USA, Japan, MENA (Middle East and North Africa) and China, which are seeing a dramatic increase in solar installations. The Middle East Solar Industry Association reported that the solar industry in the Middle East is set to be worth 50 billion dollars. This outlook makes MENA the wealthiest solar market in the world.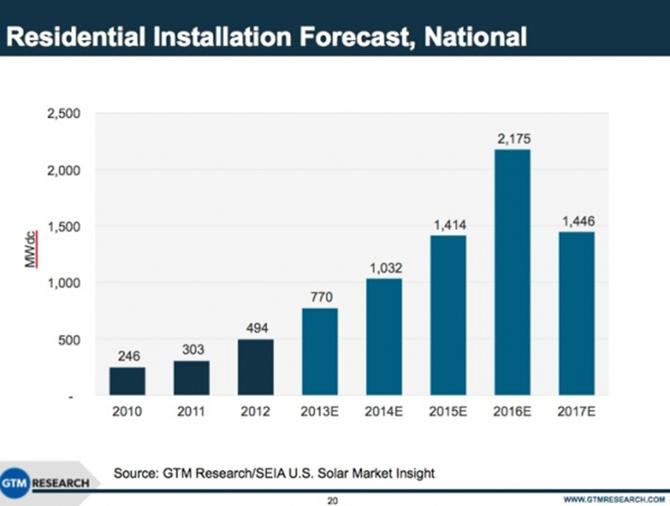 Solar project business.
Renesola holds more than 120 MW grid connected solar projects: 60 MW utility-scale projects in China in Qinghai and Xinjiang Province, 37 MW golden sun projects in Jiangsu Province and another 26 MW in Romania and Bulgaria. Project business will no longer be Renesola's business focus: Renesola is planning to sell the project in due course.
Valuation and debt.
The total expected revenue for 2014 will be close to 2 billion$ and the gross margin should average around 15% in 2014. These numbers take into account the savings from the closure of the polysilicon plant a slight improvement in selling prices and increasing sales of Microinverters and LED power storage business. The gross margin should be around 300 million. The net margin should be about 60 million. Average earnings per ADR should be 60 cents. If you value the shares at PE of 18, the target price is $10.80. The current price is around $3.40. This provides an upside of 300% from the current price.
I believe the upside is more than that shown by these numbers, since these numbers do not take into account the growth in revenue.
Current debt is around 941 million dollars. The enterprise value is about 1,245 million dollars. The company has been paying off debt in recent quarters. Renesola does not have any liquidity issues, with ~$350 million in cash.
Renesola is likely to substantially reduce the debt after the sale of its solar business project as stated by the company in a recent press release. These projects should sell in excess of 350 million dollars.
Renesola trades at a ridiculously discounted valuation despite having a better and more stable long-term business model when compared to the other Chinese solar companies. It's a joke that the market cap for Renesola is only slightly higher than LDK , a company at the verge of bankruptcy. Renesola trades at a 0.25 P/S ratio 1 P/B ratio, which should increase substantially as the company starts making profits. This can be compared to some competitors that are trading around a P/S ratio of 1 plus.
Renesola will see improving valuation and become comparable to other Chinese solar companies such as Jinko Solar (NYSE:JKS), Canadian Solar (NASDAQ:CSIQ), Trina Solar (NYSE:TSL) and Yingli Solar (NYSE:YGE) , when expansion into areas other than solar modules fuels a growth in revenue and the company becomes profitable.
Risks.
1) Renesola still has negative operating margins and losses. As discussed above, I believe this will change in the next 2-3 quarters.
2) Europe's PV installations decreased greatly last year due to subsidy cuts. The German cabinet approved new renewable energy laws and cut subsidies. This will have a substantial impact on demand in Germany.
3) Trade wars may negatively affect the solar business. Solar World filed a complaint with the US Department of Commerce and the International Trade Commission, seeking relief from China's illegal trade practices. They have claimed that artificially low-priced solar products from China are crippling the domestic industry.
The risks are small and Renesola has a very good risk to reward ratio. It's time to add this multi bagger to your portfolio.
Disclosure: I am long SOL, . I wrote this article myself, and it expresses my own opinions. I am not receiving compensation for it (other than from Seeking Alpha). I have no business relationship with any company whose stock is mentioned in this article.