Wall Street had a wonderful year overall in 2013, avoiding major sell-offs. The S&P 500 (NYSEARCA:SPY) had its largest weekly decline since June 2012 as it slipped 2.6%. This was the worst week for global stocks in seven months as there were broad sell-offs in emerging markets plus signs of weakness in China's economy indicating the possibility that global growth could slow down. Contributing to concerns is that U.S. stocks could be set for another sell-off next week as the Federal Reserve is expected to keep withdrawing from its economic stimulus, which would further pressure equities. The Fed's policy-setting committee will meet on Tuesday and Wednesday and may decide to make another cut to mortgage backed securities and Treasuries from $75 billion to $65 billion. Chances are however that the market reaction will be approximately the same whether they decide to hold off or not. Although, the Fed will probably not skip the taper as the S&P 500 is merely 3.1% below its record closing high set last week. A dip in the market would coincide with our 2014 market forecast from the end of the year last year.
On December 1st, I shared I Know First's 2014 market forecast and gold prediction where the algorithm forecasted a bullish forecast for 1-year from that forecast day but bearish in the 3 month time frame. We were not alone in our opinion as our analysis that was done at the end of last year coincided with Goldman Sachs (NYSE:GS) chief US equity strategist, David Costin, who stated there is a 67% possibility the S&P 500 could endure a pull back of at least 10% as they projected more volatility in the markets. However, I am not insinuating that the market will drop as such but merely highlighting that this was foreseen to some extent. Once the Federal Reserve lets the public know their intentions and more companies post results we will have a more reliable outlook of how the market will react in the short term. Our algorithm still projects a bullish market for 2014 and some setbacks were expected, so this may become in hindsight a buying opportunity.
New Economic Data
New home sales and consumer confidence plus other economic data this week are anticipated to depict a recovering U.S. economy, which could help bring back buyers into the U.S. equities market. "There are good domestic reasons to expect the U.S. economy to be doing well over the year to come, and our central expectation is that while U.S. markets could take a temporary hit (due to the sell-off in emerging markets), the shock will not be a major one for the U.S. economy," Deutsche Bank analysts wrote in a note released on Friday. There is also the promise by the Federal Reserve that interest rates will be kept low.
Earnings Reports
Investors also will have a surge of earnings reports on top of economic data and news from the Fed. So far about 102 companies have reported earnings in the S&P 500 for 4Q13. Sixty-three percent have reported earnings above analyst's expectations, while 12% reported earnings inline with projections and 25% failed to reach expectations. General Electric (NYSE:GE) and DuPont (DD) fell more than 5.7% to lead declines in the Dow Jones Industrial Average. The world's largest computer-services provider, IBM dropped 5.5% as their revenue declined to $27.7 billion in the three months leading into December. They agreed to sell their server division for $2.3 billion to Lenovo Group Ltd. Caterpillar (NYSE:CAT) reported better than expected fourth quarter results and guided full year 2014 earnings above estimates. The company also announced a $10 billion stock buyback program.
American Electric Power's (NYSE:AEP) results also surpassed estimates for the fourth quarter. In accordance with the algorithm, Netflix (NASDAQ:NFLX) recently jumped 17% for reasons I explained in my previous article such as an increase of 2.33 million new U.S. video streaming subscribers. Another big name Delta Air Lines reported robust profit of $8.48 billion or $9.89 a share, up $7 million or a penny a share a year ago due to the reversal to a tax-valuation allowance. Revenue increased 5.5% to 9.08 billion.
This week you can expect earnings reports from Dow components such as DuPont, Pfizer (NYSE:PFE), AT&T (NYSE:T) and 3M (NYSE:MMM). To add to the excitement, the largest U.S. company by market capitalization, Apple (NASDAQ:AAPL) plus other technology giants like Google (NASDAQ:GOOG) and Facebook (NASDAQ:FB) will set the stage by posting their results. "Early data shows that 4.4 companies have reported higher earnings results for every one that has reported lower earnings," stated Stuart Freeman, chief equity strategist at Wells Fargo Advisors.
Buying Opportunity?
Is this actually a buying opportunity? This very may well be and I will share with you why you should consider this position. I Know First utilizes an advanced algorithm that tracks over 1,400 markets by following the flow of money from one market into another. The algorithm still has a bullish stock forecast for the S&P 500 throughout 2014. Chart 1 shows the algorithmic forecast for the S&P 500 in the 1-month, 3-month, and 1-year time horizons. This forecast was extracted from our Top 10 World Indexes Forecast with only the S&P 500 visible. Click here for a brief overview of how to interpret daily forecasts.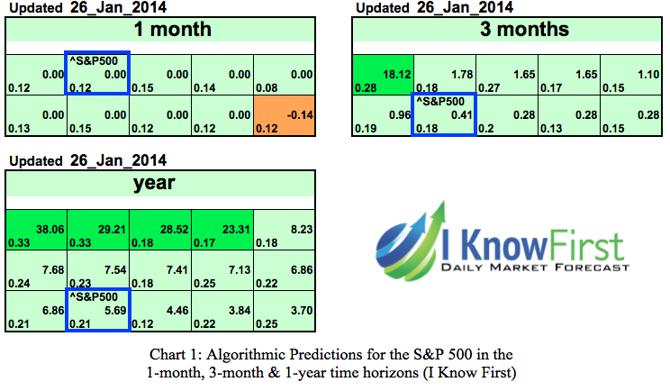 The signal, the number flush right in the middle of the box and the predicted direction (not a specific number or target price) is 5.69 for the 1-year time-horizon. The relative strength of this signal indicates that the algorithm predicts the S&P 500 will continue to grow at more normal rate, approximately 5-10% in 2014 opposed to 30% last year. This is my interpretation of this forecast, as the algorithm does not actually give the literal predicted return. The signal for the 1-month forecast is zero because there will be a very large influx of new data this week leaving the algorithm unsure of the immediate future. In general the system tends to be much more accurate for the longer term as day to day news cannot be predicted at least very precisely.
While the predicted movement does not seem to be drastic the predictability indicator is very good. The predictability indicator is the bottom number flush left in each box. For the S&P 500 it grows from .12 for 1-month, .18 for 3 months and up to .21 for 1-year. This is very typical for the algorithm as assets generally become more predictable in longer time horizons. While the signal gives the direction and the relative "scale" of the predicted move, the predictability indicator is related to the probability of that prediction to realize, which is based on the past performance of the corresponding predictor. Simply put, the predictability indicator indicates the level of confidence of the forecast by the algorithm. For our purposes, the predictability is relatively strong compared to the same indicator for other assets in this forecast as well as it remains one of the stronger ones in each time horizon.
Conclusion
We have a lot of new information coming this week. Not all of it will be what we want to hear and there will probably be some overreaction. Shrewd investors will recognize this buying opportunity. While 25% of companies so far have fallen below expectations, 63% have exceeded them. The S&P 500 is only 3.1% below its record closing high. If the market does take a temporary hit, this will be consistent with I Know First's algorithmic forecast from the end of last year. While the majority of people react to the day-to-day news take advantage as some of your favorite assets may go on sale providing the potential for substantial returns over the long term. However, be cautious as the Fed proceeds to continue tapering quantitative easing, stock market volatility will escalate.
Business disclosure: I Know First Research is the analytic branch of I Know First, a financial startup company that specializes in quantitatively predicting the stock market. This article was written by Joshua Pastore one of our interns. We did not receive compensation for this article (other than from Seeking Alpha), and we have no business relationship with any company whose stock is mentioned in this article.
Disclosure: I have no positions in any stocks mentioned, and no plans to initiate any positions within the next 72 hours. I wrote this article myself, and it expresses my own opinions. I am not receiving compensation for it (other than from Seeking Alpha). I have no business relationship with any company whose stock is mentioned in this article.