On January 24th Honeywell (NYSE:HON) released its 4th quarter and full-year results for 2013. Revenues are up by 4% compared to FY2012, at $39.055 billion. Earnings per share were up by an amazing 11%, reaching $4.97. The company aims to increase its EPS by another 8%-12% in fiscal year 2014. Does this mean Honeywell is a good stock to own at the current price of $88.47? This is the question I will be trying to answer in this article.
After a rise of just over 30% in the last 12 months, Honeywell is now trading just below its 52-week high of $91.56. This means the company is now valued at 17.8 times 2013's earnings per share. Analysts expect Honeywell EPS to reach $5.54 in the current fiscal year, which gives us a forward p/e ratio of only 16.0. As we can see in the graph below, Honeywell has traded at much higher multiples in recent years. Its 10-year average p/e ratio stands at 18.7 despite the massive drop in 2008 and 2009. If analyst expectations for 2014's EPS are correct, the stock would have to grow by 17.1% to $103.60 to reach its 10-year average p/e ratio.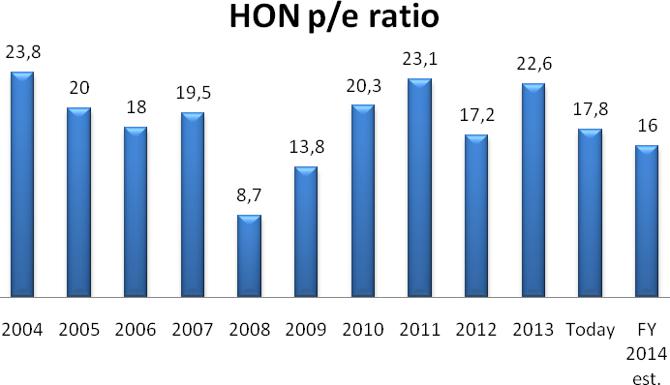 Honeywell's revenues in 2013 were only 6.8% higher than in 2008. However, net income has gone from $2.79 billion in 2008 to $3.96 billion in 2013, an increase of 41.9%. Honeywell has managed to increase its profit margins to over 10%, as can be seen in the graph below.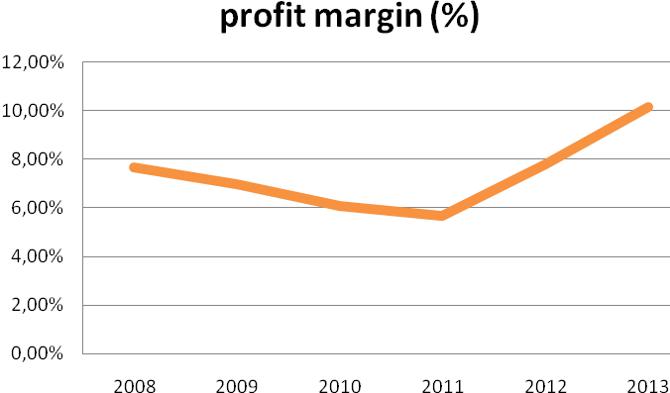 Honeywell pays a dividend of $0.45 per share each quarter, giving it an annual dividend yield of 2.03%. This is not a very high yield compared to its competitors. General Electric (NYSE:GE) for example has a current yield of 3.53%, while 3M (NYSE:MMM) yields 2.63%. However, current yield is not the only thing that's important to dividend investors. Honeywell's payout ratio for 2013 was only 34.1%. This means there is plenty more room to grow. Furthermore, Honeywell's dividend is protected by a rock solid balance sheet with $6.422 billion in cash. This means Honeywell has $8.18 per share in cash. At the current rate of $0.45 per quarter, Honeywell has enough cash to pay four and a half years worth of dividends. With current assets of $21.16 billion and current liabilities of $14.21 billion, the company has a very healthy current ratio of 1.49. Long term debt stands at $6.801 billion, a number I consider to be quite sustainable.
Conclusion:
Honeywell's high expected growth for fiscal year 2014 has lowered its forward p/e ratio to only 16.0. This means Honeywell is now a lot cheaper than in recent years. Honeywell has managed to increase its margins at a very impressive rate, which has led to EPS going up dramatically. Honeywell's dividend yield is quite low compared to its peers, but a low payout ratio and large pile of cash mean the company has plenty of room for dividend raises. I wouldn't be surprised to see Honeywell's dividend get raised to $0.50 near the end of 2014.
Disclaimer: I am not a registered investment advisor and do not provide specific investment advice. The information contained herein is for informational purposes only. Nothing in this article should be taken as a solicitation to purchase or sell securities. Before buying or selling any stock you should do your own research and reach your own conclusion. It is up to investors to make the correct decision after necessary research. Investing includes risks, including loss of principal.
Disclosure: I have no positions in any stocks mentioned, and no plans to initiate any positions within the next 72 hours. I wrote this article myself, and it expresses my own opinions. I am not receiving compensation for it (other than from Seeking Alpha). I have no business relationship with any company whose stock is mentioned in this article.