We have favored mid-cap stocks over large-caps and small caps for a long-time. We wrote about mid-cap outperformance on several occasions in the past and want to hit that point again. See prior articles:
The other night while reading our stack of investment magazines, we ran across a July/August 2009 article in Wealth Manager titled "Sweet Spot in the Middle" by J. Gibson Watson III of Prima Capital in Denver. His enthusiasm for the mid-cap segment, rekindled our desire to extol its virtues once again.
He provides 30-year data on the annualized return, standard deviation and Sharpe Ratio for the Russell Top 200 (mega-caps; proxy IWL), the Russell Mid-Caps (mid-caps; proxy VO) and the Russell 2000 (small-caps: proxy IWM). Here is the data he provided as of July 2009:
Back in May of 2008, our own year-by-year research for the 11 years of 1997 through 2007 showed how mid-caps (in this case S&P 400 mid-caps; proxy MDY) typically outperformed the large-caps (in this case S&P 500; proxies SPY and IVV), and battled with the small-caps (in this case S&P 600: proxy IJR) for first place.
click image to enlarge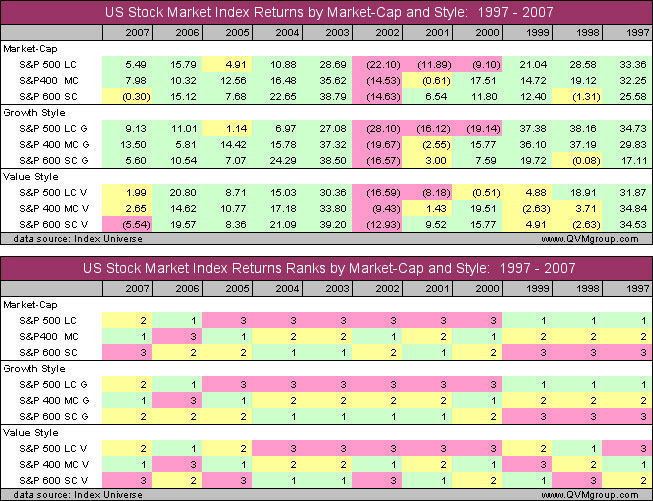 However, on a compounded basis, the mid-caps outperformed the small-caps, as this cumulative chart we put together back then for the 3, 5 and 10 year periods through April 2008: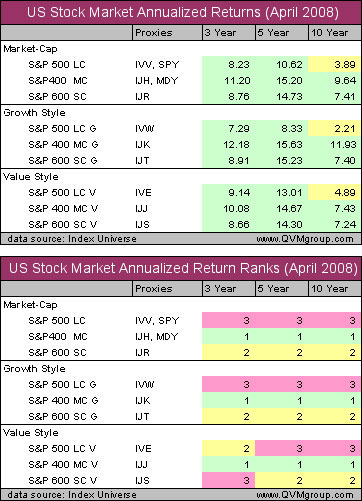 Mid-caps outperformed whether they were blended, growth or value in composition.
Updating the relative performance since April 2008 when our study ended, this chart shows that mid-caps and small-caps once again beat the large caps, and are neck-and-neck with each other. However, during the height of the 2008 panic, large-caps fared better.
It is quite important to note that the S&P 400 mid-caps and the S&P 600 small-caps together highly overlap the Russell mid-caps, as this market-cap segmentation table from our recent article shows:
click image to enlarge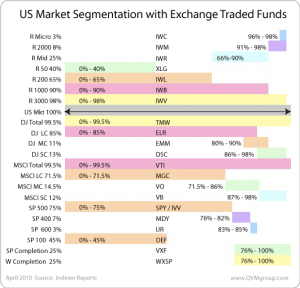 The Russell mid-caps are the bottom 800 stocks by market-capitalization in the Russell 1000 (the largest 1000 stocks by market capitalization; proxy IWB). They cover the 66th through 90th percentile of the US market-cap spectrum (where 100 is at the bottom).
The S&P 400 and S&P 600 together cover the 76th through 85th percentile. That's a lot of overlap with 66 through 90. So, the battle for first place between the S&P 400 and S&P 600 takes place essentially within the Russell mid-caps.
It is not possible to exactly compare the market-cap coverage, because the Russell indexes are based on market-cap alone and are inclusive, whereas the S&P indexes contained selected "leading" companies within the market-cap segments they represent, and are not all inclusive as are the Russell indexes.
We overweight mid-cap stocks in our portfolios because of the outperformance. The extra performance really adds up over a period of years. Of course, for best liquidity, you can't beat SPY. For options liquidity SPY and IWM (the Russell 2000 small-caps) are a much better choice than MDY, IJR or VO.
Back to Mr. Watson's article in Wealth Manager — while we think we have explained our theory about why mid-caps outperform reasonably well, we think he did a nice job of stating more elaborately why he thinks they outperform. We can't verify that each of his representations about mid-caps is correct, but they resonate as correct and are in line with our more generalized explanation. Here is how he put it:
"Broadly speaking, mid-cap companies outperform on a risk-adjusted basis because they combine the desirable attributes of both their larger and smaller peers. They tend to be in the prime growth phase of their business cycle with positive cash flow and accelerating earnings per share. They typically have seasoned and experienced management teams, established products, reasonable market share, and name recognition. They generally have, in other words, less business risk than small and emerging companies. But collectively, they still offer more growth potential than large, mature companies. … Moreover, mid-cap companies tend to be more focused on their specific niches, giving them an added advantage over larger competitor whose efforts may be thinly spread across a broader array of products and services. And they respond more quickly to new product innovations and changes in the marketplace than spur future growth."
Holdings Disclosure: As of April 2, 2010, we hold SPY, MDY, and IWM in some, but not all managed accounts, and not necessarily all in any single account. We do not have current positions in any other securities discussed in this document in any managed account.
Disclaimer: Opinions expressed in this material and our disclosed positions are as of April 2, 2010. Our opinions and positions may change as subsequent conditions vary. We are a fee-only investment advisor, and are compensated only by our clients. We do not sell securities, and do not receive any form of revenue or incentive from any source other than directly from clients. We are not affiliated with any securities dealer, any fund, any fund sponsor or any company issuer of any security. All of our published material is for informational purposes only, and is not personal investment advice to any specific person for any particular purpose. We utilize information sources that we believe to be reliable, but do not warrant the accuracy of those sources or our analysis. Past performance is no guarantee of future performance, and there is no guarantee that any forecast will come to pass. Do not rely solely on this material when making an investment decision. Other factors may be important too. Investment involves risks of loss of capital. Consider seeking professional advice before implementing your portfolio ideas.


Disclosure: Holdings Disclosure: As of April 2, 2010, we hold SPY, MDY, and IWM in some, but not all managed accounts, and not necessarily all in any single account. We do not have current positions in any other securities discussed in this document in any managed account.