Although we are impressed with the numbers from certain companies today, we think it is nothing to get too carried away with as the markets continue to deal with this emerging market turmoil currently underway. Instead, our attention is on the weather in the US which has pushed natural gas prices to multi-year highs for the current contract. We have a polar vortex hitting the Midwest and Northeast again and it is expected that the coldest temperatures will expand east and south to impact a larger portion of the country.
Also of importance today is a pipeline explosion in Manitoba, a Canadian province, which will affect thousands during this cold weather. There is no telling what caused the explosion, but we have learned over the years to never assume anything in regards to pipeline issues in Alaska and Canada as there have been some unbelievable human actions which have caused explosions and/or leaks by pipelines.
Chart of the Day:
At the beginning of the year many were talking about Mexico being a top play for their portfolios, however with the choppy markets and this emerging market fear having arisen we doubt many actually set up positions, let alone their entire desired positions. If all of this blows over as we suspect it will, Mexico might see a decent bounce higher as capital begins to flow back into the market there.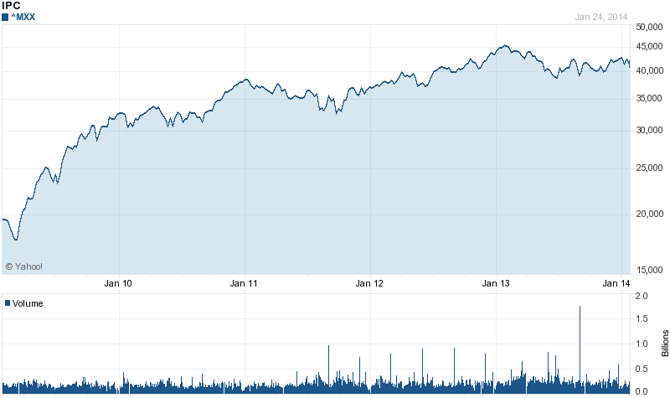 Source: Yahoo Finance
Commodity prices this morning are as follows:
Gold: $1,260.00/ounce, down by $3.70/ounce
Silver: $19.835/ounce, up by $0.07/ounce
Oil: $96.06/barrel, down by $0.58/barrel
RBOB Gas: $2.6443/gallon, down by $0.0185/gallon
Natural Gas: $4.979/MMbtu, down by $0.203/MMbtu
Copper: $3.2605/pound, down by $0.011/pound
Platinum: $1,420.90/ounce, down by $7.70/ounce
Equipment Maker Surges
Caterpillar (NYSE:CAT) was a name which we highlighted on Friday in our daily general market overview comments, located here. We were looking for industrial names to purchase on this current market correction and the company caught our eye with its released numbers that day. Today we received quarterly results and they were quite strong. The one negative that could be pointed out is that the analysts' consensus that they beat were all revised lower to the downside, but in our book a beat is a beat.
Caterpillar reported Q4 earnings of $1.54/share versus the consensus of $1.28/share that was expected. The $0.26/share blowout is encouraging for investors as was the company's guidance for 2014, which came in quietly strong versus what many were expecting. Also helping the company's shares today is that Caterpillar announced a $10 billion share buyback program.
With Joy Global shares being so volatile we would not be buyers of that company alone. Instead, we would buy that name with either Caterpillar or Deere if setting up a trade here.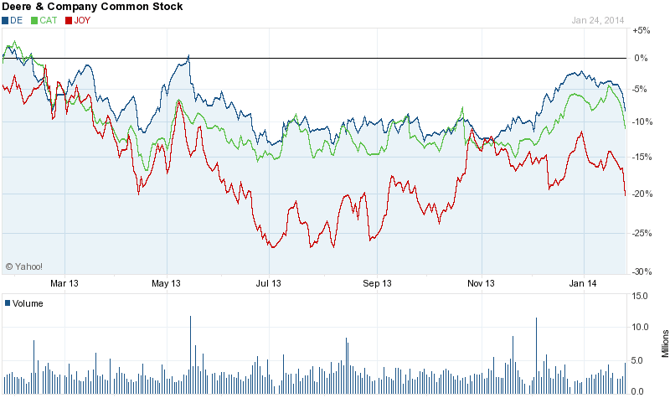 Source: Yahoo Finance
If one is to believe that the bleeding is to stop for the equipment makers, two ways to also play this trend are Joy Global (NYSE:JOY) and Deere & Company (NYSE:DE). Between the two, Joy Global is more heavily skewed toward the same demographic as Caterpillar and has been a good way to play the mining equipment sector in the past. Deere also has commodity exposure, but it is focused upon the farming market and the company faces different issues than Caterpillar. Generally speaking though, an improving economy has always helped all names here as commodity prices increased (and construction picked up) allowing customers to order more equipment.
South of the Border...
Lately we have been critical of Royal Dutch Shell (RDS.A) (NYSE:RDS.B) and its efforts to once again shed assets to focus on higher margin businesses. We understand that desire, but it seems readers failed to pick up on our main point - that being that the company has already done shake-ups before which got them to this point.
We are beginning to believe that the de-monopolization of the Mexican oil industry will provide some attractive opportunities for "Big Oil," although we still believe that the early winners will be the oil field services companies (we did see an interesting Bloomberg article with the CEO of PEMEX located here). With Royal Dutch Shell's expertise in working in various foreign countries, and their offshore operations we could see their next big move be one that involves Mexico. We also think that Chevron (NYSE:CVX) would be a prime candidate to help PEMEX develop their aging fields over the next year or two before venturing out on their own in Mexico based on their expertise in both onshore and offshore drilling.
Mexico is equivalent to the final major frontier in North America. Yes there are areas such as the coasts of Florida and Virginia which have been off limits, but neither offers the vast geographical area that Mexico does, nor the proven reserves with ample unexplored areas available for exploration efforts.
Disclosure: I have no positions in any stocks mentioned, and no plans to initiate any positions within the next 72 hours. I wrote this article myself, and it expresses my own opinions. I am not receiving compensation for it (other than from Seeking Alpha). I have no business relationship with any company whose stock is mentioned in this article.