Invariably, there seems to be a few fields of study and business that the vast majority of individuals view as "mundane" or that lack the "allure" of other such endeavors. What we find to be interesting is the underlying similarities that exist between many of these fields, which are viewed in both a positive and negative manner. In studying these, it becomes apparent how the views of the subjects held by the public are embedded with such contrasting characteristics.
Take investments for example. Everyone knows the idea is to try to generate returns in such a manner to assure future comfort, by way of pooling uncorrelated financially sound investment vehicles. While these acts sound incredibly enticing and interesting when labeled with the term "investments," as soon as it is called "insurance," the allure is completely and totally lost for most.
Insurance is investments, and when insurance companies are evaluated, the company should be looked at as money managers. We want you to understand that the act of studying fields that have a tendency to touch more things in the world than others are the fields that raise the ceiling at which individuals are able to gain an overall understanding of the world. This far reach ultimately makes the managers become better decision makers and investors. This is what insurers try to do; take EVERYTHING into account.
Axis Capital Holdings (NYSE:AXS) is an insurance provider stationed out of Bermuda. Structured as a holding company, Axis operates as a specialty insurance and reinsurance (reinsurance is simply insurance for insurance companies) provider. The company does not co-mingle the segments (Axis Insurance and Axis Reinsurance) in order to benefit from in-house reinsurance on reinsurance being sought for initial insurance contracts. This keeps a large amount of profit in-house. The company provides services in Bermuda, the US, Canada, Europe, Australia, and most recently Brazil.
Insurance companies generate income in two ways; the collection of premiums and investment income on the pooled premiums. The companies' objectives operating in this industry are to take payments from individuals seeking relief from uncertainties, and invest the capital in such a way as to earn a return that if claims were to be made, the profit would be satisfied easily with income left over to report for the company.
Therefore, aside from catastrophic events (which obviously play the largest role in terms of hampering profitability); there are four factors that affect insurance companies' profitability. Premiums are the number one way in which a company is affected by the "insurance cycle" that cause "hard" and "soft" insurance markets. Interest rates are another contributing factor because much of the reinvestment income earned by these companies is done so through fixed-income securities. Another large factor is the stock market, also due to the reinvestment income capable of being earned on the premiums. And most importantly, talent is a factor. Talented individuals are the number one most important factor in an insurance companies' ability to succeed, especially for those companies who provide specialty insurance. Talent translates into better underwriting and better underwriting translates into high risk-adjusted returns.
It is the pooling of high quality uncorrelated investments in each individual insured, as well as the investment income earned on the invested premiums that determine stability and profitability. Insurance companies look to employ the individual we indirectly described earlier, someone who has understanding of just about everything from financial markets to the subtleties of industries ranging from construction, to medical fields, or to industries involved in caretaking. After all, the greater the overall understanding, the easier underwriters are able to structure a portfolio of obligations with lower correlations. This is actually becoming easier to do as the world shrinks, and capital is able to flow into areas where restriction once existed allowing this extra room for spreading risk. The decisions to insure or to not insure, as well as the quantity a company would be willing to insure is still a complex one to make.
Ibis World characterized globalization in the insurance industry as "low." This leads us to one of the most valuable facets Axis exhibits, not only is the company heavily involved in the largest economy in the world, but it provides services on 4 of 6 continents (some consider Australia a continent which would make for 5 of 7).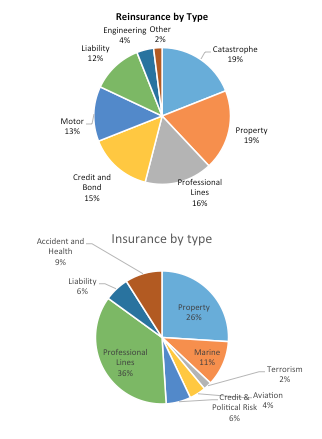 The products offered by Axis range from property and liability insurance to insurance bought to ensure compensation in the case of terrorism attacks. We are able to see the reinsurance products offered are more evenly weighted in terms of that segment's portfolio, reminding us that Axis does believe in its ability to insure those least likely to draw on claims in various markets is above par, hence the more concentrated and offset product offerings in the primary insurance market.
A must see indicator when evaluating insurance companies is the combined ratio. It screams a company's underwriting ability as well as reflects a company's abilities to keep overall costs down. Also note that health and accident insurance account for 9% of Axis's insurance premiums, the company began offering the coverage in 2011 and it comprised 4% of the premiums for the insurance segment of Axis in 2012. This new introduction to the product mix has been positive to say the least, and we expect the acceleration to continue.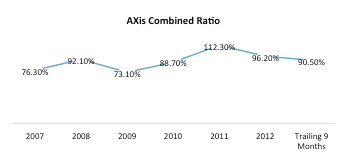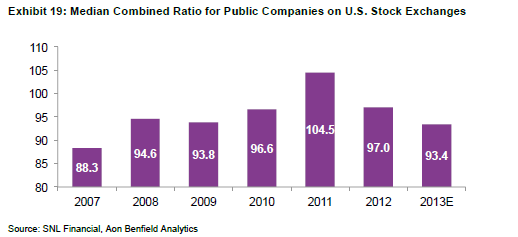 The combined ratio is defined as (Incurred losses + expenses)/ earned premiums. A measure of below 100% means insurance companies are profitable and vice versa. Over the past seven years we are able to see Axis has outperformed the broad market of insurers by a wide margin, and frequently as measured by 6 of the last 7 years. We would like to note the losses incurred by Axis in 2011, as this was a turbulent time for claims in the insurance industry driven by adverse global weather conditions. Due to the fact no one can predict the weather, no matter how talented an organization may be, these fluctuations should be expected. The losses were greater in that year than that of the broad market, which can largely be attributable to Axis's relatively small size of $5 billion. The larger the company the more often the projected values and proportions of net premiums earned are unbiased estimators of future occurrences. The benefits of this scale is something Axis is looking to gain.
The company plans to continue to increase scale and create an even larger footprint on the global stage with its most recent move to expand into Sao Paulo Brazil. Currently Axis is operating strictly a reinsurance office, but it should be noted this market was not open to private insurers in the world's 6th largest economy before 2007. This was previously the duty of a state-sponsored reinsurer.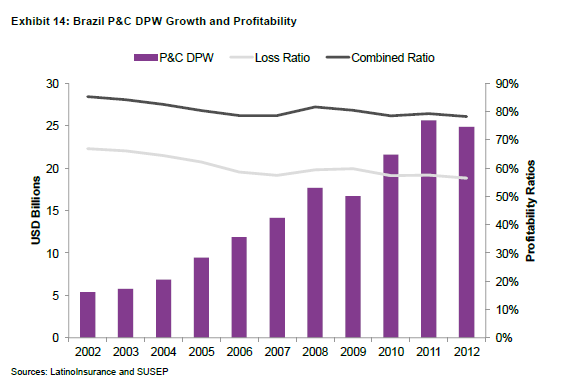 The growth in Property & Casualty premiums has been quite out of the ordinary for the insurance industry, pushing average 12.5% annual growth over the last 5 years. The combined ratio in aggregate for the region has been 79.6% on average for the last ten years. Growth with less risk is what the Brazilian market currently boasts. Expect to see a larger portion of reinsurance being provided by Axis in the near future.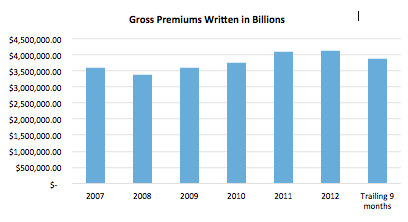 The number of premiums written are the highest in company history. Awaiting fourth quarter results, we expect 2013 to be another record setting year for the segment. Based on our projections we expect 2013 premiums written to increase to nearly $5 billion.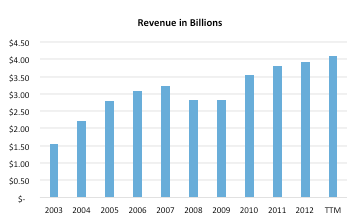 The company's track record of growing revenue is highly apparent as you are able to see that revenue has increased more than 2.5 times over the past 10 years. Since the company's incorporation in 2001, there was no hesitation to take advantage of the growing global stage. Growth across the world for insurers has gained at a sustainable pace to say the least, yet Axis through the company's superior underwriting capabilities as well as intelligent risk-taking initiatives has found ways to outpace the global market.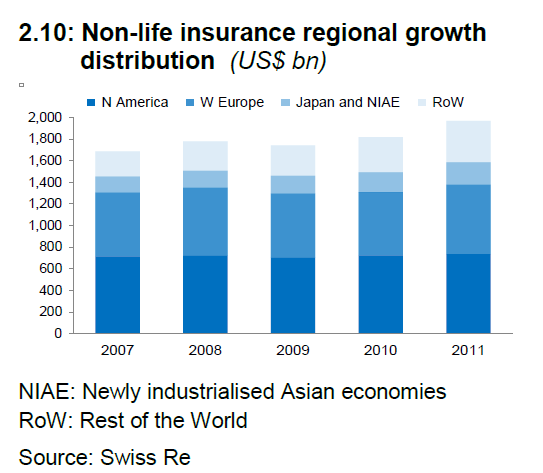 Part of the reason why Axis has been able to attain margins greater than the industry average is due to the fact that a substantial amount of the insurance issued is considered "specialty" insurance. Another large contributor is the fact that the company benefits from employing its ability to provide robust underwriting services to various industries. These are the types of wide margin products companies with high levels of human capital are able to generate, if directed properly. Earlier we mentioned the idea of "soft" and "hard" insurance markets. These terms are utilized to characterize the current supply of insurance as well as the level of prices at which premiums are offered.
The fluctuations inherent in the "insurance cycle" exhibit the same market forces inherent of all industries. When supply grows large enough, premiums are driven down and vice versa. This current "hard" market is described as a time of high premiums and low supply, which in turn means profitability across the board for insurance companies, is higher. If you are thinking now must be the time that industry will start to turn "soft," you could very well be right, although with the average insurance cycle lasting on average 6 years (ranging from 2 to 10), timing this market just as others may leave you with the ticking time bomb others are desperately trying to avoid.
The higher level of profitability should also be attributed to the malleable product mix exhibited by Axis. When you are a $5 billion insurance company whose main operating segment is specialty insurance, you have the options of switching product mixes and taking advantages of shifting market conditions. Expect to see greater variation in the coverage that Axis offers as it looks to exploit the underwriting talent it holds.

Axis has done a remarkable job outperforming the insurance industry as measured by numerous metrics, yet still trades at a discount. The company has traded at a trailing five-year average P/E of 13.18, and is trading at 10.82 at this moment.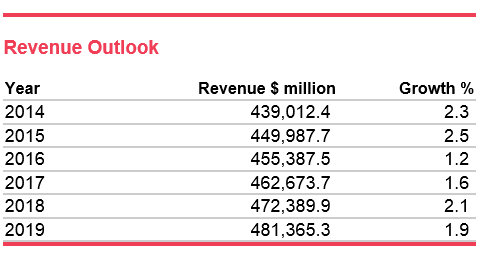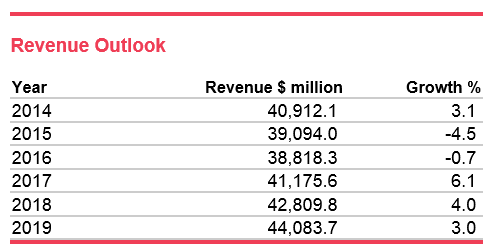 Above are the industry average growth projections by Ibis World. With the addition of health and accident insurance coverage to the product mix, as well as the opening of the reinsurance market in Brazil, expect robust growth from Axis over the course of the next few years. Utilizing the 2014 estimates we expect earnings to grow at the current average weights of Axis's insurance and reinsurance segments of (.56*.031) + (.44*.023) = 2.75%. Current earnings per share are $4.22. Grow this by 2.75% to get $4.34 earnings per share at year-end 2014. Through 2014, we expect the multiple to revert back to its five-year average of 13.18, leading us to a year end 2014 share price of 57.15. This in the end will be an increase of 25.13%.
Disclosure: I have no positions in any stocks mentioned, and no plans to initiate any positions within the next 72 hours. I wrote this article myself, and it expresses my own opinions. I am not receiving compensation for it (other than from Seeking Alpha). I have no business relationship with any company whose stock is mentioned in this article. This article was written by Hunter Orr, CFA the Director of Research with Alpha Street Research, and our team of supporting analysts specifically Mr. William Hambley. This article is exclusively written for Seeking Alpha and its readers. We personally do not hold any positions in stocks mentioned here, but will on occasion have buy ratings on stocks covered here and those buy ratings are available to our subscribers.