Here is another well positioned solar company, JinkoSolar (NYSE:JKS), and we are very happy with the 20%+ sell off, for which we were waiting to write this article. The sell-off seems to be the result of a SEC ruling against Chinese auditors hitting Chinese ADRs, a general market correction, and some seemingly disappointing news about the 2014 prospects for the Chinese solar market.
Let's start with the Chinese audit problem. The Chinese units of the big four auditors (KPMG, Deloitte & Touche, PricewaterhouseCoopers and Ernst and Young) are suspended by the SEC from auditing US listed companies for six months in a dispute over document access. Auditors are fearful of turning over documents as they might be in violation of Chinese secrecy laws.
However, there won't be an immediate problem:
The four firms said that they intended to appeal against the ruling. "In the meantime the firms can and will continue to serve all their clients without interruption," the four said in a joint statement.
But there might be one in time:
Before a conclusion is drawn by the SEC, the audit firms can continue to serve all their clients. This means any trading suspension of the China ADRs would not take place until May 2015 at the earliest, in the worst-case scenario. [Barrons]

However, if the firms are unsuccessful in their appeal, which could last years, then companies would need to find a new auditor during the suspension period or else be unable to file accounts, a move likely to see their shares suspended. [Reuters]
As smaller auditors are ill equipped to deal with the workload should the ruling stand, that's clearly not a workable solution, but there is still plenty of time to work out one. So we think this provided an opportunity.
Apart from a general market softness (which could very well last a while), another reason for the sharp drop was some seemingly disappointing news about the size of the Chinese domestic solar market this year. While last year, China added a whopping 12GW in new installations, the target for this year looks to be just 10GW.
If true, that's somewhat disappointing, and suggesting the Chinese domestic solar take-off is a bit slower paced compared to recent expectations, but it remains very much to be seen whether this materializes:
"The National Energy Administration has mentioned a 14 gigawatt target, and actually sent out a letter to provincial authorities with a 12 gigawatt target broken out by province," said Jenny Chase, lead solar analyst for Bloomberg New Energy Finance. "I don't think this is exactly a done deal yet. China is playing fast and loose with solar targets at the moment." [Bloomberg]
And we think with a 20%+ correction this development, which is by no means guaranteed, is already priced in. We think that under $30, shares in JinkoSolar are attractive. Let us provide some arguments.
Some basic figures
Jinko is heavily exposed to the rapidly growing Chinese market, which will still be the biggest market in the world, whatever the actual number turns out to be. This company is already solidly profitable and enjoys very healthy gross margins (22.3% in the last quarter).
It's a sign of market confidence that the company was able to raise some $67.8M by issuing 4.37M additional shares (or, more precisely, ADSs). The company had $218.7 million in cash and cash equivalents and restricted cash at the end of Q3 but a fairly substantial $874.27M in debt.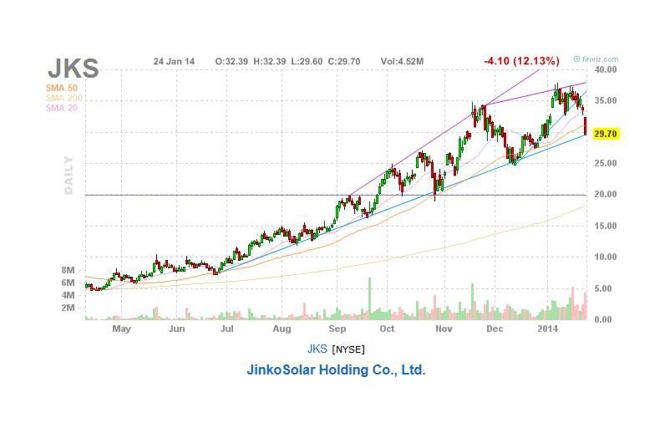 The shares have been on a rather epic tear, as you can see in the graph above. Notwithstanding the underlying continuous demand growth, the industry is rather cyclical due to the (NEAR) commodity nature of solar panels. It can really be very profitable to pick up shares of the better capitalized and better performing solar stocks near the trough of the cycle as we suggested some time ago, and the graph of JKS shares is probably the strongest evidence of this.
Q3 figures
Net income (fully diluted, non-GAAP) was $16.9M, up from $8M in Q2 and a loss of $18.2M in Q3 2012
EPS (fully diluted, non-GAAP) was $1.36, or $0.72 (GAAP)
ASP was $0.63, up from $0.60 in Q2
Gross margin was 22.3%, up from 17.7% in Q2 and 5.8% in Q3 2012
Operating cash flow in the third quarter of 2013 was $127.5M that mainly is coming from accounts receivable reduced.
Capex was $70M for the quarter and capacity on the ingots, wafer, cell is 1.5 gigawatts and on the module is 1.8 gigawatts at the end of Q3
They announced to be on the lookout for distressed assets to add to capacity and that's indeed what they did in January, and quite substantial at that: "The manufacturing assets of Topoint include 500 MW capacity for silicon wafers, 500 MW for PV cells, and 100 MW for PV modules."
Their 2014 capacity is already contracted out for 50% (and this was mid November 2013)
The 72 cents really beat consensus analyst estimates by a large (60%) margin as the market only expected 45 cents in profit for the quarter and as you can see here, Jinko managed to beat analyst expectations with a wide margin the last three quarters. You can also see that this had a great effect on EPS expectations for this year, which have been raised from 49 cents to $2.15 in a response to Q3 figures and management discussion.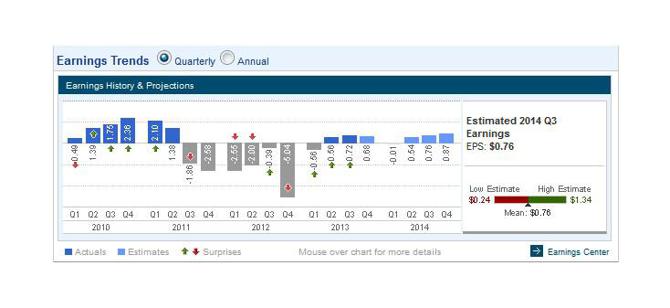 For Q4 2013, consensus estimate is for a 68 cents profit.
Guidance
For Q4, shipments of 500-530MW
FY 2013 1.7-1.8GW
Total operational solar PV projects at end of 2013 207-213MW
They see the ASP stable to mildly strengthening for the coming quarters
Half of Jinko's 2014 capacity was already contracted out by the end of Q3 [Zhang Longgen CFO Q3CC]
Markets
Overall, solar markets are growing strongly after the spectacular price falls of solar panels the last three years or so. These price falls have put solar at, or even below grid parity in quite a few markets, as you can see in the figure below from a Deutsche Bank report.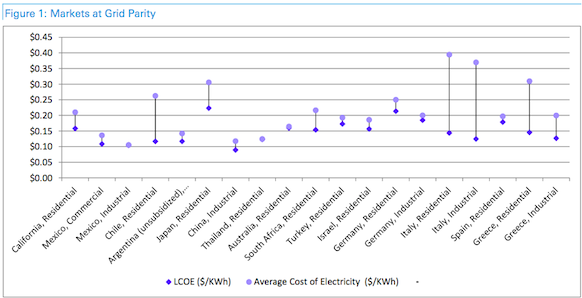 Demand has also shifted away from Europe towards Asia (notably China and Japan) and emerging markets in the last couple of years.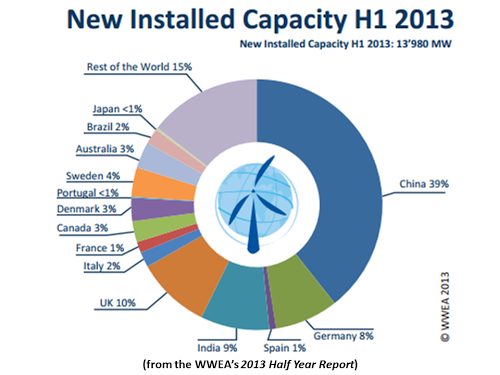 And supply and demand are coming more in balance after numerous bankruptcies, restructuring, postponement of new capacity buildings and acquisitions. All this is leading to stable to mildly increasing panel prices (or ASP, average selling prices), needless to say that's a very welcome respite for the solar sector after the brutal price declines of the last years.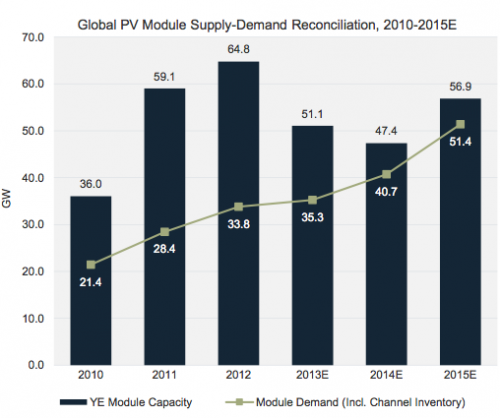 The company has been anticipating some of these market shifts and is now reaping some of the rewards from that, shifting away from Europe towards new, more promising geographies such as China, USA, South Africa, Japan, India and Latin America. Jinko is the market leader in China in terms of shipments and market share (Arturo Herrero CSO Q3CC) and they expect to have connected 108MW to the grid in China in Q4:
We delivered approximately 45% of total module shipments to China, 17% to South Africa, over 15% to Asian Pacific regions and over 10% to Europe and 10% to North America with our remaining shipments to other regions. [Arturo Herrero CSO Q3CC]
The company expects North America to deliver 12-15% of shipments, Japan 12%. They have 30% market share in South Africa already, which was their second most important market for them in Q3:
In South Africa, we account with over 30% market share and we already signed contracts for over 300 megawatts, including 94 megawatt in Acciona as part of the large five-year contract signed with them. In last quarter, we already shipped 84 megawatts in this country and it became second position of shipments after China. [Arturo Herrero CSO Q3CC]
Why buy the shares?
There are a number of reasons why we're bullish on the shares (from correction levels, under $30):
The solar market expansion is only in the beginning, and the price falls since 2009, which caused such havoc in the sector are the main reason why growth will continue for quite some time
The restructuring in the market has removed a lot of excess capacity, stabilizing prices whilst cost keep falling, so there is still room for margin expansion
The company has repositioned itself flexibly to take advantage of new growth markets, they are the market leader in China, the biggest solar market today
Jinko panel cost are amongst the lowest in the industry, its margins amongst the very best
The company has been able to buy new capacity on the cheap
There is a lot of expansion possible in higher-margin projects (utility and distributed)
Competitive advantage
Jinko has now established itself as one of the bankable A-brands, which for investors, as well as clients, is an important advantage as it offers much better guarantees of continuity in this fiercely cyclical industry, plagued by occasional strong downturns in which many companies go under.
Its competitive position is further cemented by being the clear market leader in the biggest solar market, China, and by having amongst the lowest cost panels and highest margins in the industry. According to SA contributor Jonathan Fishman, Jinko is the clear cost leader, giving them a cost per watt of just 49 cents, versus Trina Solar's (NYSE:TSL) 60 cents as the most expensive of four Chinese solar companies.
We find that result somewhat surprising as Trina used to be the cost leader and it's difficult to imagine they're now 20%+ behind Jinko. In our own article on Trina, we estimated their cost at 50 cents per watt, roughly equal to Jinko. We also explained that straight comparing cost might involve comparing apples and oranges at least a bit. What's not in dispute is that the latter enjoys higher margins (20%+ versus the mid teens).
Jinko is also continuing with innovation, increasing conversion efficiency to 18.5% of its Eagle+ modules and the smart modules.
Projects
Many solar companies are trying to mitigate the impact of the highly cyclical, commodity type business of producing solar cells and panels, not only by innovation and improving efficiency (which is a must), but by shifting toward distributed and utility scale projects, where they generate and sell electricity themselves.
In the words of CEO Chen Kangping [Q3CC], Jinko is transforming from "a traditional manufacturer to a one-stop energy solution provider." Here is Zhang Longgen [CFO Q3CC]:
I think by the end of this year the total 213 megawatts total I think of 10 projects will be connected with the grid by the end of this year. So these projects will be fully run electricity by whole year 2014. During 2014, our plan is to add another 300 megawatts to 400 megawatts
During the CC, Brandon Heiken of Credit Suisse asked about these projects:
Can you help us understand the different milestones and the hurdles for developing the distributed generation projects in your pipeline versus the utility scale projects, it looks like you have 400 megawatts of distributed generation and 700 megawatts of utility projects in the pipeline?
The answer from Zhang described how utility just connects to the grid and distributed projects have to find the end users, so the latter takes an extra step. The figures were confirmed both by CEO Chen Kangping and CFO Zhang Longgen, so Jinko has quite a lot in the pipeline of both of these types of projects in the pipeline, which is good for overall margins. An indication for these came from CEO Chen during the CC:
This quarter, we recognized approximately RMB40 million in revenue from our downstream business, where gross margins and net profit margins exceed 60% and 30%, respectively.
Things could get still more interesting:
JinkoSolar Holding Co., Ltd. ("JinkoSolar" or the "Company") , a global leader in the solar PV industry, today announced that its Board of Directors has authorized the exploration of strategic alternatives with respect to JinkoSolar's downstream solar PV project business. The Board intends to consider a broad range of alternatives including, but not limited to, an IPO, pre-IPO financing or merger and acquisition of the business. [PRNews]
Risks
We've already mentioned that there is uncertainty about the demand in China this year, a market of particular importance to Jinko, which has the highest China exposure of the big solar companies.
The audit issue doesn't help.
Arturo Herrero (CSO) noticed during the CC: "we can see a big decrease on the utility market, by largest percentage over the past year felling from 17, 18 gigawatts last year to approximately 10 gigawatts to 11 gigawatts expected in 2013." But since we only have one quarter to report, we don't think this is a serious risk. As we just described, the project pipeline is well filled up.
In most markets solar energy still depends on subsidies, it goes without saying that significant changes in policy towards these can impact the whole sector negatively
But we think that under $30, the upside outweigh the risk, although we don't expect anything like the run of the stock price of the last two years or so. Analysts, on average, expect 30 cents earnings per share (EPS) last year, rising to $2.21 this year, which gives the shares a P/E of just over 13. Not that cheap, but there is still good growth in the industry.
Disclosure: I have no positions in any stocks mentioned, but may initiate a long position in JKS, over the next 72 hours. I wrote this article myself, and it expresses my own opinions. I am not receiving compensation for it (other than from Seeking Alpha). I have no business relationship with any company whose stock is mentioned in this article.