Sometimes things are so huge, you can't see them.
As noted on April 1st by Domestic Fuel, a biofuels industry blog, and doubly reported by the Global Renewable Fuels Alliance and the Renewable Fuels Association, both lobbyists for the biofuels industry:
A new report commissioned by the UK Government has unequivocally concluded that biofuels were NOT to blame fo the so-called food crisis of 2007/2008.
It was drought, high oil prices and speculators (see here and here).

I guess the food crisis was "so-called" if you had plenty to eat that year.
The part of the study dealing with biofuels, complete with Economics 101 supply and demand and price elasticity charts, can be found here.
What a relief. I can turn in my "Ethanol is a Corny Idea" pin now.
Other than die-hard anti-ethanol activists and multi-national food vigilantes such as the Food and Agriculture Organization of the United Nations, just about everyone (at least everyone I knew) in the ag energy business definitely did NOT attribute the 2008 food price scare, which saw CBOT Corn futures spike to over $7.50/bushel and Minneapolis Hard Spring Wheat hit North of $20, to the ascendence of biofuels in American energy security policy.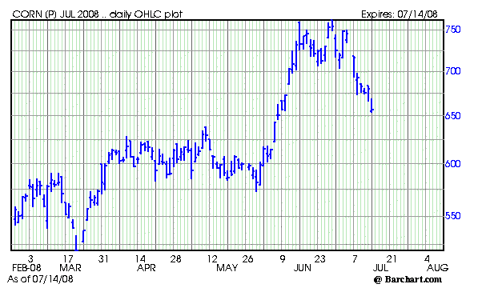 Given the most recent (March 31, 2010) USDA prospective planting intentions report has driven down new crop December 2010 corn futures to just half the price two years later, it deserves mention how these quasi-academic studies can be totally nearsighted.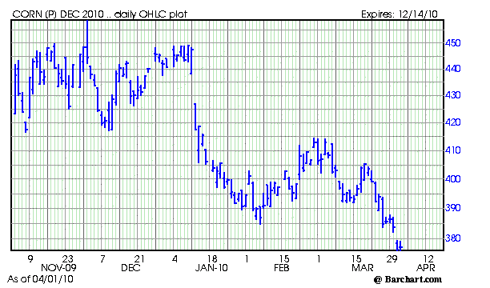 The institution responsible for the report, the UK Department of Environment, Food and Rural Affairs, is guilty of a glaring oversight.
In the 123 pages of the study and the 72 pages in the annex dealing with the exoneration of biofuels, there is zero mention of the June 2008 MidWest floods, which turned a lot of prime US crop land into a duck pond.
According to their website,
The Defra delivery network is complex and includes executive agencies, non-governmental public bodies and public corporations.
Maybe that network should include an office in Des Moines, or Cedar Rapids, Iowa.
At the time, it was thought that over 1 million acres of Iowa crops had been wiped out. The flooding also damaged crops in Illinois, Indiana, Michigan, Minnesota, Missouri, and Wisconsin. Over 100 city blocks of Cedar Rapids was submerged.
The prices of soybeans and wheat spiked with corn as investors and speculators tried to understand the magnitude of the damage that these floods had inflicted.
It's as if Defra was trying to describe the reasons for a forest fire without mentioning the fleeting but rather important fact that a lit cigarette was thrown into a pile of dry tinder.
As it turned out, the majority of the 2008 bumper crops were left largely intact, and the the prices of tradeable ag commodities subsided. The Great Credit Crisis of the Fall of 2008 finished off what was left of any reckless bulls as demand for feed and energy plummeted.
I remember the 2008 Midwest floods well as they were top of mind when on June 26, 2008, I testified on a biofuels bill before the Canadian Senate Committee on Energy, the Environment and Natural Resources.
My testimony was slanted towards skepticism that the record run up in oil prices, and therefore biofuels, could be sustained.
In spite of the Defra report's shortcomings, it does reemphasize a relationship which was obvious to practitioners at the time: corn ethanol and vegetable oil biodiesel strengthened the correlation between US crude oil, gasoline and distillate, corn and soybean futures trading prices, by making their real substitution possible, albeit imperfect.
Unfortunately, the purveyors of fossil fuels are also the blenders upon which corn ethanol and biodiesel producers are dependent to buy their products.
Another oversight of the Defra report is they never mention or chart the price of the main biofuel the study attempts to deconstruct - corn ethanol. The futures were tradeable in 2008, and still are, if not liquid.
I will defer mention of the biodiesel industry to another time, as it is smaller than the corn ethanol sector and the names available for investment are smaller and less liquid.
Corn ethanol is currently in oversupply and the price has dropped from the $1.90/gallon area at the beginning of the year, to the mid $1.50's, at least from a CBOT futures standpoint.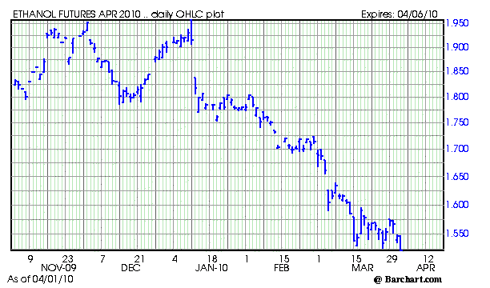 Why is ethanol trading so low? The ethanol price weakness stems from current production capacity exceeding the RFS mandate of 12 billion barrels for 2010.
But this should firm up as the price discount between RBOB (Reformulated Blendstock for Oxygenate Blending) and AE (Anyhydrous Ethanol) has widened, stimulating blender demand for ethanol. With the blender credit, ethanol is highly profitable.
Now that Obama has won the healthcare battle, it is possible, his administration will pay more attention to climate change and low carbon fuels, although it is debatable corn ethanol qualifies as such. Facts aside, looming Congressional elections bode well for a bone to be thrown to corn ethanol lobbyists: namely, an increase in the Renewable Fuels Standard to 15% from the current 10%. Such a change in mandate would fuel a huge uptick in ethanol blending demand.
The USDA report mentioned above estimated 7.69 billion bushels of corn were in storage. If just one billion bushels of extra corn were available for ethanol, you can see this is a store of energy waiting to be converted to fuel.
At a conversion rate of 2.9 gallons/bushel, it would translate into 2.9 billion gallons of ethanol, or 69 million barrels of anhydrous ethanol for fuel waiting to be produced and blended. That's 7.7 days of gasoline supply (the last 4 weeks average finished gasoline production was 8.945 million barrels/day), unadjusted for the fact ethanol has only 2/3's the energy content of regular gasoline.
Please note the condition of the corn left over from last year is still subject to debate, as moist corn is subject to vomitoxin creating moulds, making it unusable for corn ethanol. Much of last year's corn was harvested late and some while under snow cover.
Another caveat of course, is that we get another re-run of the 2008 flood debacle and there is some noise that MidWest Flood Junior could soon be upon the US.
Back to the Present situation, and why this discussion is relevant for biofuel investors and speculators (the former soon to become the latter no doubt).
The UK Defra study IS useful in describing the conditions for the price squeeze that occurred in 2008 (wheat drought impacted prices in February before the flooding hit corn and soy in June) and might serve to stimulate a review of the state of the corn ethanol and biodiesel industries, almost two years later.
The study states that corn ethanol production becomes economic, without subsidies such as the 45 cent blender credit, when the price of gasoline per gallon (they don't mention what type but I assume regular unleaded at retail) reaches 90% or more of the current corn price per bushel (again not specified type or location).
Given #2 Yellow Corn May Chicago delivery futures ended the week at $3.44/bushel and Chicago wholesale spot RBOB was $2.29 as of mid-March (EIA data for Chicago RBOB as of March 26 unavailable), the gasoline/corn ratio was below the Defra sans subsidy economic level of 90%, at only 66.6%. But this would rise if WTI crude stays above $86 and corn prices continue to wilt.
The preferred metric for corn ethanol production profitability is much simpler: Rack ethanol delivered varies widely by state but nationwide averaged $1.823 according to DTN Ethanol. That would equate to a theoretical yield of $5.29 of ethanol per bushel of corn, or $2 over an approximate current midwest corn bid price of $3.30. That's a very attractive spread.
This analysis doesn't take into consideration Distillers Grains revenues and costs such as natural gas to fire the boilers and freight to carry corn in and ethanol out. Current low midwest NG prices indicate improving corn ethanol profitability on a variable cost basis.
Unfortunately, almost all the corn ethanol producer names we made money on in the second half of 2007 are gone, casualties from the aforementioned corn price whipsaw. Notably, Aventine Renewable Energy, US BioEnergy and Verasun.
Ironically, it was a major gasoline producer, Valero (NYSE:VLO) that bought Verasun's main plants after it went Chapter 11.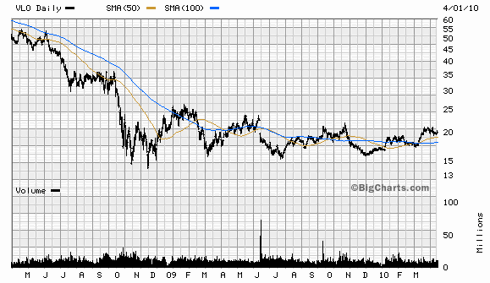 For the record, we made money overall on Verasun in 2008 as we sold it before it went bankrupt. See my article here.
Today, the few remaining names in the corn ethanol space may have appeal as plentiful corn supplies, strong planting intentions for 2010, and high gasoline prices are coupled with the possibility the EPA may raise the RFS to 15%.
The 2009/10 rally in Green Plains Renewable Energy (GRPE), a 15 bagger for those with the audacity to buy it in March of 2009, shows the potential for gains in the remaining independent corn ethanol producers left standing.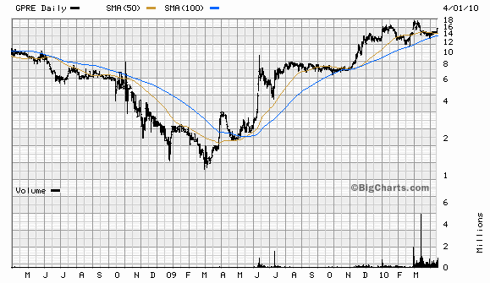 MGP Ingredients was another Corn Price Swing Survivor, but they are getting out of the fuel alcohol business (a bullish indicator?).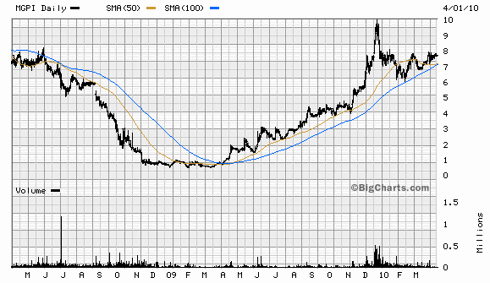 Another possible is Archer Daniels Midland (NYSE:ADM), whose stock does not appear to reflect the possible upside in the corn ethanol business, which is only one of several ag-related divisions.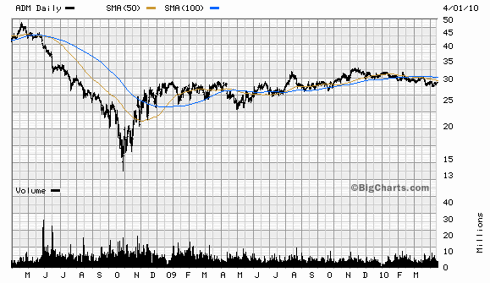 Finally, The Andersons (NASDAQ:ANDE) is still chugging along in the grain handling and corn ethanol space, with partner Marathon Oil (NYSE:MRO).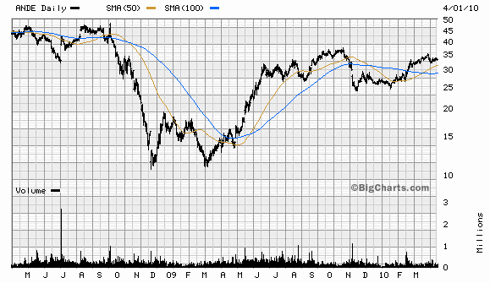 Disclaimer: I have not performed a full analysis of these companies nor have I valued these stocks at this time. Investing in them is at your own risk.
Stock pricevharts courtesy of Big Charts.
Commodity price charts courtesy of BarChart.com.
Disclosure: No positions at the present time