NQ Mobile (NQ) is a stock that has all of the ingredients necessary to make money off of with options. NQ Mobile is a global mobile security and productivity company that's co-headquartered in both Beijing and Dallas. As of June of 2012, NQ claimed it had about 200 million registered user accounts.
Right now, there's two major camps on NQ Mobile - bulls that think the stock is grossly undervalued and an enormous buying opportunity, and bears that think the company itself is a house of cards that will eventually collapse in its entirety.
Toward the end of October last year, research firm Muddy Waters called the company a "massive fraud," issuing a near worthless price target - NQ subsequently was halted and the price of NQ plunged as low as $7 from its former valuation in the $20s. From my previous NQ article:
Muddy Waters claimed that almost 75% of NQ's major revenue was non-existent, claiming the company is its own biggest customer. They made allegations across the board, claiming that NQ's market share was about 1.5% versus the 55% that the company claims. They alleged that NQ's software wasn't safe and actually made phones more vulnerable to security breaches.
As I noted in an article that I penned in November of 2013, "someone's full of it." Its just that the market hasn't figured out which side it is yet. On one hand, funds have been piling into NQ and calling it a buy. On the other, NQ is still not trading anywhere near where it was before Muddy Waters Research launched its allegations with regards to the company.
Morgan Stanley was the latest to take a position in the company - disclosing a 5.2% stake on Monday December, 30. Seeking Alpha reported on MS and some of the other funds that were taking stakes in the company:
A slew of hedge funds have already disclosed large stakes in NQ since Muddy Waters levied its extensive fraud allegations in October. Shares are still down 44% from where they closed the day before Muddy Waters' initial report arrived.
There is no doubt that if the company is exonerated in time, it'll trade back over the $20 mark. Should regulatory intervention or other bearish news come to light before then, it could quickly dip well below $10 again.
And so, with all the volatility, how could I trade NQ mobile?
Looking at options that are 6 months out, you can see the they are cheaper the more in the money you buy them if you're buying to open. So, you could open a spread by going long $10 calls and long $19 puts for about $14/share. That's a $24 breakeven to the upside and a $5 breakeven to the downside. Your potential profit to the upside is unlimited, and to the downside is a $500/contract if NQ hits a rough road between now and July. You're buying six months worth the theta in this example, which is what makes it expensive.

But, some might see this strategy as too expensive, too much, risk, or not prudent if you believe in NQ one way or another. If you're bullish on NQ in the long-term, why not take a stake in the equity and rip off a bunch of covered call contracts - the premiums are very juicy. If you're long NQ at a CB of $14 today, you can sell $19 calls for $2.55/share - locking in a win/win situation if the stock stays below $19 or even if you have to sell for a gain of nearly $40.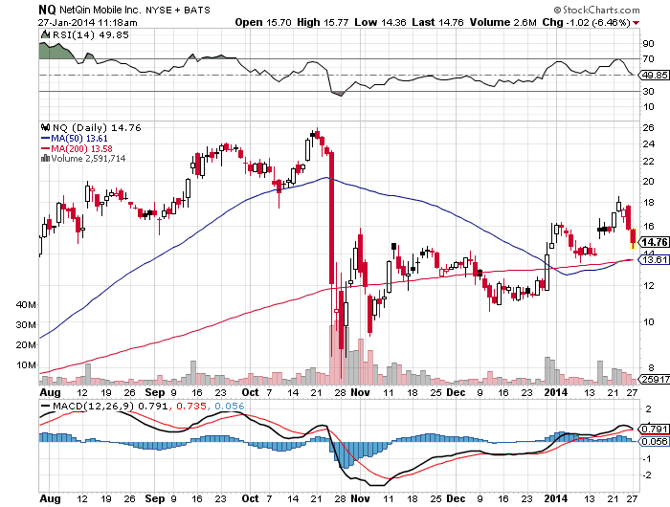 In addition to that, NQ has presented itself as a great potential security to swing trade - i.e. ride the short term runs up and short the short-term swings down. If you're not into options, you could simply trade the equity back and forth.
One thing is for sure - any investment in NQ comes with risk: risk to the downside that the company could face regulator scrutiny and risk to the upside that it could easily return to the $26 level as doubts are cast off. If you do try and play the volatility on NQ, make sure you're keeping an hourly watch on its price, at the minimum. Understand that considerable risk exists here - but potential profitability exists just the same.
Best of luck to all investors.
Disclosure: I have no positions in any stocks mentioned, and no plans to initiate any positions within the next 72 hours. I wrote this article myself, and it expresses my own opinions. I am not receiving compensation for it (other than from Seeking Alpha). I have no business relationship with any company whose stock is mentioned in this article.