Readers of mine might be wondering why I am spending so much time trolling for investment ideas north of the border. In my mind, Canada is ripe with investment opportunities because (1) valuations are generally less demanding than in the US and (2) there are many well-run enterprises to evaluate. To that end, I've been spending a lot of time in the land and real estate development sector, keeping in mind the current macroeconomic back drop which suggests the Canadian residential real estate market is very effervescent (aka, overvalued).
Melcor Developments Ltd [(OTCPK:MODVF) (MRD.TO)] ("Melcor" or "the company") is a small ~$615 million market capitalization, family run, real estate developer and land owner in Canada. It trades lightly on the TSX (only about 12 thousand shares daily). But the company appears to be offering considerable value at the current price.
The company recently took a new strategic action to diversify its asset base and income stream by spinning out certain of its commercial real estate assets to create a publicly traded REIT, Melcor Real Estate Investment Trust, which it owns a controlling 51% stake.
Currently, Melcor REIT is a sub-$100 million market capitalization REIT with little analyst coverage, a stable shareholder in Melcor and a portfolio of 29 assets appraised at $418 million. Melcor REIT sports a 6.5% dividend yield, creating a stable stream of income for Melcor (about $3 million), and a more efficient way to access the capital markets through a separate, publicly-traded vehicle.
The timing of the Melcor REIT spin off was particularly well-timed in May 2013, just before the announcement of the "Fed Taper." Melcor managers recognized that cap rates on real estate had compressed, thereby allowing the company to maximize the value of the assets which included 27 income-producing properties into its own publicly traded vehicle (the portfolio is now comprised of 29 properties).
Interestingly, Melcor REIT has significantly outperformed its Canadian REIT peer group, thereby allowing Melcor REIT to continue to use its equity as currency for new acquisitions.
Melcor also benefits from the Melcor REIT arrangement through advisory fees (until Melcor REIT's asset base reaches $1.15 billion). The fee arrangement includes: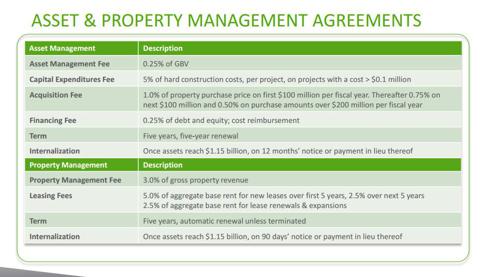 Source: Melcor REIT November Investor Presentation
Therefore, Melcor benefits from the new arrangement in multiple ways including (1) the market value of its investment in Melcor REIT, (2) a dividend stream and (3) high margin advisory fees. This is similar to the arrangement I noted in another Canadian land and real estate developer, Dream Unlimited (OTC:DRUNF). The strategic move to create Melcor REIT, while in its early innings, appears to be very accretive to Melcor shareholders.
Finally, investors should note that Melcor holds the 49% non-controlling interest of Melcor REIT on its balance sheet as a financial liability having an impact on book value.
Businesses
Melcor Developments operates in four primary segments, including:
Community Development, including acquiring raw land assets for commercial and/or residential use. Melcor owns over 9,400 acres, almost exclusively in Alberta, and either sells to third parties or downstream to its Property Development division. This is a high margin business, generally around 40%.
Property Development, including retail, commercial and industrial real estate development
Investment Properties, including the leasing activity for the Melcor REIT properties.
Recreational Properties, including owning/operating four golf courses in Alberta and British Columbia.
Most of the value proposition comes from Melcor's extensive land bank and land development business.
For a visual readers, here is a flowchart of the businesses which highlight the congruency between the divisions.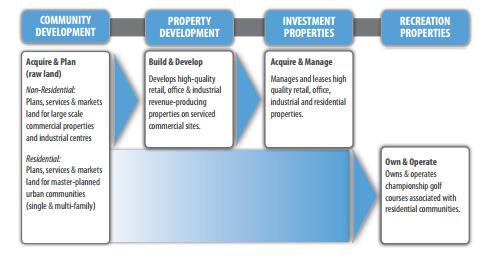 Valuation
Valuing a land owner and real estate developer is a fairly complex affair. Generally speaking, land is valued based on its asset value, while the operating businesses should be valued on earnings power.
Land, of course, is a valuable asset, which lies dormant from an earnings perspective until sold to a third party or developed. Melcor generates margin through land sales or developing it internally.
Through the first nine months of 2013, Melcor sold 682 lots at an $145,500 average selling price ("ASP"), up from 613 lots in the prior period. Investors should note that this business is seasonal (and cyclical), with the fourth quarter generally being the highest for plan registrations and sales in line with seasonality with the real estate development industry.
I understand some lot sales were delayed in Q3 due to the timing of certain plan registrations, which should have been realized by Melcor in Q4. This is another reason why valuing land and real estate developers is tricky, because of the lumpiness in revenue streams. On the whole, directionally, sales continue to increase at a healthy pace, up 14% year-over-year through Q3.
Given the expansion of Melcor's business, it trades at about a 15% discount to book value, even though Melcor historically generates 40% gross margins on its land assets. It also trades at about 13x core TTM earnings (excluding revaluation adjustments on investment properties per IFRS). In my view, the valuation appears very reasonable given the growth profile of this business, even after considering the risks.
I believe Melcor has taken steps to insulate itself from a potential downturn in the Canadian real estate market given the recent strategic transactions, and the fact that its balance sheet is modestly levered ($500 million gross debt), using the extensive asset base as collateral for the loans.
Keeping those risks in mind, the current valuation should compensate investors for the risks incurred. Melcor has a modestly levered balance sheet ($500 million in gross debt), trades at an undemanding 13x TTM earnings, and has grown sales and earnings at a healthy pace over the last several years. Finally, investors are betting on a competent management team with significant "skin in the game" both economically and in terms of reputation.
Conclusion
Melcor is a well-run land owner and real estate developer with a long history of creating shareholder value. Given the large 9,400+ acre land bank, real estate development business and a recurring income stream from the REIT, Melcor appears like a good value in today's ebullient, yet jittery, global equity markets. Investors, though, should keep in mind that this equity trades lightly, which requires investors to demand extra compensation for bearing the risk of illiquidity.
In my opinion, Melcor is an interesting play on certain hard assets that should provide a hedge in an inflationary environment because much of Melcor's value is hidden/dormant (the land bank) and semi-inflation resistant, while also having characteristics of a REIT-like income investment.
For $615 million, investors get an attractive asset base and a quality management team with plenty of room to grow the business. In my mind, Melcor stands to produce solid, risk-adjusted returns over the long run at an attractive price today.
Disclosure: I have no positions in any stocks mentioned, and no plans to initiate any positions within the next 72 hours. I wrote this article myself, and it expresses my own opinions. I am not receiving compensation for it (other than from Seeking Alpha). I have no business relationship with any company whose stock is mentioned in this article.