About the only thing that can be shorted nowadays with success are US Bonds. I covered almost the entire short of iShares Barclays 20+ Year Treasury Bond (NYSEARCA:TLT) on March 24th as this ETF has been range bound for months on end and was at the lower end of the range.
Now the situation has changed. Much like a range bound stock that breaks out, we have a similar pattern change in this ETF. Today, as the chart below shows, a triple "bottom" was broken (or bond yields have broken out; however you wish to view it) so I will treat it as if a stock is breaking out and get back our position, but in larger scale. (Click to enlarge)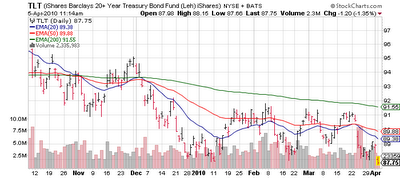 We'll jump back in with a 2% allocation on the short side... which is really a "bullish" call on the broader market so it's only 'short' in technical nature. Generally this is "slow money," so if one wanted to press their bets TBT ETF (which is the Ultrashort of the bonds) is the other option.
Keep in mind that there are 10- and 30-year bond auctions later this week. If there are any "digestion" problems with the US debt, this should also help this position.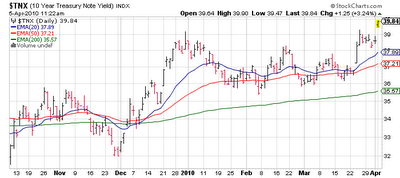 [Nov 21, 2008: Bookkeeping - Initiating Ultrashort Lehman 20+ Year Treasury (TBT)]
Disclosure: Short TLT in fund; no personal position