Benjamin Graham, the father of value investing, astutely recognized, through years of market observation, the following truth: "In the short term, the stock market behaves like a voting machine, but in the long term it acts like a weighing machine." It's this emotional short term popularity contest that occasionally presents prudent investors the opportunity to buy great companies at prices significantly below their intrinsic value.
Every successful investor takes advantage of this reality either knowingly or through good fortune. Activist investor Carl Icahn is no exception as he is well aware. Icahn, in his twitter profile, writes: "Some people get rich studying artificial intelligence. Me, I make money studying natural stupidity." This "natural stupidity" is simply a different label for the same voting machine mentality that Graham observed decades ago and that still persists today.
Throughout his career studying market stupidity, Icahn has proven to be an adroit stock picker with an exceptionally keen eye for spotting unrealized value in the beaten dogs of the market. He has a long history purchasing sizable positions in such companies and then using his considerable influence to petition their board for increased efficiency and other measures that might unlock shareholder value. Impressively, Icahn seems to be growing sharper with age; in 2013 his holding company Icahn Enterprises L.P. (EIP) ballooned 144.8 per cent (before dividends) dwarfing the otherwise impressive 30 per cent increase in the S&P500.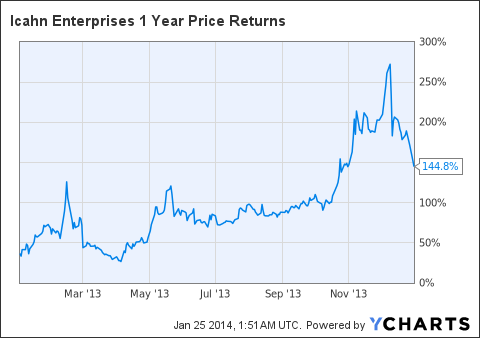 The start of 2014 has seen the market absorb an increase in volatility precipitating major indexes to retreat from all time highs. Certain securities have been battered worse than others, forming fresh 52 week lows. Interestingly, Transocean (NYSE:RIG), a company in which Icahn has accumulated a nearly 6 per cent stake, is among the severely clobbered. Even more compelling, Icahn purchased his stake at an average cost of $50 per share according to Forbes contributor Bryan Rich, nearly 13 per cent above it's current quotation.
The following analysis will attempt to determine whether the precipitous drop in Transocean shares is a result of the merit based market weighing machine or the folly based voting machine.
Company: Transocean, a Swiss based company with a market cap of just under $16 Billion, is a leading offshore contract driller. Transocean operates a fleet of 80 rigs (12 more in production), the most in the industry, with other major competitors Ensco (NYSE:ESV) and Noble (NYSE:NE) operating fleets of 71 rigs and 68 rigs respectively.
Valuation: Currently, shares of Transocean are trading below their book value of $45.21. Also, the trailing twelve month price to earnings ratio of 9.88 looks comparatively low next to the benchmark S&P500 average TTM PE of 18.20. The multiple contraction, shown below, implies lower earnings expectations and negative growth for Transocean moving forward.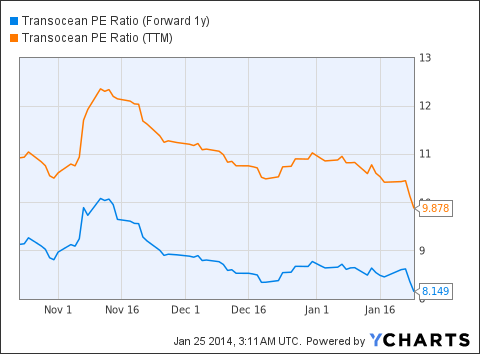 Revenue & Earnings Trends: In April 2010, the Transocean Deepwater Horizon drilling rig exploded and subsequently sunk in the Gulf of Mexico. The resulting oil spill caused immense damage to both BP, Transocean, and the entire region. Additionally, in November 2011 Transocean experienced another oil spill, this time off the coast of Brazil. Litigation stemming from both incidents has effected Transocean's income statements and balance sheets over the past several years (particularly in 2012). While all of the charges are still not entirely settled, it looks as though the worst is behind Transocean with revenue and income on a steady upswing since mid 2012 (links leading to detailed information about the litigation progress can be found at the end of this article).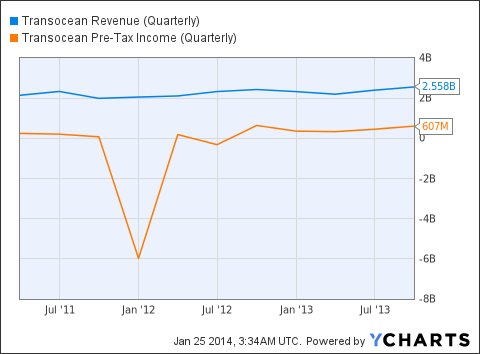 Most Recent Earnings: The third quarter results emphatically beat Wall Street expectations in both earnings ($1.37 per share vs $1.06 per share expected) and revenue ($2.56 billion vs $2.48 billion expected). These increases were attributed to improving day rates and better rig utilization (rig utilization was up to 83% from 80% in the prior quarter). Both of the preceding metrics are vitally important due to the implication of trends in supply and demand.
Forward Looking Statements: Transocean management has cautiously guided for continuing increases in revenue, net income, and profit margins over the course of 2014.
Backlog: As of October 16th, 2013 the contract backlog was $29.8 billion or about three times last years revenue total. The majority of the backlog contracts are for ultra-deep water rigs which garner the highest day rates.
Wall Street Concerns: Recently, a slew of sell side analysts weighed in on Transocean, cutting expectations and price targets. The most frequently expressed concern is the Fear of decreased utilization --analysts predict that the increase supply of new rigs coming online in 2014 will force down day rates as well as utilization rates, materially affect income. After reading though multiple quarterly and yearly reports however, it appears that the majority of these new rigs are either replacing old rigs or are being built for a specific contract. I have substantial doubts that the mitigating effect of replacement and new allocation, as opposed to strict addition, is being accurately accounted for in analyst's models.
BONUS: The Icahn effect - In the past year, Icahn has coerced several policies that are nearly certain to extract additional shareholder value.
Cut the number of board seats from 14 down to 11. At the same time Icahn has put two of his own people on the new 11 person board.
Increased the 2014 dividend payout to $3 per share (from $2.24 per share), representing a yield of 6.78%.
Road mapped a $800 million margin expansion program to be implemented and fully realized by 2015. The margin expansion will come as a result of increased operating efficiency and debt reduction measures.
Plans for a Master Limited Partnership spin off which will reduce the effective tax rate.
Conclusion: It is worth noting at this point that the conclusion reached herein is the author's opinion and not a matter of fact. I strongly encourage all readers to form their own conclusion based, not only on this article, but their own personal research. Having said that, I am exceptionally optimistic about the future for Transocean. Even without Carl Icahn's influence the company's prospects appear to be extremely under appreciated. It seems very probable that Transocean is finally shaking off the remaining ill effects of the Macando Gulf of Mexico spill. Now, back on solid footing and with Icahn in the mix, Transocean's current share price represents a material discount to intrinsic value. That is not to say the shares are destine to move higher in the short term, it is impossible to determine exactly when the market sentiment will shift, only that they currently represent a sufficient margin of safety for the long term investor willing to wait out the market.
For further information about Transocean I encourage you to visit the investor relations section of their website as well as review the 2013 investor day pdf.
Disclosure: I am long RIG, SU, NOV, BRK.A. I wrote this article myself, and it expresses my own opinions. I am not receiving compensation for it. I have no business relationship with any company whose stock is mentioned in this article.