Today, the National Association of Realtors (NAR) released its Pending Home Sales Report for February showing a significant 8.2% increase since January and a 17.3% increase compared to February 2009 as buying activity picked up in advance of the second (and final) expiration of the government housing tax gimmick at the end of April.
Meanwhile, the NARs chief economist Lawrence Yun suggests that this second stimulus surge could work to artificially stabilize home values:
"The rise in buyer contact activity may signal the early stages of a second surge of home sales this spring. The healthy gain hints home prices are continuing to flatten, ... We need a second surge to meaningfully draw down inventory and definitively stabilize home values."
As we have seen from the initial "expiration" in November, although the increase in sales was significant and home prices increased, the effects were temporary with prices declining again once the stimulus surge tapered off.
It's important to consider that today's results are coming in the midst of unprecedented government intervention in the nation's housing markets... tax credits, propping of Fannie, Freddie and FHA, mortgage workouts, etc... it will take some time to witness what the true "organic" sales trend is after these measures are eliminated.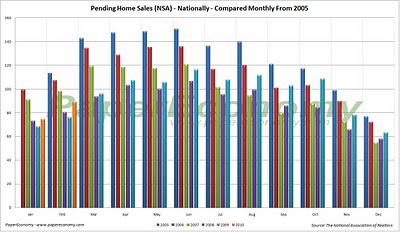 The following chart shows the national pending home sales index along with the percent change on a year-over-year basis as well as the percent change from the peak set in 2005.
click for full-size dynamic version

Look at the seasonally adjusted pending home sales results:
Nationally the index increased 17.3% as compared to February 2009.
The Northeast region increased 18.9% as compared to February 2009.
The Midwest region increased 18.7% as compared to February 2009.
The South region increased 17.5% as compared to February 2009.
The West region increased 14.6% as compared to February 2009.