As expected, dry shipping stocks are having their seasonal crash. At the end of 2013, I published an article entitled Dump These Dry Shipping Stocks Before They Dump You in which I warned there were four main reasons for the upcoming dump: seasonal rate collapse following the Chinese new year, nosedives in Capesize rates that always inevitably follow dramatic spikes, the warnings of many dry shipping CEOs, and the little fundamental benefit from a rate rise in the first place for many dry shipping stocks. Two weeks later I followed with another article warning that Dry Shipping Stocks Are Going Down By The Head, as the rates were beginning their collapse, and I believed they still had much to fall. Despite being lambasted in the comment sections, rates have imploded as forecasted along with many dry shipping stocks. In the last week alone, DryShips (NASDAQ:DRYS) crashed 11.5%, Navios Maritime Partners (NYSE:NMM) slipped 4.2%, Diana Shipping (NYSE:DSX) plunged 11.4%, Star Bulk Carriers (NASDAQ:SBLK) dove 11.0%, and Safe Bulkers (NYSE:SB) imploded 10.9%.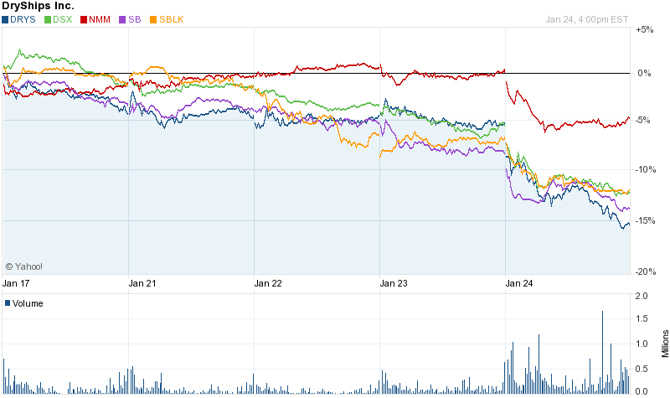 Now there are macro concerns about the Chinese economy after weak manufacturing data. Since China these days has represents a substantial portion of the dry shipping industry especially with iron ore to that country, any cutback in the steel industry could mean a sharp and sustainable reduction in shipping rates. Two weeks ago I stated:
Dry Shipping stocks could still have a long way to fall as well as the rates.
And now, unfortunately, the stocks have fallen a long ways and the rates for ships of all sizes have gone from bad to worse.

The most obvious reason why dry shipping stocks are crashing is simple. As you can see from the BDI data above, the daily spot rates for ships have been in freefall. The Capesize ships, for example, were already seeing their rates in a tailspin then the last two weeks saw another 39% drop and are now at lower rates than the Panamax and the Supramax ships. At these low rates, it's impossible for some dry shippers to even make a profit. The Panamax and Supramax rates had been holding up reasonably well but have fallen 6.4% and 6.6% respectively, causing concern and panic that these are the start of a much larger fall.
All other things being equal, each $1.00 drop in shipping rates translates to a $1.00 drop in the bottom line for dry shipping companies that operate based on the spot rate. For shipping companies with long-term contracts, it has less of an effect, but prolonged depressed shipping rates affects all dry shipping companies eventually because they will have to renew their contracts. The rates for any newly acquired ships come with low rates.
Going forward, there is a concern out there that the short-term shipping prices won't recover. This is because iron ore and coal volumes from South Africa and Brazil are reportedly down. The dry shipping market is extremely inelastic, especially with the largest Capesize ships, meaning that even small drops in volume shipments or demand usually magnifies as much larger dips in rates. Worse, the grain shipments from South America saw activity come "down dramatically" which doesn't bode well at all for the Panamax ships unless harvests over the new few months surprise to the upside.
In short, for dry shipping stocks to justify higher levels and stop the price bleeding, the shipping rates as summarized in the Baltic Dry index needs to stop its bleeding and return moving north again. There doesn't seem to be much sign of this happening yet though many executives and analysts believe that should occur in the second quarter which is over two months away before it even begins.
Seeking Alpha contributor Quoth the Raven continues to be spot on with his dry shipping calls. His latest article, 2 Reasons I Keep Avoiding DryShips, outlines dilution coming for DryShips and his reasoning to stay out for now. I believe this could be extended to other dry shipping stocks as well. I agree with his overall thesis - stay away from dry shipping stocks for now. Their stock prices, despite the fall so far, are still at levels that they reached when shipping rates were much higher.
I stand by and reiterate my conclusion of my last article. February is not too far away now. It's best to at least wait until then:
Despite the already huge sell off in the stocks and dip in the rates, I believe there may still be much downside to go as the bearish call by CEOs from various dry shipping companies and seasonal concerns is for the first quarter of this year, not just the first two weeks. Although it can be quite tempting to try to catch a falling knife, I believe this falling knife may still have further to go, possibly much further. Investors wanting to avoid bloody fingers may want to wait out this down cycle until at least February when dry shipping companies start to report again and give their outlooks on the year.
DryShips (minus its drilling subsidiary) and Diana Shipping both have forward estimated losses by analysts. Star Bulk Carriers has forward P/E of 25 based on analyst estimates while Navois Maritime Partners and Safe Bulkers have forward P/Es of 23 and 10 respectively. Given the severe volatility of the shipping cycle, it seems like Safe Bulkers is the only one that is reasonably valued based on forward P/E. However, with rates crashing, long-term earnings estimates could get slashed down making all of these seem overvalued.
Where are dry shipping stocks headed from here? The key to their movement is the shipping rates as measured by the Baltic Dry Index. In order for these rates to improve, and bring dry shipping stocks up with them, China will need to increase its orders and shipments of iron ore. There are other factors that play into the worldwide shipping rates such as Japanese imports of coal and gain exports from South America, but by and large China will determine 2014's rate and stock price fates. Watch the economic news from China and the daily spot rates to determine any change. For now, until there is evidence of improvement, I'm afraid the ugly crash in dry shipping is just starting.
Disclosure: I have no positions in any stocks mentioned, and no plans to initiate any positions within the next 72 hours. I wrote this article myself, and it expresses my own opinions. I am not receiving compensation for it (other than from Seeking Alpha). I have no business relationship with any company whose stock is mentioned in this article.