Written by Scott Matusow and Kyle Dennis
We typically cover developmental pharmaceutical companies, but this week we want to bring attention to a medical device company which has had recent unusual bullish options trading activity - but does it signal a rally is soon to come in its stock?
The company in question is Accuray Incorporated (NASDAQ:ARAY), which develops and markets radiosurgery and radiation therapy devices to treat cancerous and non-cancerous tumors anywhere in the body.
Accuray's stock has been on a rollercoaster ride the last five years as a lack of proper company structure and leadership has hurt creation of proper cash flow and profit to advance the company. However, we believe that Accuray is now on the cusp of turning itself into a profitable business that has made it a likely acquisition target because of the positive actions taken by the new CEO and CFO of the company.
Many seem to agree with our opinion as recently we have spotted unusual bullish option activity and accumulation of the stock. If the company continues on its current path, we believe it's very close to breakeven profitability, even as early as the upcoming quarterly earnings announcement at the end of January.
Product Overview
The company's two leading products are the CyberKnife System and the TomoTherapy System. These two technologies are used to deliver precise high doses of radiation to anywhere in the body. The two technologies are able to treat a range of indications that includes prostate and brain cancer.
The precision of Accuray's radiation treatments allows doctors to perform noninvasive therapies on patients with inoperable tumors in their bodies. Since the CyberKnife can deliver radiation therapy to within millimeter accuracy, doctors can apply higher doses than other competing therapies offer. For patients this means less time spent at the doctor's office, less side effects, offering a more precise and effective therapy. For insurance companies this also means less money spent on reimbursements.
The company's other product is TomoTherapy, which is also able to treat all standard rotation therapy indications. What makes TomoTherapy unique is that it is a 3D image-guided, intensity modulated radiation therapy (IG-IMRT) and a 3D conformal radiation therapy (3DCRT) system.
The 3D imaging and design allows this machine to deliver radiation therapy uniformly in a 360-degree rotation. This technology is extremely accurate and spares more patient tissue than normal radiation therapy. For patients, this treatment also produces fewer side effects, is more efficacious, and is quicker than other options.
New CEO and CFO Have Turned Around The Company
Between 2008 and 2010, Accuray was a profitable company and looked poised to become a greater player in the specialty radiation therapy market. During those years the company posted earnings per share of 9 cents in 2008, 1 cent in 2009, and 5 cents in 2010 - not great profit, but nonetheless, profit.
However, the former CEO along with senior management decided to focus on product development instead of product commercialization. This led to the company's negative earnings per share starting in 2011, although revenues on average were much higher during these years than in years past.
In October 2012, the company decided to bring in a new CEO, Joshua Levine. Mr. Levine has a history of running successful companies and making smart business decisions. He has nearly 30 years of experience in the medical device industry and previously worked at Kinetic Concepts, Mentor, Johnson & Johnson (NYSE:JNJ) and Immucor. Kinetic Concepts, Mentor and Immucor were each acquired for over a billion dollars during his tenure at those companies. Since Mr. Levine's appointment as new CEO, Accuray has reported positive developments in its last three earnings calls which have sharply turned the company around.
Mr. Levine has focused on streamlining the sales execution and cutting unnecessary expenses to drive business forward. Early in 2013 he decided to cut workforce and focus on producing positive cash flow that has been reversing the damage previous management caused. Under Mr.Levine's tenure, the company has shown improvement every quarter. Analysts have taken notice and are predicting breakeven earnings and profitability within a year.
In September 2013, the company also added Gregory Lichtwardt as its new CFO. Mr. Lichtwardt also has about 30 years of experience in the medical device field and was most recently the CFO of Conceptus. During his tenure as CFO, Conceptus saw sales grow from $8M to $141M. It's worth noting that in June of last year, Conceptus was acquired by Bayer for $1.1B. Both the new CEO and CFO came onboard Accuray soon after selling their respective companies they last worked for. We do not think this is a coincidence and believe Accuray is being primed to have the needed business leverage to make itself a strong acquisition target, and for a nice premium.
Additionally, with the new CEO and CFO at the helm of Accuray, we believe the company is poised to finally capitalize on its cutting-edge technology.
Latest Earnings Call Provides Positive Guidance and 2013 Results
Since Accuray is not a clinical-stage developmental pharmaceutical company, the speculation from investors is focused on the current earnings situation rather than on trial results. For many years Accuray's earnings have disappointed investors. However, under Mr. Levine's tenure investors have taken notice of company's improvement in 2013, evident in the more than doubling over the last year.
In the company's previous conference call, Mr. Levine and Mr. Lichtwardt reported several positive developments. Highlights from the conference call are below:
Net orders of $60.1 million going into backlog increased 16%, compared to the year ago first quarter and represent the first quarter of positive year-over-year growth in one year.
Gross orders increased 17% year-over-year and while they were lower on a quarter-to-quarter basis, had fewer edge outs in the current quarter and therefore, saw an increase in net orders quarter-to-quarter.
Service revenue represents a growth year-over-year of 12%.
Product gross profit margin improved again this quarter to 37.1%.
Service gross profit margin on the other hand improved to 33%, compared to 16.8% in the prior year first quarter and compared to 28.6% in the immediately preceding fiscal fourth quarter.
Overall gross profit margin of 34.5% was about 600 basis points favorable to the prior year first quarter.
Operating expenses of $38.8 million in the first quarter were also better than expected and represent continued expense control by managers relative to guidance of approximately $40 million per quarter. This result is 13% below prior year or savings of $5.5 million and 3% below the preceding fourth quarter.
As a result of the strength in revenues, improved gross profit margin and reduced operating expenses, adjusted EBITDA improved to a loss of $3.8 million, compared to a loss of $11.9 million in the year ago first quarter.
Mr. Levine has delivered on his guidance every quarter under his leadership, leading Accuray toward profitability in the near term. Accuray's stability and continued growth is beneficial for investors, as it gives confidence that the company will deliver on future guidance.
Large Market Opportunity and Affordable Care Act Make Accuray an Attractive Buyout Candidate
The radiation therapy market is worth approximately $11B and is growing annually at a 3% rate. Since medical advances have allowed for many people with cancer to live longer, many of these companies are seeing more profits from additional therapies.
Starting this year, the Affordable Care Act (ACA) should provide Accuray's products an advantage over its competitors. In general, insurance companies will be forced to reimburse more money for these types of procedures in 2014. Therefore, treatments that require less visits and less dosing save insurance companies tons of money. This should give Accuray a competitive edge because its products focus on delivering greater potency per treatment. Therefore, we believe it's likely that Accuray will gain more traction in the US market in 2014 because of the new ACA policy changes.
Accuray would make for a good acquisition for a company like Intuitive Surgical (NASDAQ:ISRG). Intuitive Surgical designs and markets the Da Vinci surgical system, which mimics surgeon's movements with pinpoint precision. Intuitive Surgical stock has also been under pressure of late and it would make sense for the company to expand its product portfolio. The company has $2.75B in cash and generates $2.27B in revenue, so financing a levered buyout deal would be no problem.
Another company we think would be interested in acquiring Accuray is Varian Medical Systems (NYSE:VAR). Varian is a strong competitor in the space which also sells medical devices for radiotherapy and radiosurgery. Varian might be looking to eliminate the competition of Accuray, while also gaining the competitive edge that the Affordable Care Act gives to CyberKnife and TomoTherapy. Varian has $1.09B in cash and generates $2.98B in revenue, so financing a buyout would not be a problem for it either.
We believe that a bigger player will Acquire Accuray in 2014 for a handsome premium over its current market price. Accuray has strong leverage because the company is in a much improved financial position with its business gaining momentum. In other words, it's not in a position where management is forced to sell, as it's likely to be successful remaining as an independent operator.
Mr. Levine has a history of positioning the companies he runs with strong leverage and then selling the company to the highest bidder. We expect this trend to continue and for Accuray to command over $20 a share in a buyout. Therefore, we are officially predicting that Accuray will be acquired this year, and we think this will occur within the next six months.
Catalyst: January Accuray Earnings Call
Accuray is reporting earnings for second fiscal quarter 2014 on January 30, 2014, after the market closes. We believe that Accuray will beat analyst predictions of a loss of $0.19 per share for several reasons.
Last quarter analysts also forecasted a loss of $0.19 and the company was pretty much in line with expectations, reporting a lost of $0.18 - analysts are predicting the same loss per share this quarter.
However, the company's guidance indicates the potential for higher revenue and fewer expenses moving forward, which we think will lead to beating analyst expectations.
Last quarter the company had nonrecurring expenses that will not be factored into this quarter's results. The company had to spend money on its American Society of Radiation Oncology (ASTRO) presentation and also on executive severance.
The company also stated that it was three CyberKnife or TomoTherapy systems away last quarter from breakeven. Most analysts predict breakeven status in late 2014 or early 2015, so beating expectations this early in the year would be a huge milestone for the company.
The above Accuray systems range from $4-$7M apiece, so earnings each quarter can vary quite a bit. However, given the momentum of recent earnings calls, increasing year-over-year sales, increased margins, and reduced cash burn, we think the company is closer to breakeven than forecast.
Service revenue provided on the installed CyberKnife and TomoTherapy systems are also increasing. Since more of these units are being installed each quarter, the company essentially is seeing compounded growth as they deliver new units to hospitals.
Given all these factors, we believe the company will surprise in its upcoming earnings call. In fact, Mr. Levine was interviewed in early January at the JPMorgan Healthcare Conference and even suggested the company is "very, very close to breakeven." If the company surprises by that much on its earning call, we would expect the stock price to see a dramatic increase.
Option Activity Suggests The Stock Is About To Rally
On Friday of last week, Accuray saw significant bullish options volume flow into the contracts. There was one single February 22nd $10 strike buy of 2,000 call contracts while at the same moment an additional 2000 put contracts were sold to the bid. Additionally, 140,000 shares were purchased at the same time when the stock was trading around $8.90. Furthermore, 2000 June $10 calls were purchased from the ask/offer at $1.33, with an additional 1,000 $10 contracts, and 770 $12 contracts.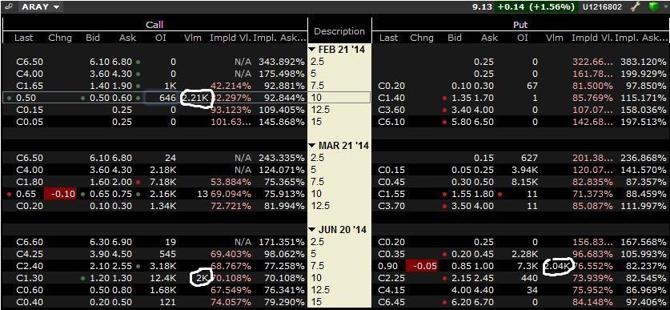 The above shows the February options chain with both the call and put buying. The additional option volume came a bit later, so we do not have a picture to represent that.
This option activity shows a significant out of the money call position was taken, financing the June purchase with selling puts against it. This type of trade carries a significant risk/reward ratio with unlimited downside if the price of the underlying stock were to breach $7.50 a share, and unlimited upside if the price were to push above $10.00.
Selling the puts here lowers the overall cost of the trade drastically, which improves on the potential percentage gains. Usually this style of trade is called a short collar, which is a reverse strategy of a collar options play. The short collar is used to hedge a short position by limiting downside/losses on the shares held short in the stock, which reduces the money lost (potential pain) in the short position if the stock rallies.
However, because of the longer dated June calls that were purchased, and because of large losing short position in the stock, we feel this indicates the large block option buyers believe an acquisition will happen before the June calls expire. Therefore in our opinion, the option activity is not indicative of a true short collar trade, and is more indicative of a strong bullish leverage play. The put selling appears to be an attempt to collect a handsome premium, then using the proceeds to finance the later dated June calls at a cheaper price.
Furthermore, we feel the large block share purchases are institutional short covering which have been held as a hedge against their long term investments in Accuray, which would further indicate the activity is not a true short collar trade.
We think Accuray will rally soon based on the heavy short interest in the stock, which sits at around 30%. We believe that instead of these shorts taking a long position in shares at the current price level, they are seeking to take a long position via the option chain, and plan to rally the stock over $10 via short covering to bring their calls into the money and convert them into stock.
If they were to buy the shares now to take a position long in shares, they would be effectively short squeezing themselves. This why we think they have purchased the short dated February calls.
Additionally, over the last two weeks we have seen large block buys of 100k shares and more moving through one lot at a time.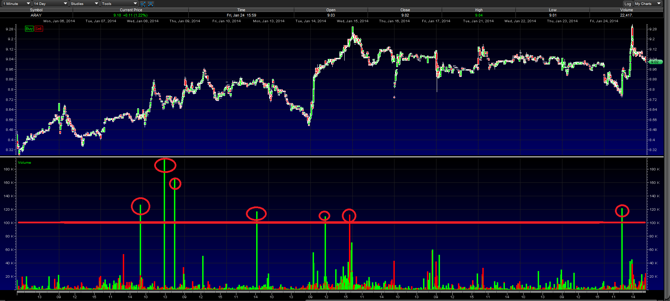 The above shows volume in one minute increments over the past 2 weeks or so. We have circled these buys above, with the largest single block buy being 180k shares. Note that the stock price did not move much on these buys. Therefore, we can reasonably ascertain that these have all been short covers by the institutions who hold 103% of the stock.
The reason for Accuray's institutional holdings showing over 100% is because many of these institutions also hold most of the short interest, which counts as an eventual, but temporary long position.
Recent Examples of Bullish Option Activity Foreshadowing a Large Upwards Move In Stock Price
Unusual bullish option activity almost always indicates a stock is about to go up significantly.
Last year, we wrote about a single large lot of call options bought for Halozyme (HALO) and took a screen shot of this bullish action like we show with Accuray above.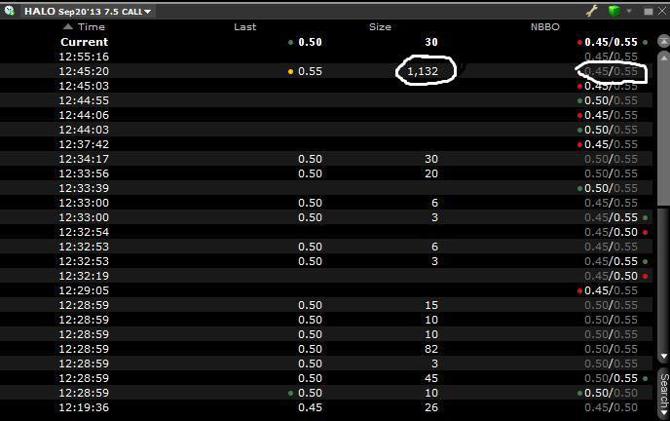 At the time in August, Halozyme's stock was trading for about $7.30 a share, and around $10 a share right before the September $7.50 strike call expired. As with Accuray, we believe this call buyer wanted a position in the stock, with no intention to sell back the contract at a higher premium.
It's worth noting that Halozyme hit a 52-week high of $18.18 last week on news that the EU Committee for Medicinal Products for Human Use has recommended that the European Commission approve its subcutaneous formulation of MabThera (rituximab) using Halozyme's (licensed to Roche) recombinant human hyaluronidase (rHuPH20) for the treatment of patients with common forms of non-Hodgkin lymphoma.
Although this week so far, Halozyme stock has been under selling pressure, we feel biotech speculative investors should keep a close eye on the company this year, as several more catalysts events through out the year are expected that will certainly be drivers for the stock - one way or another. We are bullish on Halozyme as its stock could very well touch $30 this year if developments pan out positive for the company.
On January 10th, we pointed out to biotech investors the bullish call option activity surrounding Chelsea Therapeutics (CHTP).
At the time, Chelsea faced an FDA Advisory Committee (ADCOM) Review on Northera, which occurred on January 14, 2014.
The adcom voted 16 to 1 in favor of recommending the drug for approval to the FDA. Most biotech "experts" were strongly predicting that the adcom would vote against recommendation, but we did not. In our January 10th piece, we pointed out that an unusual amount of near-term expiry $5 strike call contracts were purchased a couple of days before the adcom released its notes before its meeting, which most experts read as foreshadowing a negative adcom vote. Before the notes were released, Chelsea's stock was trading around $3.25, so the $5 strike price was very far out of money. Upon release of the adcom notes, Chelsea's stock plummeted to near $2.50.
Based on the huge volume in those calls, we felt someone "knew" something, so based on this factor, we predicted a positive adcom result - we were right. What is harder to gauge with Chelsea is its longer term prospects. We aren't quite sold on Northera, but we are not bearish on it either - we are neutral on Chelsea at this time.
We ignore the "noise" in cases when we see this type of call activity in a stock before a binary event, such as in Accuracy's case, its earnings call coming up on January 30th - in other words, money talks and the "other stuff" walks.
To be clear, there is a huge difference between volume in the options chain during any given day, and open interest, which reflects the total amount of contracts open in the stock within the time frame of the expiration of the specific contract. A high open interest in a stock option chain's call strike price often times is not necessarily predictive of a rally to come.
In Halozyme's and Chelsea's case, the options we bought in one day, in a specific small time frame within that day, and not over time which again reflects open interest. In both cases, their respective stocks saw huge appreciation in a short amount of time.
In the case of Accuray, the option activity is even more bullish as mentioned prior, Not only were over 5,000 call contracts bought in a time frame of a few minutes, but an additional 2,000 put contracts were sold to the bid at the same time.
We see this as a clear sign someone is betting quite a bit of money that the stock is going to rise significantly past $10 very soon.
Conclusion
Accuray's business has been gaining momentum ever since new senior management was brought onboard. Not only do we think its earnings on January 30 will beat analyst expectations, we believe they will beat by wide margin. Furthermore, we predict that Accuray will be acquired some time before end of summer this year. The recent options activity is very bullish which tells us that a rally in the stock is soon to occur, and occur in short order.
Disclosure: I am long ARAY. I wrote this article myself, and it expresses my own opinions. I am not receiving compensation for it. I have no business relationship with any company whose stock is mentioned in this article.
Additional disclosure: Disclaimer: This article is intended for informational and entertainment use only, and should not be construed as professional investment advice. They are my opinions only. Trading stocks is risky - always be sure to know and understand your risk tolerance. You can incur substantial financial losses in any trade or investment. Always do your own due diligence before buying and selling any stock, and/or consult with a licensed financial adviser.