Copper is the quintessential industrial commodity, indicative of manufacturing activity, consumer demand and other important aspects of the economy. Some applications that rely on copper include electrical wiring and power generation, construction material in many commercial, industrial and residential buildings, plumbing lines and many other types of equipment and structures. Price movements give an interesting and complementary perspective on economic activity. Copper dynamics round out stock market activity and employment statistics as critical indicators of economic health, possible asset bubbles and broad-market buy/sell opportunities.
Producer Risks
Producers must keep in mind that the fundamental risk of copper mining rests on the following dynamic: large scale exploration projects, capital-intensive purchases and low-grade mines have to be compensated by any/all of the following factors:
high volume of copper mined;
consistently high/rising copper prices;
progress in lowering production costs with concomitant intellectual property protections for proprietary mining technology;
low-cost regulatory and legal environments;
manageable labor equipment prices;
if operating on a significant international scale, currency fluctuations and trends favorable to the producer.
Copper mining is not a new industry and new high-grade mines are more difficult to detect and acquire. Of course, lower-grade ores may offer higher total copper amount, but the low grade means that production operations have to go through larger fractions of waste rock to extract a given amount of copper. This significantly raises production costs. Fortunately for copper producers, leach-based mining such as in-situ is emerging as a very competitive alternative to open-pit techniques. Given the proper surrounding bedrock, leaching is efficient even with low-grade deposits.
Additionally, mining high volumes of low-grade ore brings up contamination concerns. Leaching entails the use of strong acids and other unpleasant chemicals. Nearby communities and the presiding governments tend to be understandably concerned about accountability for any water or soil damage caused by reckless mining operations. If investors sense that significant producers such as Chile are tilting towards excessive environmental regulation or taxation/licensing of mining operations, copper production cost can significantly increase for the companies involved. Likewise, if governments and the prevailing political environment make development and production a priority, copper production prices will experience proportional downward pressure.
Of course, such legal variables, especially if enacted by only one or a few producing countries, will not by themselves cause tremendous copper price swings in the global copper market. Nevertheless, optimism surrounding leach operations should be tempered with a recognition of shifting laws and regulations that can significantly trim the overall cost benefits of leach mining.
Mining companies have to be cognizant of price trends to organize their production, storage/inventory and sales strategies. Efficient production of high-grade ore with a friendly regulatory environment and low taxes can add up to surprisingly little if the producer sells the wrong amounts of copper at the wrong time.
Production Cost and Business Strategy
In 2013 dollars, the reported average cost of copper production was $2.80/pound. This number, adjusted for inflation and different currency conversion factors, serves as a tipping point for fundamental shifts in copper mining business strategy.
Sustained and especially rising copper prices significantly above $2.80/pound motivate competition in terms of expansion, hiring and capital asset acquisition. When copper prices flirt with $2.80, or even more ominously, when $2.80 becomes a price ceiling as opposed to a floor, businesses in the industry have to think defensively. Barring exceptional financial cushioning or a stunningly high risk tolerance, management's priorities inevitably become efficiency and cost-cutting. There may be a temptation to withhold sales of existing copper inventories until copper prices rise. This must tempered against the cost of storage, shareholder concerns and what competing producers are likely to do.
Copper as Main Street Economic Indicator
It is often said that copper is an indicator of "Main Street" economic health. This is in contrast to the stock market that can move out of sync with important variables such as significant wage growth, employment, population mobility and purchasing power.
Though not perfect, copper has a distinct advantage over oil as an indicator of Main Street's economic health. Copper does not have prominent production or transportation bottlenecks. Admittedly, there are very large producing companies such as Chile's state-owned Codelco, BHP Billiton Ltd. (NYSE:BHP) Grupo Mexico (OTCPK:GMBXF) and Freeport-McMoRan Copper & Gold (NYSE:FCX). Even so, these do not form an influential cartel similar to OPEC.
On the demand side, copper is not concentrated in a few key industries that may fluctuate out of tune with the general economy. Contrast that with petroleum. Petroleum prices can react to irrational optimism or fear. Oil prices can fluctuate wildly in response to specific events such as short-term military tensions in the Strait of Hormuz or if a large industrial accident occurred in the Jamnagar, Ulsan or Port Arthur refineries. Of course, individual copper smelting facilities are subject to the same kinds of industrial accident risk, but no single facility or location has an especially large effect on global production, and therefore, on prices.
Copper, Unemployment and the Dow Jones
Copper's correlation to the stock market, as represented by the DJIA, and Main Street economic health, reflected in the below chart as the U6 unemployment rate, seems to follow multi-year trends of negative and positive correlation. Take a look:
Chart 1: LME Copper and Dow Jones Industrial Average Annual Price Changes vs. Average Annual Unemployment (U6), 1995-2013.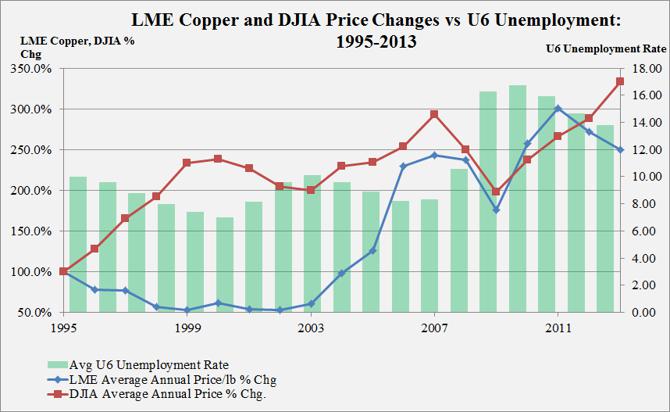 Between 1995 and 2003, copper prices mirrored U6 unemployment, both moving with a negative correlation to the DJIA. This is the classic example of low commodities prices corresponding to overall economic health. Note that U6 unemployment did not pass roughly 10-11 percent. This is pretty good considering that U6 is a much stricter measure of un/under-employment than the commonly reported U3 metric.
From about 2003 to 2011, copper almost mirrors the Dow Jones while U6 goes on a rampage starting in 2008 and tops out over 16 percent in 2010. The most tempting explanation for copper's rise is expanded demand from China, India, Brazil and other emerging economies. Then, after 2011, copper and Dow Jones broke off the correlation. In 2012 and 2013, it seems that suppliers caught up to new levels of demand generated by Asian and Latin American economies. As in 1995-2003, copper prices will likely move in tandem with U.S. unemployment rates, though the precise correlation coefficient is of course subject to many detailed factors outside the scope of this paper.
There has been some talk that the current discrepancy between the high stock market and falling copper prices is due to QE measures taken by the Fed. While I believe there is some truth to the stock market's rise being, at least in part, attributable to low interest rate and other stimulus measures, copper has a history of a negative or neutral correlation with general equity price trends. In fact, it took the meteoric rise of Chinese and other Asian economies throughout the 2000s to outrun copper suppliers and drive up prices. Such a story is unlikely to repeat itself in the near future.
SCCO 10-Q Outlook Reaction
In its latest quarterly report (10-Q), the Southern Copper Corporation (NYSE:SCCO) put together a very interesting outlook on likely copper price trends. It acknowledged some global oversupply anxiety that may run ahead of likely demand and depress prices. Nevertheless, SCCO's brief argument in support of stronger prices rests mainly on decreased warehouse inventories and strong demand from China and the U.S. In my opinion, this is a shaky argument for bullish sentiment because, essentially, the two economies are very intertwined on a macro scale.
For instance, imagine the panic in the U.S. if China reported modest or even negative growth rates. If China's "ghost cities", shadow banking, questionable municipal debt and environmental woes conspired to produce a recession in China, the U.S. markets and general economic climate would certainly take a turn for the worse. Likewise, domestic troubles within the U.S. quickly translate into decreased demand for Chinese-manufactured products, obviously hurting Chinese manufacturers.
Conversely, oversupply trends seem substantial. There is relatively lackluster demand in China, the U.S. and much of the developing world that argues in favor of lower prices. As the economy continues to grow, unemployment and commodity prices tend to bottom out, as seen in Chart 1 during the 1995-2001 timeframe.
Conclusion
Companies will of course seek to limit supply to prop up prices and profitability, but doing so is not simple. Correcting oversupply takes time, and is a delicate task for copper producers. Contract supply too much and copper producers risk future operational capacity, alienating shareholders and being able to service existing debt and other obligations.
Until/unless a demand spike generates a supply shortage that forces copper prices to mirror stock market growth, copper will likely behave like a regular contrarian commodity with respect to the general stock market.
Disclosure: I have no positions in any stocks mentioned, and no plans to initiate any positions within the next 72 hours. I wrote this article myself, and it expresses my own opinions. I am not receiving compensation for it (other than from Seeking Alpha). I have no business relationship with any company whose stock is mentioned in this article.