In the nascent global recovery, the BRICs (Brazil, Russia, India and China) have taken center stage. These emerging economies have fueled growth, but looking forward, it's not just about the BRICs anymore. We can look outside of emerging markets to capture growth – try two of the Asian Tigers. The building blocks of the future will be BRICKS. That's Brazil, Russia, India, China… Korea and Singapore.
Brazil
Brazil's spot on the world stage was secured when it won the bid for the 2016 Olympics last year. And they earned it. Brazil's Olympic committee, and the Brazilian President, ran a fiercely competitive campaign. And about that symbolic moment when Brazil stole the spotlight? As a committee member said, "We wanted it more". Well said.
Brazil was one of the last major economies to succumb to the global recession, and one of the first to emerge. The Brazilian economy dipped into a short recession in late 2008 to early 2009, since then growth has stabilized (GDP rose 2% in the fourth quarter). Why? The country's finance minister credits Brazil's fiscal and monetary policies, as well as macroeconomic fundamentals.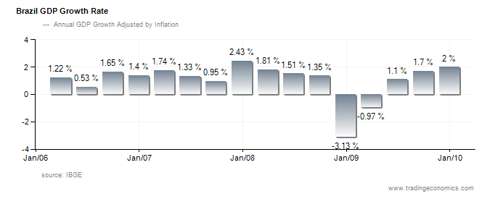 Over a decade ago, Brazil got on track. The government allowed the central bank the power to operate autonomously, charged with taming inflation and monitoring banks. Local governments got their debt under control.
And during the recession? Brazil tapped into its consumer demand, with tax breaks that got households spending on goods like cars and major appliances. And the government acted quickly by lowering interest rates to jump start a recovery. These moves, combined with the fact that Brazil is not entirely export-dependent, made Brazil's downturn short and muted.
And looking forward? The government expects Brazil to realize GDP of 4% or better this year. Brazilian domestic demand, along with Asia's consumption of Brazil's mineral resources, oil and agriculture exports, will write the rest of this Latin American success story.
Russia
The Cold War is over, communism is a thing of the past. Still, Russia looks like a giant petro-monster, using oil and gas revenue to support a corrupt, authoritarian government, and maintaining a trade relationship with Iran. Russia's problem is that they are heavy on energy, and light on ideas. Russia wants to modernize itself, but wants to do so with a top down, centralized government.
Yes, that has worked for other nations (China, South Korea, Singapore), but consolidated power has not propelled Russia forward yet. Russia's idea of free market capitalism puts the state in charge of everything. Still, the vision for change is there. As President Medvedev said, "Should we drag a primitive economy based on raw materials and endemic corruption into the future?" (The Economist).
The global crisis has exposed Russia's flaws. The recession hit hard: GDP contracted -7.9% last year. As the world's largest energy exporter, Russia felt the impact of the slump in oil prices. Still, as the global recovery picks up steam, Russia's export partners in Europe will import their oil and gas.
And growth will pick up. Russia's future may start to look brighter in other respects. The ties with Iran will continue to come under pressure as Russia becomes increasingly dependent on relations with the west. And just last week, the U.S. and Russia agreed to a treaty to reduce deployed nuclear arsenals by 30%.
At the end of the day, Russia's struggles to catch up with the 21st century are its own - the world will consume its energy exports regardless.
India
Asia's third largest economy has a lot to do: last week the prime minister said that $1 trillion must be spent on power and infrastructure over the next several years to support growth. That's just the beginning. India has a lot of room to improve, and in turn, a lot of future potential. Economic growth only declined to 6.7% during the recession, climbing to 7.2% last quarter. India has set a target of 10% GDP growth for this year. Can that be achieved? Yes - with a few steps in the right direction.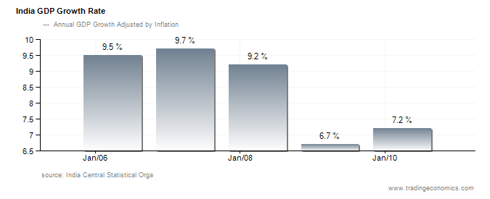 One problem: India's government spending is funneled toward subsidies, not investment. Over the last few years, the government has paid more to fund consumption of food and fuel (as food price inflation has surged). Funding for other areas has stagnated, particularly agriculture (now being supported by private investment). Agriculture is underproductive, and has hardly grown in the last few decades. Land is under-utilized, and farmers are forced to sell produce through state regulated markets at government controlled prices. With the right investments, land reforms, and lighter regulation, this sector could be a boon for economic growth.
Another issue: India's colleges produce twice as many computer and engineering graduates as the U.S.; this has made India a global destination for service outsourcing. But India has not reached its peak. To unlock all of its potential, India needs to revamp the quality of its colleges. Why? According to estimates, only 18-25% of graduates are actually employable by an IT firm (The Economist). This means that most firms will only look at the top 100 schools to find job applicants. The problem: 80% of employable students are enrolled outside of the top colleges; India still has 80% of its intellectual capital that it hasn't put to work yet.
There is no doubt that India's economy is going to see significant growth. And maybe the political will exists to make that growth really substantial.
China
See last week's article "China Coming Full Circle".
South Korea
"Never waste a good crisis" said Lee Myung Bak, South Korea's president. And during the global financial crisis, this Asian Tiger lived by those words. South Korea has proven its ability to recognize, and seize, an opportunity. Their contraction in growth was short, and the country is on track to experience growth of 5% this year.
While North Korea isolated its people with a military dictatorship, and pursued a nuclear agenda, South Korea chose liberalization, and plugged into the global economy. Its power cord is the determination of its people and a competitive education system, and its outlet is the global need for an innovative knowledge economy. South Korea's transformation into an advanced, industrialized economy has been swift, resulting in the highest per capita GDP growth in the past few decades (per capita growth stands at $15,447, according to the World Bank).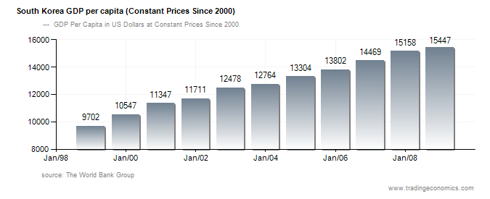 And the future? The government forecast calls for export growth of 13% this year, driven by demand from China (South Korea's largest export market). As an exporter of microchips, semiconductors, LCD panels, and various electronics, South Korea will benefit from its trade relationships with the U.S., EU and Japan as well.
The bottom line: South Korea is showing itself to be a leader, and demand for high-tech imports will cement its position in the global marketplace.
Singapore
The motto in Singapore: "Majulah Singapura". Onward, Singapore. How fitting. As an export driven economy, lower demand resulted in a contraction in growth last year. But Singapore is already stabilizing. Last month, the government of Singapore raised its estimates for growth to 6.5% for this year.
As the only Asian country with English as its first language, Singapore made itself a haven for multinational firms (the country has a high percentage of foreign workers); and the World Bank has named Singapore the most business-friendly country.
Singapore has already proven itself as advanced, market-based economy, but there is still room to grow. Singapore's productivity growth has averaged about 1% for the last decade; and with the right policies, there is potential for expansion. As the Economic Strategies Committee said, "We have significant room to increase productivity in every sector of our economy". And future growth won't only come from inside Singapore, but from outside as well. As the global recovery picks up steam, export demand from the European Union and Hong Kong will drive GDP.
So, what about investing?
If you are interested in capturing returns from the original BRICs, there are a few ETFs you might look at.
First, SPDR S&P BRIC 40 ETF (NYSEARCA:BIK): this ETF's top holding are in energy, financials, and telecommunications.
Next, iShares MSCI BRIC Index Fund (NYSEARCA:BKF): this fund invests in financial services, energy and industrial materials.
And third, Claymore/BNY Mellon BRIC ETF (NYSEARCA:EEB): this ETF focuses on energy and industrials.
These funds offer exposure to all of the BRIC countries in a single fund:
Brazil: iShares Brazil Index ETF (NYSEARCA:EWZ): this fund's top holdings are in industrial materials, followed by energy and financials.
Russia: Market Vectors Russia ETF (NYSEARCA:RSX): this fund typically invests 95% of assets in stocks on the DAXglobalA Russia+ Index. Top holdings are in energy and industrials. Keep in mind, Russia is the wild card of the BRICKS.
India: Wisdom Tree India Earnings (NYSEARCA:EPI): this fund's top holdings are industrial materials and financials.
China: iShares FTSE/Xinhua China 25 Index (NYSEARCA:FXI): this fund is weighted heavily in financials (46.7%), followed by energy (18.7%). For other funds centered on China, see last week's article "China: From the Silk Road to the 21st Century".
South Korea: iShares MSCI South Korea Index (NYSEARCA:EWY): this fund offers a broad exposure to the South Korean market, being balanced among sectors, with holdings in materials, hardware, financials and consumer goods. It does, however, hold 18.2% of assets invested in one stock: Samsung Electronics.
Singapore: iShares MSCI Singapore Index (NYSEARCA:EWS): this fund tracks the MSCI Singapore index; its top holdings are financials (at 54%), followed by telecommunication (12.8%).
The U.S., Europe, and Japan have proven to be economic laggards. As the recovery gains a foothold, if you want to build growth in your portfolio, you might need some BRICKS.
Disclosure: Author holds positions in BIK, BKF, BNY, EEB, EWZ, RSX, EPI, FXI, EWY, EWS