By David Urani
The Census Bureau reported its December new home sales result and it came in at an annual rate of 414k for the month, well below the 450k consensus and the revised 445k (revised down from 464k) November result. That's a 7% month to month decline, and the second drop in succession. Decreases in the Northeast, South and West offset a gain in the Midwest. Inventory also came down, by 3% for the month and is down 5.5% since September.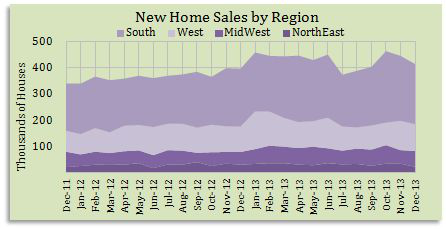 That said, I don't want to sugar coat it too much, but the new home sales report tends to be a volatile data set to begin with, especially during the winter months when seasonal adjustments can skew the results. That goes double this year, which of course has been unusually cold, and cycles over an unusually warm 2012. Take for instance the Northeast, which showed a 36% month to month decline; the result was surely impacted by the freezing conditions in the region, exacerbated by seasonal adjustments.
In the end the result was weak, and there's not much to be taken positively from it, even if it's a little dubious due to the weather. Likewise, homebuilder stocks held up initially but have turned decisively south. The Dow Jones U.S. Home Construction Index, which tracks related stocks, is down more than 1% on the day.
The data is worth being cautious over, but I'd like to see a couple more months (note: January has also been quite cold) to get a trend, especially as it warms up into the spring selling season.