On January 13th, Galena Biopharma (GALE) announced it had acquired Mills Pharmaceuticals and the worldwide rights to GALE-401. The company announced it would pursue expedited 505(b)(2) regulatory pathway to seek approval for the treatment of Essential Thrombocythemia (ET). The Company believes GALE-401 meets the qualifications for orphan drug status and will open it up to a market size of approximately $200 million in the U.S.
As part of the deal, GALE offered the following:
$1.6 million in upfront cash payments
Mills owners will receive 4,000,000 shares
Mills owners will receive up to $3 million once the FDA approved the NDA
The deal seems to be a small price to pay for access to the revenue stream it will potentially provide.
Essential Thrombocythemia
According to the National Cancer Institute, essential thrombocythemia is a disease in which too many platelets are made in the bone marrow. Platelets are sticky and when there are too many platelets, they may clump together and make it hard for the blood to flow. Clots may form in blood vessels and there may also be increased bleeding. These can cause serious health problems such as stroke or heart attack.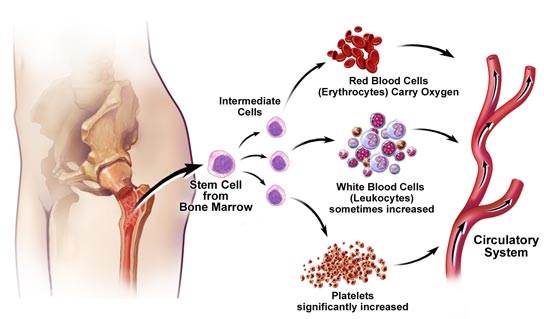 Essential thrombocythemia often does not have early symptoms and it is sometimes found during routine blood tests. For those that display symptoms, they may include headache, burning or tingling in the hands or feet, redness and warmth of the hands or feet, vision or hearing problems.
Treatments
The Mayo Clinic states that treatment of essential thrombocythemia depends on the risk of blood-clotting or bleeding episodes. For those younger than 60, who have had no signs or symptoms, and have no other risk factors for developing blood clots, such as smoking, periodic medical checkups may be enough. For those older than 60 and have had previous signs and symptoms of blood clots, a doctor likely will prescribe medication or a medical procedure to lower platelet count. A doctor may also recommend treatment if there are cardiovascular risk factors, such as high cholesterol, high blood pressure or diabetes.
If there are risks of blood clots, a doctor may recommend low-dose aspirin, since aspirin makes the platelets less sticky and makes blood less likely to form clots.
There are three drugs that reduce the platelet count and are commonly used to treat essential thrombocythemia:
Hydroxyurea (Droxia, Hydrea). This drug suppresses bone marrow production of blood cells, including platelets. Also used to treat cancers, it's the most commonly prescribed platelet-lowering drug for essential thrombocythemia. It's often used in combination with low-dose aspirin. Doctors will monitor blood counts closely. There's some concern that long-term use may increase the risk of developing acute myelogenous leukemia. While hydroxyurea has been in use for some time, it is currently marketed by Bristol-Myers Squibb (NYSE:BMY) in the form of Droxia and Hydrea.
Anagrelide (Agrylin). Unlike hydroxyurea, anagrelide isn't associated with an increased risk of leukemia. But it's not considered as effective as hydroxyurea. Side effects may include fluid retention, heart problems, headaches, dizziness, nausea and diarrhea. While GALE has purchased Mills Pharmaceuticals, Anagrelide is also manufactured by Shire PLC (NASDAQ:SHPG) under the name Agrylin.
Interferon alfa-2B (Intron A). Given by injection, this drug is less convenient to administer than hydroxyurea or anagrelide, may be more expensive and may cause less tolerable side effects. Side effects may include flu-like symptoms, confusion, nausea, depression, diarrhea, seizures, irritability and sleepiness. Merck (NYSE:MRK) manufactures and sales Interferon alfa-2B under the name Intron A. Sales in 2010 were $210 million, but have since fallen to around $90 million in 2012, lending some credence to the company believing they have about a $200 million market.
All of the drugs offer their own ups and downs, and doctors can decide which to prescribe based on the patient's history and diagnosis.
Capitalizing on Anagrelide
One of the issues with Anagrelide is the side effects that affect patients. In the press release, the company stated the following related to the side effects:
Anagrelide immediate release (IR) is currently one of two generic drugs approved to treat ET. However, a significant number of patients are unable to tolerate fully effective doses of Anagrelide IR and either discontinue treatment or are reduced to a dose which is insufficient to achieve the target platelet level.

"Many physicians are not satisfied with currently available treatments for ET due to the fact that they cannot effectively lower and maintain platelet levels in many of their patients without unmanageable side effects. GALE-401 (Anagrelide CR) is designed to deliver anagrelide with controlled release over a longer period of time to take advantage of the known benefits of the drug, while reducing the adverse events to offer a better treatment option for patients," said Srdan Verstovsek, MD, PhD, Chief, Section for Myeloproliferative Neoplasms (MPNs), Department of Leukemia, Director, Clinical Research Center for MPNs, The University of Texas MD Anderson Cancer Center.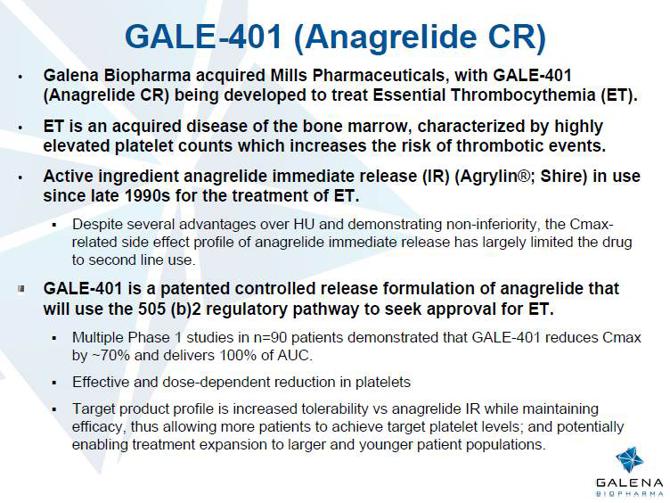 The company believes that by developing a controlled release version of the drug, they can elevate it from being a secondary treatment option to gain a larger portion of prescriptions that are issued.
GALE-401 is expected to greatly decrease the adverse event rate relative to the approved product. The adverse events of IR anagrelide nausea, diarrhea, abdominal pain, palpitations, tachycardia, headache are tied to the peak concentration, or Cmax, and these side effects often limit dose escalation resulting in inadequate control of disease or discontinuation of therapy. Existing data strongly suggest reducing the Cmax while maintaining the overall exposure to the drug, or AUC (area under the curve), reduces the rate of adverse events without compromising efficacy. GALE-401 significantly decreases the Cmax by up to 70% while preserving nearly 100% of the AUC.
GALE currently believes the market has an estimated peak market size of approximately $200 million in the U.S. The following chart lays out the potential contribution that Anagrelide could have on the company and the stock price based on both 4X and 3X revenue factors.

Anagrelide has already completed Phase 1 program, and is approved for Phase 2 initiation, with a single Phase 3 required for approval. This expedited pathway will speed up the arrival to the market, and enhance shareholder value.
Risks
There are two main risks associated with this acquisition.
The first is the inability for the company to complete Phase 2 and 3 trials. While there is a possibility of the failure, the fact that the FDA has already granted a single Phase 3 study for approval signals the belief it will happen smoothly.
The second risk is the inability of the company to gain the targeted market share. $200 million at the height of marketing seems reasonable, but there is no indication of how long it will take to arrive at the target. However, even at a lower market share, the company will still add significantly to its bottom line, increase shareholder value, and fund future Research and Development.
Conclusion
GALE has skyrocketed in the past three months, and for those that see the potential for Abstral and NeuVax, GALE-401 is an even bigger acquisition for the company. While there are still FDA approvals that will be needed, it once again proves that GALE's management has mapped out a path to shareholder value. After the acquisition of GALE-401, Roth Capitol raised their target from $6 to $11, signaling the climb for GALE may slow down, but is not over yet. The pullback on 17 Jan has been around 20%. I would expect the pullback to continue for a few more days, and consider these opportunities to get in.
Disclosure: I am long GALE. I wrote this article myself, and it expresses my own opinions. I am not receiving compensation for it (other than from Seeking Alpha). I have no business relationship with any company whose stock is mentioned in this article.