With a collective sigh of relief (and annoyance), last Thursday, leaders of the Eurozone reached an agreement on the terms of a rescue for Greece. According to the agreement, a bailout will not occur immediately, but in the event that Greece's debt troubles intensify. Any aid from the members of the Eurozone will be a last resort, and only if "market financing is insufficient". Should it become necessary, the bailout will come from the 16 Eurozone countries, as well as the International Monetary Fund (IMF).
The debt crisis in Greece is nothing new; Greece has been fiscally irresponsible for a long time, accumulating deficits well beyond what the Eurozone allows. What is new is that sixteen countries (and the IMF) have to open tax-payers' wallets for a bailout. And they have all suffered equally – the euro has spent 2010 tumbling against the dollar.
Sovereign debt fears do not belong to Europe alone. Now, the spotlight can move to the next target…the U.S. And under the glare, we see a record deficit followed by a giant question mark.
Investors are beginning to question the ability of the U.S. to manage its deficit, and U.S. Treasury securities are quickly losing their appeal. This past week, demand for Treasuries fell swiftly, sending yields higher. Why? When demand for Treasury securities falls, the price falls as well. And the price and yield of bonds have an inverse relationship, so when prices fall, yields rise.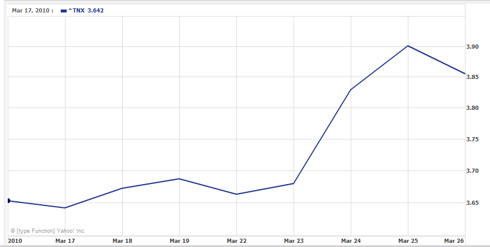 Source: www.yahoofinance.com
This rise in Treasury yields reflects the market's concerns about the deficit. As former Federal Reserve Chairman Alan Greenspan said, these rising yields are a "canary in the mine".
Investors know a canary when they see one. And now, investors consider corporate debt safer than Treasury debt. Berkshire Hathaway (NYSE:BRK.A), P&G (NYSE:PG), Johnson & Johnson (NYSE:JNJ) and Lowe's (NYSE:LOW) have seen their yields fall below Treasuries, according to Bloomberg. This is serious. When investors are comfortable holding debt backed by a private corporation as opposed to the U.S. government, we have a problem.
The rise in yields also renews questions about rising interest rates. At some point, rates have to rise, and when they do, the value of long term Treasury bonds will fall.
The government sees the canary, too; Treasury Secretary Timothy Geithner called the deficit "unsustainable". But the bottom line is this: the actions of the market speak louder than the words of the government. The only question is… will the government heed the market's warning?
Disclosure: None