Apple (NASDAQ:AAPL) delivered first quarter results yesterday which caused quite an earthquake for both shares of Apple and shares of Apple's suppliers. Shares of the tech giant corrected more than 8% in after hours trading after the company reported disappointing iPhone sales. Apple sold 51 million iPhones during the first quarter, an all-time quarterly record, but reported figures missed analyst estimates of around 55 million units.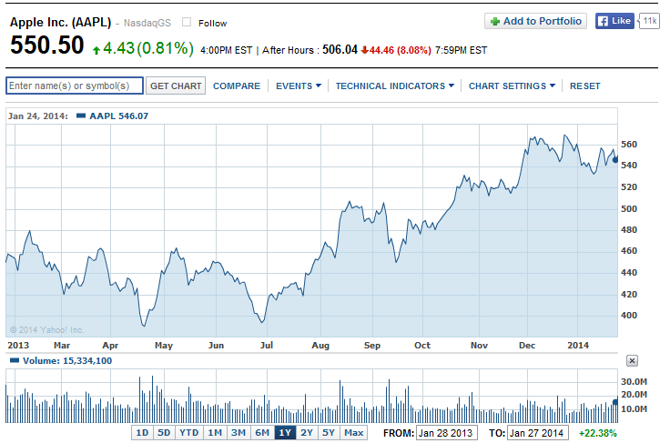 Result summary
Apple reported record quarterly revenues of $57.6 billion vs. $54.5 billion in the year ago quarter and vs. analyst estimates of $57-58 billion. The company also reported a quarterly net profit of $13.1 billion compared to the same amount of profits last year. Apple reported first quarter 2014 earnings per diluted share of $14.50 vs. $13.81 in the year ago quarter and vs. analyst estimates of $14.08 (EPS outperformance of 3%). Though the company delivered both a revenue and an earnings beat, shares were down sharply based on Apple's reported iPhone sales.
Apple sold 51 million iPhones in the most recent quarter which compares to 47.8 million iPhones a year ago. Peter Oppenheimer, SVP and CFO of Apple, highlighted during the conference call that iPhone sales growth was particularly strong in Japan due to its collaboration with NTT Docomo. China Mobile also was discussed and management highlighted the importance of tapping China Mobile's potential 750 million strong customer base.
Apple also sold 26 million tablets in the first quarter of 2014 which compares against 22.9 million tablets sold in the year ago quarter and compared against analyst estimates of 25 million. Just like iPhone sales, tablet sales also marked a new quarterly record. Apple obviously expected higher tablet sales, though, as the company mentioned supply problems during the most recent quarter.
Apple earned $22.7 billion in operating cash flow which allows the company to pay shareholders a cash dividend of $3.05 per share.
Q2 2014 guidance
Apple issued sales and margin guidance for the second quarter 2014. The tech company now expects:
Revenues of $42-44 billion
A gross margin between 37-38% (Q1 2014 gross margin 37.9%)
Operating expenses between $4.3 and $4.4 billion.
Free cash flow
I have summarized Apple's historical cash flows in the reconciliation table below which also includes my updated estimates for Apple's fiscal 2014 performance. I estimate that Apple can earn about $74 billion in operating cash flow which ultimately translates into a free cash flow to equity of $53.5 billion or $59.38 per share. Consequently, Apple trades at a free cash flow yield of 11% or a forward P/FCFE ratio of 9.3 which is everything else but expensive. Apple's free cash flow to equity could also be driven by share repurchases in 2014.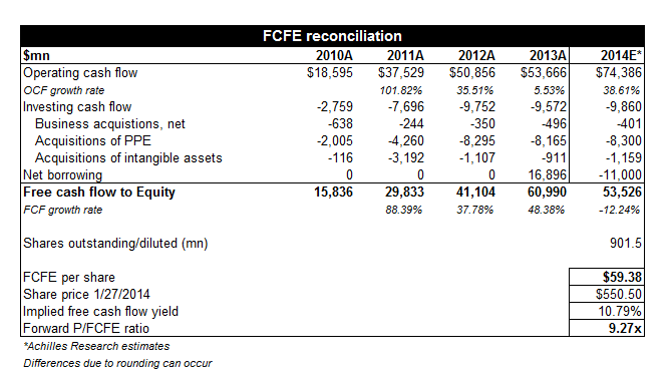 The discounted cash flow model below shows that Apple has serious upside potential. A large part of Apple's free cash flow to equity per share increases are attributable to share repurchases. Assuming capital costs of 10% and a perpetual growth rate of 5%, Apple's intrinsic value stands at $1,219 per share which gives the shares serious upside potential.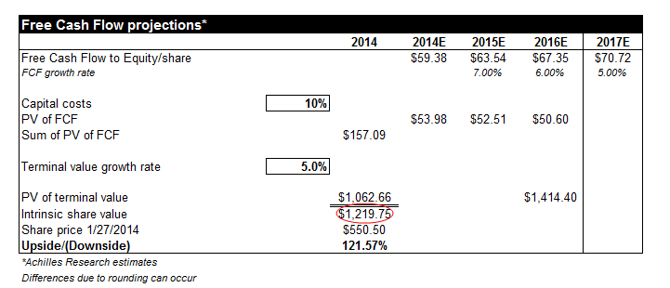 Conclusion
Apple's sell-off in light of its first quarter results is unwarranted. The company released top notch quarterly revenue and earnings results and the company achieved record iPhone and iPad sales. The drop in Apple's share price is a clearly buying opportunity. Why would anybody sell their shares when the company posts record revenues and record unit sales? I don't understand how that could disappoint investors. The FCFE reconciliation table from above as well as the discounted free cash flow model show that Apple is still seriously undervalued: The company trades at an initial estimated free cash flow yield of 11% and has substantial upside potential given the indicative intrinsic value of $1,219.75. Further share repurchases or a step-up in the buyback program would make Apple stock even more attractive. Long-term BUY.
Disclosure: I am long AAPL. I wrote this article myself, and it expresses my own opinions. I am not receiving compensation for it (other than from Seeking Alpha). I have no business relationship with any company whose stock is mentioned in this article.