Part of being a do-it-yourself investor, I sometimes have to change my portfolio composition according to my comfort level. This is a type of risk management. From a previous article in which I identified my core holdings for my Whistler Income and Growth Portfolio, there were some comments on why I'm holding 3 Canadian telecoms when the Canadian government has obvious interest in increasing competition in the sector.
Here's a little background about my story. I actually started my position in Rogers Communications (NYSE:RCI) because I felt it was the most undervalued of the 3. Then, in July 2013, the 3 telecoms, BCE (NYSE:BCE), Telus (NYSE:TU), and RCI, caved in with Verizon's rumored entry. Both Rogers and Telus dropped in the double digits. Because I started my Roger's position not too long ago before that big drop, I was way in the red in the position at the time.
I thought it could be a good opportunity to get in on some high starting yield, but I didn't want to add more in Rogers. So, I started a position in BCE and Telus, with a larger position of Telus. It turns out that currently, my gains in Telus is double that of BCE. As a fellow commenter mentioned from my previous article, Telus has better growth than BCE. So Telus shares will serve a younger investor better, but for retirees looking for current income, BCE's higher yield might make more sense.
Since there could very well be new competition against the Canadian telecoms, I decided to reduce my risk by selling most of my position in Rogers Communications. The remaining small position will be on watch. The dividend increase that is expected from Rogers in March may be telling. (Same goes for BCE, which is also expecting a dividend raise in Q1. Telus' is expected in Q2). In early January, I read the dividend section of all 3 telecoms' websites and Telus seems to be the most dividend-friendly. It already has its dividend dates laid out for 2014 and it expects to have the semi-annual dividend increases until 2016, with intended 10% annual increases. (The above given the board approves at the time.) So, if any dip occur in this sector, I would choose to add to Telus out of the 3.
If I hadn't sold my Rogers Communications shares, the 3 telecoms would make up 10.8% of my portfolio, with Rogers alone making 6% of the portfolio. After the sale, the telecoms sector make up 6.4% of the portfolio value, with Rogers being 1.6%.
With the proceeds I received from selling most of my Rogers' shares, I divided them approximately by half into Union Pacific (NYSE:UNP) and Enbridge (NYSE:ENB) this past week. Both are core holdings in the Whistler Income and Growth portfolio. Although I have lowered my yield from 3.6% to approximately 2.4% from the capital from the sale, I have reduced risk from a sector that could face some headwinds from increased competition.
Why I Chose to Add to Enbridge
Adding shares in Enbridge helps diversify my portfolio and dividend income from the Oil and Gas Industry. My only other core holding in this industry is Chevron (NYSE:CVX).
Here are some other reasons to support my choice of adding to Enbridge:
1) Financially Strong with a S&P rating of A-
2) Good Dividend Yield and Dividend Growth
Enbridge's yield of 3.1% is higher than 2.8% (1.5x the SPY's yield of 1.87%).
Enbridge's dividend yield and its growth pass the Chowder Rule, which states adding yield to dividend growth rate [DGR] is expected to be 12% or higher. 3.1 + 13.8 = 16.9%
yield: 3.1% (at $42.08 per share)
3-year DGR: 14%

5-year DGR: 13.8%
3) Valuation
Analysts estimate earnings growth of 11% - 14%. Taking the lower number, I arrive at the FAST graph below.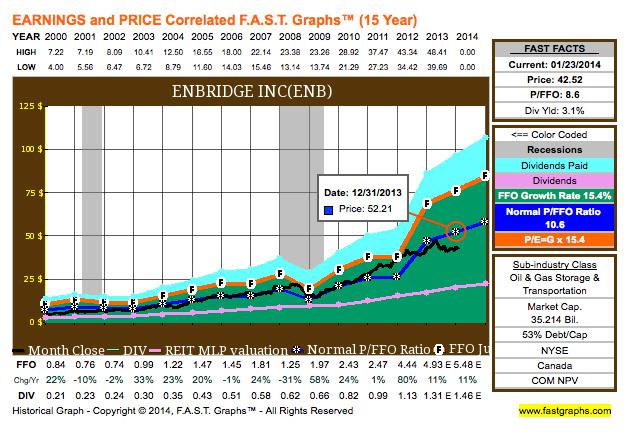 In more recent years (looking at 5 years), Enbridge's P/E of 12.1 is actually higher than the long-term (15 year) ratio of 10.6. I will still use the long-term number as it adds more buffer for this estimation than the higher ratio.
Coincidentally or not, Morningstar.com currently gives Enbridge a fair value of $53 which is close to the fair value number shown in the fast graphs above.
However...
If I were to use Operating Earnings to plot the FAST graph instead, then, the stock becomes excessively overvalued. As shown here: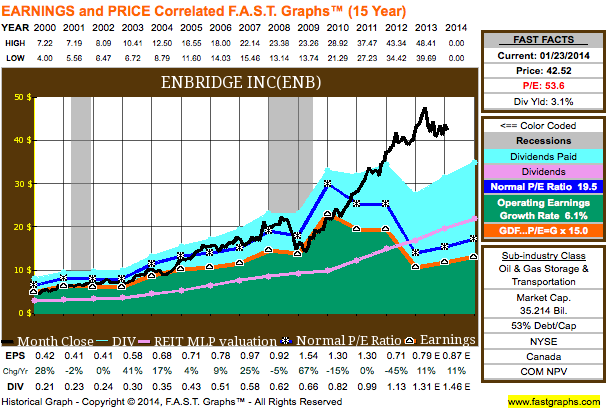 Value Line doesn't expect Enbridge to have much upside for the next 2 years. It estimates Enbridge to return 1-3% annually for the 2016 - 2018 projection. For further insight, you maybe able to visit your local library to access the December 6, 2013 Value Line report.
Why I Chose to Add to Union Pacific
Union Pacific is in the Industrials sector. This portion of my portfolio is underrepresented at 6% of portfolio value and 3.7% of portfolio income. This is one reason why I decided to add to this core holding.
Here are some other reasons to support my choice of adding to Union Pacific:
1) Financially Strong with a S&P rating of A
2) Good Dividend Growth
Union Pacific has a fair yield of 1.8%.
For companies with lower yields, to pass the Chowder Rule, the sum of their yield and DGR must be 15% or higher. 1.8 + 25.3 = 27.1%
yield: 1.8% (at $171.64 per share)
3-year DGR: 31.7%

5-year DGR: 25.34%
I do not expect Union Pacific to continue having dividend growth rates above 20%. However, I do expect it to continue growing its dividends at least in the low teens. This is supported by analysts' estimation of earnings growth between 12.6 - 15%, and its current payout ratio of 32%. For the purpose of comparison, its highest payout ratio in the last decade was above 50% in 2004.
3) Valuation
Using the low end of analysts estimation of earnings growth of 12.6%, I arrive at the FAST graph below.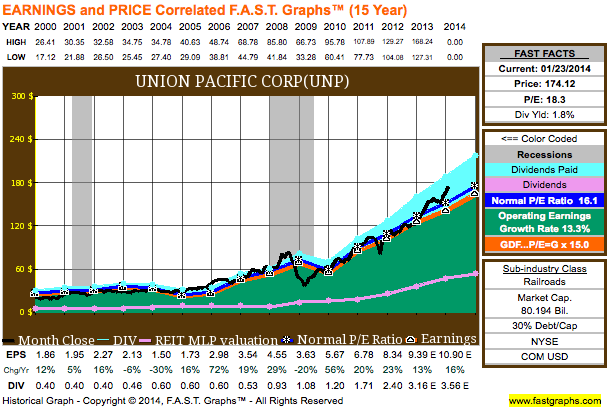 Some investors might see UNP to be slightly overvalued right now. I was able to add to my UNP shares before the earnings release and the resultant bump up of the price. With the market's recent pullback which may continue, do-it-yourself dividend investors looking for a stable future dividend income and growth candidate maybe able to pick up some shares of this company at a fairer price.
Disclosure: I am long BCE, TU, RCI, UNP, ENB, CVX. I wrote this article myself, and it expresses my own opinions. I am not receiving compensation for it (other than from Seeking Alpha). I have no business relationship with any company whose stock is mentioned in this article.
Additional disclosure: I'm long on the TSE the following: BCE, T, RCI.B, and ENB. This article is just my opinion, and doesn't constitute as a buy or sell recommendation.