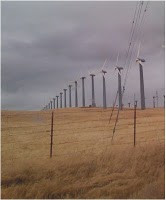 Do you know when the first use of a windmill was recorded? It was first utilized in the 1st Century AD. Can you guess what it was used for? It was used to power an organ.
Some facts about wind power:
1. Wind power generation went up over 300% between 2000 and 2006.
2. It provides 20% of electricity in Denmark.
3. It provides 9% of electricity in Spain.
4. It provides 7% of electricity in Germany.
The following stocks are a list of the pure plays and semi-pure plays in the wind energy field. Many utilities and conglomerates are involved in wind energy. However, companies that have a very small portion of their business in wind were excluded in this report, such as General Electric (NYSE:
GE
), FPL Group Inc. (NYSE:
FPL
), Hawaiian Electric (NYSE:
HE
), and TXU Corp. (
TXU
).
American Superconductor Corporation (NASDAQ:
AMSC
) has an AMSC Power Systems division which markets electrical systems used in wind turbines, electronic power products that regulate wind farm voltage, proprietary wind energy system designs to wind farm manufacturers, and consulting services to the wind farm industry.
Ameron (NYSE:
AMN-OLD
) is a Pasadena, California based company that makes and markets engineered products primarily in water pipeline systems but they also make large-diameter wind towers.
Brookfield Asset Management (NYSE:
BAM
) is a Canadian based asset management holding company, which has a division that develops wind power throughout Canada, along with the operation of hydroelectric power facilities, interconnections, and transmission facilities throughout North America.
Broadwind Energy, Inc. (NASDAQ:
BWEN
) is a Naperville, Illinois company, which manufactures wind energy products including steel fabricated towers, internal tower components, and other large fabricated components.
Clipper Windpower (
OTC:CRPWF
) is the British manufacturer and marketer of wind turbines, and develops wind power electrical generating projects in North and South America and Europe. Queen Elizabeth II of England recently purchased the world's largest wind turbine from the company, which is 492 feet high and will produce 7.5 megawatts a year.
Energias de Portugal (
OTCPK:EDPFY
) is a Portugal based company, which is one of Europe's largest electricity providers and the fourth largest wind power producer in the world. One of its newest divisions is Horizon Wind Energy.
Gamesa Corp. (
OTCPK:GCTAF
) is based in Spain, with 18% of the world's share of the wind turbine market.
Iberdrola (
OTCPK:IBDRY
) bought Scottish Power, so it is the world's largest provider of wind power, and the second largest electric utility in Spain.
Kaydon (NYSE:
KDN
) is an Ann Arbor, Michigan based company which makes parts such as custom bearings for windmills. In 2008, they built a state-of-the- art facility in Monterrey, Mexico devoted to servicing the wind energy industry.
MasTec (NYSE:
MTZ
) is a Coral Gables, Florida based specialty contractor which builds, installs, and maintains utility and communications infrastructures and builds wind farms.
Nordex (
OTCPK:NRDXF
) is a German based wind turbine company.
Otter Tail Corp. (NASDAQ:
OTTR
) is a Fergus Falls, Minnesota based electric utility, founded in 1907, which also manufacturers and markets wind towers. They distribute electricity in Minnesota, North Dakota, and South Dakota.
Owens Corning (NYSE:
OC
) produces glass fiber reinforced composite materials used in wind energy, transportation, electronics, and the marine industry. Their WindStrand™ product for windmills is longer, lighter, and less costly than other blades, according to the company.
Thomas & Betts (TNB) is a Memphis, Tennessee based electrical component manufacturer, which provides structural solutions for wind generation.
Trinity Industries Inc. (NYSE:
TRN
) is a Dallas, Texas based company which has an energy equipment division which manufactures structural wind towers.
Vestas Wind Systems (
OTCPK:VWSYF
) is a Denmark based company, which is the world's largest manufacturer of wind turbines.
Woodward Governor (NASDAQ:
WGOV
) is a Fort Collins, Colorado based manufacturer of electrical power system equipment, which provides wind turbines and switchgear equipment.
Zoltek Companies (NASDAQ:
ZOLT
) is a St. Louis, Missouri based supplier of carbon fiber for windmill blades to major wind energy companies, including DeWind and Vestas.
If you like green stocks, there are several lists of
alternative energy stocks
available at WallStreetNewsNetwork.com.
Disclosure
: Author owns OTTR.