The global beverage industry's rising product demand is not very affected by the current global recession. The industry is expected to reach $1,347 billion by the end of 2017 and experience a 4.6% CAGR over 2012-2017. This continuous rising demand in the beverage industry is credited to the growing population and GDP around the world. The global beverage industry encompasses the manufacturing, bottling and distribution of end products (carbonated and non-carbonated soft drinks). This industry generated global revenues of over $550 billion in 2012 at a CAGR of 4.4% over 4 years.
The Coca-Cola Company (NYSE: KO) is the world's largest beverage company with a market capitalization of $176.20 billion. The company has customers in 200 countries and serves more than 1.8 billion people per day. Coca-Cola is a market leader with a 34% market share, by sales volume, in the industry and its competitor PepsiCo Inc. (NYSE:PEP) holds 26.3% of the market sales volume-wise. Coca-Cola has an extensive distribution network in 200 countries and its infrastructure is very difficult and expensive to compete with. This is why Coca-Cola's competitive advantage will be sustained.
The beverage industry's sales are affected by seasonal changes and companies' sales volumes deviate from quarter to quarter. Observing the previous trend of Coca-Cola's quarterly sales most of the sales are generated in the second and third quarters and decline in the first and fourth quarters. The most significant increase occurs in the second quarter.
The following graph shows the seasonal quarterly sales trend.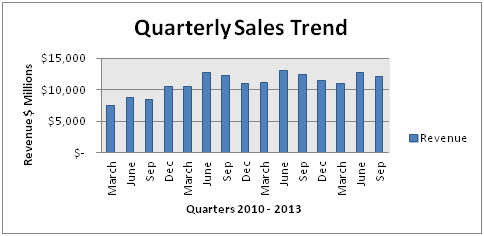 Coca-Cola reported revenues of $12,030 million reflecting a 3% decline in the third quarter and decline of 2% year to date. Excluding the effect of structural changes and exchange risk the net revenue went up by 4% during the third quarter and up by 3% year to date. Coca-Cola also recently announced a FIFA World Cup Trophy Tour for the upcoming event. Due to these marketing efforts Coca-Cola's third quarter Sprite sales volume increased by 3%. The sales of non-diet soft drinks declined by 3.5% because people are considering the health-issues related to carbonated drinks. Coca-Cola has tried to mitigate this decline by offering a range of beverages for health-conscious people.
Coca-Cola reported that its operating income declined by 12% during the third quarter and its net earnings of $2,447 million reflected an 8.5% decline during the third quarter. The earnings per share were $0.54 reflecting an 8% increase from 3Q2013 and a decrease of 8.5% from 2Q2013.
Coca-Cola's stock has a growing dividend history of over half of a century and has returned wealth to its investors quarterly in the form of dividends. The current annual dividend yield is 2.81% and Coca-Cola paid a dividend of $ 1.02 in 2012. It is estimated that the company's annual dividend for 2013 will be $1.12 reflecting an increase of 9.8% from the previous increase of 8.5%. The five year average dividend growth rate is 8.15% and the five year average dividend yield is 2.8%.

Source: SEC fillings
The chart above is a comparison between Coca-Cola and its two competitors. Since Coca-Cola's operations are highly diversified the company is exposed to significant foreign exchange risk. Despite these risks Coca-Cola's global sales volume increased by 2% but the revenue declined by 3% last year. Coca-Cola's cash flows, cash reserves, and short-term investments are higher than its competitors. Coca-Cola also has a long-term debt to equity ratio that is much lower than its competitors. This position will help Coca-Cola distribute growing dividends and continue to expand its business.
The U.S beverage market performed stronger in the third quarter of 2013 than it did in the second quarter of 2013. After increasing by 0.2 in the first quarter volume dipped by 0.3% in the second quarter and then rose by 0.3% in the third quarter which helped to boost the company's sales volume. Over the last five years Coca-Cola experienced an annual beverage sales volume growth of 10% from the emerging markets due to its brand recognition and advertisement. Currently 20% of the company's revenues are generated from emerging markets and these revenues are expected to reach 33% by the end of 2020.
Since sales are expected to increase in the emerging markets one of the catalysts to boost the sales is Coca-Cola's partnership with FIFA for the FIFA World Cup 2014 in Brazil. The expected $8 billion from the World Cup in Brazil combined with the extensive marketing campaign for this mega event will enhance the sales volume growth in 2014.
Coca-Cola expects to increase its sales volume to 3 billion servings per day and to double its earnings. The strong brand recognition and economies of scale achieved through its distribution channels will help the company to improve its profit margins and achieve its targets. Coca-Cola took the initiative to improve its profit margins through costs-savings initiatives. The company consolidated its operations into three business segments: Americas, international and bottling investment.
Due to the strong competition and decreasing profit margins in the beverage industry, Coca-Cola is facing a slow-pace growth problem. As a result Coca-Cola has restructured its operations in America and the company has been divided into Coca-Cola North America and Coca- Cola refreshments. The latter will handle the bottling operations of the beverage giant while the former will handle other core businesses and subsidiary segments. From now on Coca- Cola Refreshments will be considered a part of the Bottling Investments Group. This move is expected to catalyze the process of enfranchisement for bottling partners in the US. This move is expected to boost growth and help offset the slowdown in the carbonated soft drinks segment.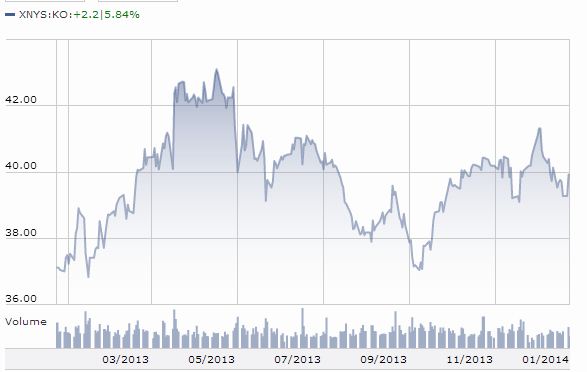 Source: Morningstar
Conclusion
Despite the declining performance during the most recently-ended quarter the balance sheet, growing cash flows and decent dividends provided suitable financial strength for the company. Shares traded on January 22, 2014 between $39.92 and $39.90 and reflected a gain of 5.84% over a year. This year's forecasted earnings are priced at 18.79x. Coca-Cola's shares are relatively inexpensive compared to the industry's forward P/E ratio of 25.64x. I believe that Coca-Cola is an attractive stock that will provide value for investors and.
Disclosure: I have no positions in any stocks mentioned, and no plans to initiate any positions within the next 72 hours.
Business relationship disclosure: The article has been written by a Blackstone Equity Research research analyst. Blackstone Equity Research is not receiving compensation for it (other than from Seeking Alpha). Blackstone Equity Research has no business relationship with any company whose stock is mentioned in this article