Shares of Freeport-McMoRan (NYSE:FCX) are on a downtrend that began in November 2013. After bottoming last summer, macroeconomic headwinds, weaker than expected quarterly results, and surprise export ban in Indonesia followed. These negative events were enough to pull Freeport shares by more than 10% in just a week. After peaking at $37.76, Freeport could very well trade below $30. Despite already being discounted now at just 10 times forward earnings, what should investors do if shares continue to trade lower?
There are 4 reasons investors should be bullish if the stock price falls below $30.
1) Oil exploration
Freeport's acquisition of oil and gas assets was a bright spot for the company last quarter. The company faced lower average copper prices of $3.31 per pound, compared to $3.60 per pound the previous year. Gold prices were 27% lower than last year. Conversely, Brent oil prices were higher, and Freeport generated at least $50 per barrel in margin. In the next quarter, Freeport raised its outlook for oil. It expects to sell 60.7 million barrels equivalent, up from a previous 57 million forecast.
2) Copper demand seen improving
Non-residential construction and automobile sales are improving, which will help for copper demand. Sales for light vehicles improved steadily since the recession in 2008-9: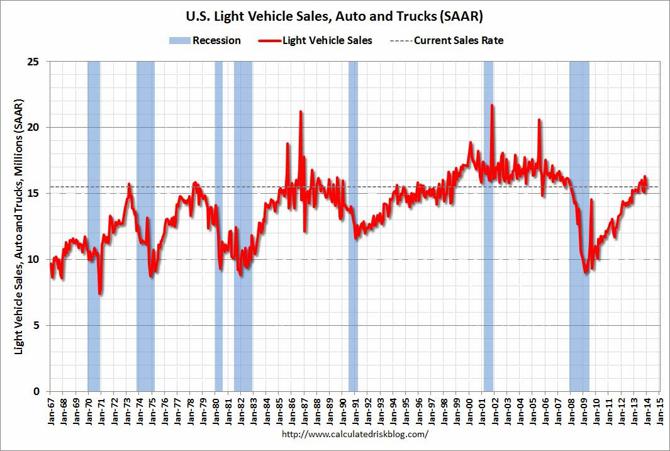 Source: Calculated Risk
Demand from Europe is also improving. Even though a stock market decline of around 4% last week could suggest a slowdown ahead, weak fundamentals for copper would lag due to tight supply worldwide.
3) Copper production increased
Despite facing lower average prices in copper in 2013, Freeport plans to increase copper production from 2014 - 2016. Higher copper production will come from the second phase expansion at Tenke. Freeport expects the Morenci mill expansion project will be complete this year. Developments at Grasberg will be complete in 2016.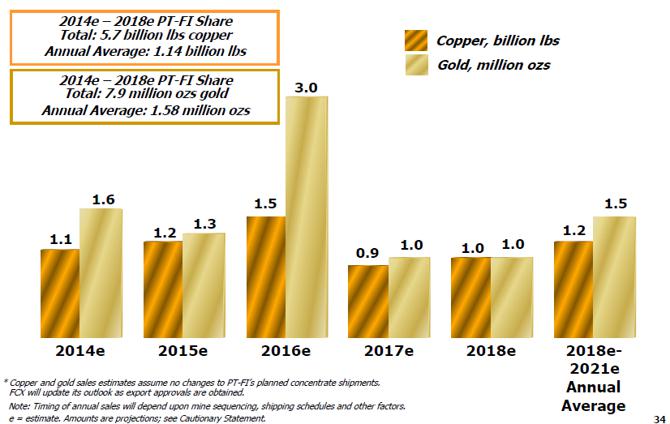 Source: Freeport-McMoRan Copper & Gold Inc.
4) Debt Reduction
Freeport aims to lower its debt from $20 billion to $12 billion by 2016. Cash flow from operations, a ramp up in projects over the next few years, asset sales, and joint ventures will help the company meet this goal. Freeport expects operations from its oil and gas unit will be more significant 2016 and beyond. As mentioned on its conference call, a potential transaction involving the MLP market would also improve shareholder value.
Risks:
There are two notable risks.
First, Freeport would not be immune to negative sentiment in the basic materials sector. More recently, the company moves in the same direction as other miners. Vale (NYSE:VALE) and Cliffs Natural Resources (NYSE:CLF) moved in the same direction as Freeport: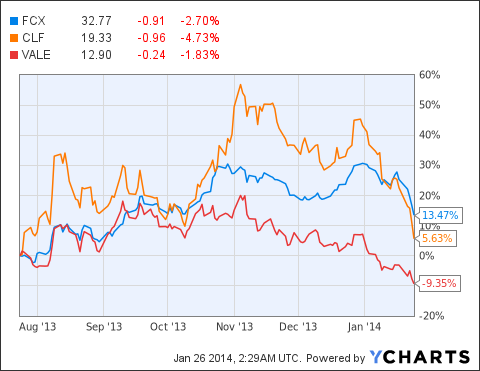 Second, the iron ore export ban and progressive export tax in Indonesia surprised Freeport. Management is hopeful it settles an agreement with the government, to resolve the uncertainty created. Still, negotiating with Indonesia's government could take longer than expected. Freeport is deferring 40 million pounds of copper and 80,000 ounces of gold per month. On its conference call, Freeport said the progressive tax would start at 25% and would rise to 60% in steps through 2016. This would cost the company $15 billion in taxes, royalties, income taxes royalties and other taxes.
Bottom Line
Freeport traded steadily lower, and could trade at $30 very soon. It offers a dividend yield of 3.5% based on a $32.77 closing price, which could limit further stock price declines as markets in general turn negative. If the stock reaches $26 again, the yield will be nearly 5%. Uncertainty for copper production in Indonesia will hurt Freeport shares, but only 19% of the copper reserves are in this region, compared to 50% in North America. Since the uncertainty is temporary, Freeport gets more attractive as its share price falls. This gives investors an opportunity to accumulate a position in this company.
Disclosure: I have no positions in any stocks mentioned, but may initiate a long position in FCX over the next 72 hours. I wrote this article myself, and it expresses my own opinions. I am not receiving compensation for it (other than from Seeking Alpha). I have no business relationship with any company whose stock is mentioned in this article.