When reporting on the performance of the U.S. stock market, everyone from the Wall Street Journal to local anchormen generally refer to the Dow Jones Industrial Average, one of the oldest and most widely-recognized stock benchmarks. So it's not surprising that one of the most popular ETFs available to U.S. investors is the Dow Jones Industrial Average ETF (NYSEARCA:DIA), a fund that tracks the storied blue chip benchmark. DIA has about $8.5 billion in assets and an average daily volume of more than 10 million shares. The underlying index, which has been around since the late 1800s, consists of 30 large blue chip U.S.-listed companies.
The rise of indexing as an investment strategy (and ETFs as an investment vehicle) has spurred the creation of countless new benchmarks, including several "spin-offs" of well-established indexes. One example is the Dow Jones High Yield Select 10 Index, which is linked to the ELEMENTS Dogs of The Dow ETN (NYSEARCA:DOD). This index is based on an investment strategy introduced in the 1990s by money manager Michael O'Higgins in the book "Beating the Dow." O'Higgins promoted a strategy of investing in the ten DJIA components with the highest dividend yield, and rebalancing holdings on an annual basis.
The index underlying DOD is an equal-weighted benchmark, meaning that each component is initially given the same weighting upon selection in December of each year. In this way, DOD addresses an oft-mentioned drawback of the Dow 30, a price-weighted benchmark (see The Problem With Dow ETFs). Currently, DOD's components include AT&T, Verizon, DuPont, Pfizer, Merck, Kraft, Chevron, McDonald's, Home Depot, and Boeing. These companies have an average dividend yield of about 4.1%, well ahead of the 3.1% dividend yield on DIA.
So far in 2010, DOD's focus on dividend-paying equities has given it an edge over DIA. The Dogs have added about 6.2% year-to-date, compared to 5.3% for the more traditional Dow ETF.
Different…But Better?
So is DOD a better Dow Jones ETF than DIA? It's certainly an interesting option for dividend-hungry investors, but those looking to establish exposure to blue chip U.S. companies may want to think twice, as there are a handful of potential drawbacks to investing in the "Dogs of the Dow." First, as the name of the underlying index suggests, the underlying index consists of just ten names, making DOD one of the most concentrated equity ETFs available (the B2B Internet HOLDRS, which has just two component stocks, holds the title in this area). Because returns depend on the performance of only ten companies, DOD can be influenced by company-specific events, something many ETF investors generally try to avoid.
DOD is also very thinly-traded, with an average daily volume of less than 5,000 shares. While limit orders and the services of alternative liquidity providers make it possible to make big trades in "illiquid" ETFs for a relatively low fee, some investors are hesitant to invest in funds that don't meet a certain liquidity threshold.
It's also worth noting that DOD is an exchange-traded note, meaning that it is a senior unsecured debt instrument that comes with credit risk. In this case, the debt is issued by Deutsche Bank, meaning that a default is unlikely (although holders of ETNs issued by Lehman likely thought the same thing in 2008).
While DOD's 2010 performance has been impressive, a longer look at performance reveals a very different trend; since its inception in late 2007, DOD has lagged DIA by about 13%.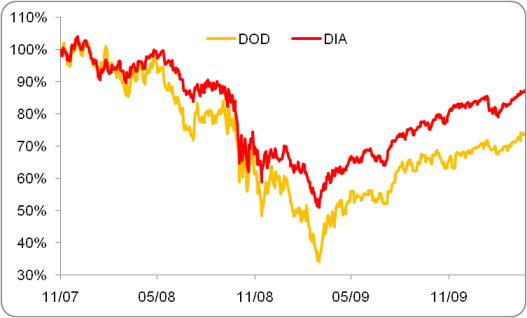 Finally, DOD charges an expense ratio of 0.75%, significantly higher than the 17 basis point fee of DIA, which is among the lowest in the industry.
The Verdict
While DOD presents an interesting investment case, investors looking for blue chip exposure will generally be better off sticking with the original Dow Jones ETF. If you're really set on using ETFs to capture a juicy dividend yield, look into one of the dividend-weighted funds from WisdomTree or handful of funds from other issuers that focus on dividend-paying stocks (see How To Find The Right Dividend ETF).
Disclosure: No positions at time of writing.