Ever since I suggested that in order for Bolivia - the nation with the most lithium resources on earth - to become the new Saudi Arabia of the world, it, among other things, had to produce lithium carbonate in proportion to the planet's needs, nothing much has happened in this country.
True, the Bolivian government publicized different inaugurations of pilot plants both for potassium chloride and lithium carbonate since the beginning of last year. As of now though Bolivia hasn't managed to introduce itself into one of the most attractive and promising markets today and in the years to come.
Meanwhile, electric vehicles are already part of our reality and are here to stay. No wonder there has in recent times been so much discussion as to whether Tesla Motors (NASDAQ:TSLA) will be able to cover the demand for its cars that even the most furious critics of electric cars, lithium-ion batteries and lithium have argued that the carmaker will fail not because it can't sell the vehicles it manufactures but because it won't be able to buy enough batteries and hence produce sufficient cars to make its whole business profitable.
In a sense, these commentators have been saying that Tesla will definitely face serious Li-ion battery supply problems which will essentially hinder any prospects for the car maker to turn into the world's EV leader.
Somewhat surprisingly, none of them has really mentioned lithium as a possible obstacle for the advancement of Tesla. Hence those views have all along taken lithium for granted.
In what follows, I will argue that after some point Tesla's success will depend not so much on any Li-ion battery supply constraint as such but on what happens at the beginning of the lithium value chain, notwithstanding the fact that there can't be Li-ion batteries without lithium, of course.
For the sake of my final argument, I will then assume for the time being that there is no lithium supply restraint. Given its production capacity, Tesla should therefore be able to produce as many electric cars as the market demands because otherwise its main competitors could do so, with all the consequences that this implies for Tesla.
In my latest Seeking Alpha article I have predicted that by 2020 Tesla is likely to produce about 500,000 EVs a year at its plant in Fremont, California. Assuming Tesla handles well competition and does not succumb to a temptation to sell out and be overtaken by a major automotive company, it does seem fair to sustain that the way may be paved for it to become the dominant player in the emerging all-electric vehicle market.
Likewise, there shouldn't be a Li-ion battery constraint either because we would otherwise be underestimating the capacity of experienced and long-time established suppliers of cells and parts of cells and Tesla's own competence to assume the challenge.
As expected, Tesla recently signed an agreement with Panasonic for supply of almost 2 billion cells to be delivered in the next four years while communicating its plans for building in a couple of years a Giga lithium-ion battery plant in anticipation of the launch of its models X and E in the United States.
Let's suppose now that unless Bolivia becomes an important player in the global lithium market in the next 3-4 years, between 2019 and 2020 there might be a lithium supply constraint. Here I stick to my original view that Bolivia is key to the arrival of a new techno-economic paradigm in the world because, after all, the batteries that are meant to power the electric cars that Tesla, along with other competitors, could produce in a couple of years will require lots of (not little) lithium.
There are indeed many new lithium mining operations worldwide currently underway. But they are not likely to produce sufficient material to keep lithium prices in check at the advent of a real lithium rush. Regarding old operations, as I have argued elsewhere, water provision (not reserves) may be a serious handicap for Chile and Argentina to produce lithium in the next future. This explains why production of lithium in those countries has grown so little in the last 2-3 years. By contrast, Australia may be constrained in terms of quantity of reserves available.
According to my Seeking Alpha article referred to at the outset, during the period January-November 2013, Tesla Motors would have consumed 2,090 metric tons (MT) of lithium carbonate equivalent (LCE) which amounted to 72% of all the lithium required for the production of Li-ion batteries used by all the plug-in vehicles commercialized in the U.S. and 68% of all the lithium required by all the hybrids and plug-ins sold in the same market. Assuming a lithium global demand of 168,000 MT for 2013, Tesla's lithium consumption that year would have been 1.24% of the world's lithium consumption. Hence to materialize its prospects to produce half a million EVs by 2020 in the US, Tesla would alone require between 40,800 and 59,442 MT of LCE which translates into between 24,29 and 35,38% of all LCE consumed in the world in 2013.
Similarly, lots of (not little) lithium will have to be used to ensure Tesla's march to Europe (and in particular to Germany) and China, a country that has just decided to put 5 million of what it calls "new-energy vehicles" on the road by 2020, even though some of them will not be lithium-based vehicles. This is most significant considering that Tesla has already initiated an expansion process to five European countries (Norway, The Netherlands, Switzerland, Austria and Germany) and announced plans for the construction of an ambitious supercharging network - without discarding the possibility of building an EV factory - as well as an aggressive pricing for its Model S in China with which it seems to be committed to take a major portion of those markets.
We must now review Bolivia's lithium strategy. In a nutshell, it consists of three parts. First, produce 40 tons a month of lithium carbonate at a pilot level. Second, produce 30,000 tons a year of the chemical compound at an industrial scale. And third, produce lithium batteries.
As unreasonable as it might seem, due to their failure to "discover," after more than 5 years of unfruitful experimentation, their own technology to competitively produce lithium carbonate of adequate quality and purity at both pilot and industrial scales, the officials in charge of this strategic project recently turned their attention towards manufacturing of lithium batteries.
To this end, they have advanced a three-fold approach. To begin with, they seek to change the contract signed back in July 2012 with a Korean consortium formed by companies Kores and Posco so that they can start producing lithium cathodes directly from Uyuni brines at a pilot level. Unfortunately, perhaps tired of waiting for a clear signal from Bolivian authorities, Posco, Korea's largest steel company and a leading developer of advanced materials processes, would have just decided to invest in Lithium Americas Cauchari-Olaroz project in Jujuy, Argentina. Under these circumstances, only time will tell whether the Koreans maintain its original interest in Bolivia's lithium or else decide to definitely abandon it.
Secondly, they contracted a Chinese battery material supplier to put together a lab aimed at producing on an experimental basis the first lithium batteries in Bolivia. At a cost of almost 3 million dollars, the pilot plant is due to begin operations towards the second half of 2014. Contrary to government's political discourse though, the plant will have to use for a long time all inputs imported from China since according to President Morales in 2013 Bolivia was able to produce only 9 MT of lithium carbonate - of uncertain quality and purity, I would add.
Lastly, it has been known a few months back that the Dutch Secretary of Trade has delivered to the Bolivian government a master plan aimed at detailing the role of several Dutch partners in a joint-venture established to assist with the commercial production of lithium-ion batteries in Bolivia. In accordance with that plan, the Technical University of Delft will train Bolivians who will work in a laboratory for the development of lithium-ion batteries; Dutch company BTI - Energy Innovators will be in charge of designing and building the lithium-ion factory; Da Vinci Laboratory Solutions will assist in organizing the lab; and Boon Consultancy will coordinate the efforts of the different partners. Following undisclosed information, Bolivia will pay 45 million dollars for the lab, the factory and the technical assistance. One needs to wonder at this point why Bolivia decided not to choose companies at the technological edge for such a comprehensive plan.
In sum, the problem with this overall approach to lithium industrialization is that it lacks both perspective and direction. It lacks perspective because nobody knows how the Korean and Dutch partners, as well as the Chinese contractor are going to interact with each other to generate any meaningful result for Bolivia, considering that they not only have different technologies but also quite distinct interests; and it lacks direction because it seems rather difficult to tell where Bolivia's lithium industrialization will be heading in the years to come with such a cumbersome strategy.
Providentially, not all appears to be lost for Bolivia. Thanks to Tesla, lithium expectations are today at their highest point ever. But of course time is running out for this country. If it doesn't manage to immediately correct its lithium strategy to insure its introduction into the global lithium market in the next 3-4 years, high and/or unstable lithium prices could set up a pernicious mechanism to further discourage lithium battery technological development and lead the world towards substitutes, one of which being perhaps fuel cells, just as envisaged by Toyota (TM).
So I foresee in the near future many more "wars of words" - like the ones we have witnessed in recent days - between Tesla and Toyota because what is at stake now is nothing less than the control of the most important industry of the globe.
Some of the arguments above constitute a slight departure from the general spirit of a previous blog of mine in which I contented that Bolivia's delays in entering the lithium market would have contributed not only to an accelerated search for substitutes of lithium on the part of Toyota, but also to a missed opportunity for humankind to finally displace fossil fuel use from vehicular transportation and for Bolivia to become the next green energy superpower on planet earth. I have since become convinced though that Tesla has indeed begun to make a difference in the global automotive industry giving this time a new and perhaps last chance to Bolivia to be part of a new way of doing things in the world.
In closing, as shown in the following figure, over the last 12 months Tesla has continued to surprise even the most skeptics by beating all major car makers in the U.S. stock exchange market.
Tesla versus All Major Car Makers in the U.S. Stock Exchange Market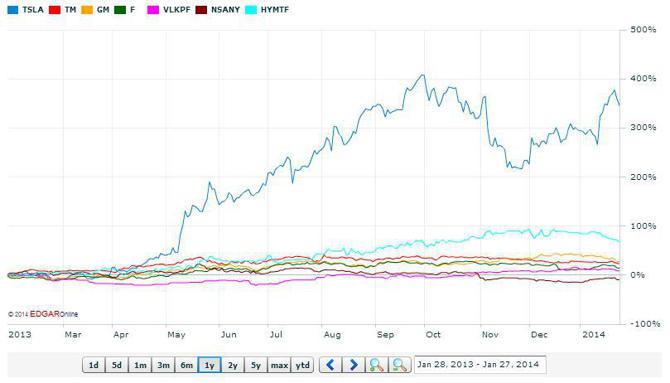 Disclosure: I have no positions in any stocks mentioned, and no plans to initiate any positions within the next 72 hours. I wrote this article myself, and it expresses my own opinions. I am not receiving compensation for it (other than from Seeking Alpha). I have no business relationship with any company whose stock is mentioned in this article.