After the bell on Monday afternoon, technology giant Apple (NASDAQ:AAPL) reported its fiscal first quarter results. The company beat on both the top and bottom line. However, the iPhone unit sales number was very light, and so was Q2 guidance, forcing the stock to sell off in the after-hours session. Today, I'll break down the latest Apple earnings report, and explain why investors should not panic. For those that missed it, here was my official Apple earnings preview.
Apple's guidance and estimates going in:
Back in October when Apple reported fiscal fourth quarter results, the company gave the following guidance for fiscal Q1:
Revenue between $55 billion and $58 billion.
Gross margin between 36.5% and 37.5%.
Operating expenses between $4.4 billion and $4.5 billion.
Other income/(expense) of $200 million.
Tax rate of 26.25%.
The following table shows the collection of analyst estimates by Philip Elmer-Dewitt over at Fortune.
On Monday afternoon, the Yahoo! Finance estimate page ended up at $57.46 billion in revenues and $14.09 in EPS. The following table shows a history of Q1 estimates going back to July, which kept rising on the promise of a China Mobile (NYSE:CHL) deal that was a bit delayed. The yellow line represents the day when Apple reported fiscal Q4 and handed in Q1 guidance.

In my above linked Apple earnings preview article, I provided the following predictions:
Revenues of $57.63 billion.
Net income just under $12.8 billion. EPS of $14.28.
Gross margins of 37.40%.
Product sales - Mac sales of 4.50 million, iPod sales of 9.40 million, iPhone sales of 56.40 million, and iPad sales of 25.20 million.
First quarter overall results:
The following table shows Apple's overall results, compared to its last two fiscal Q1 periods.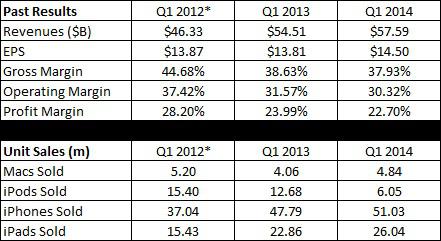 *14-week period. Numbers not adjusted for extra week in quarter.
In terms of overall results, Apple was slightly ahead of analyst estimates for revenues, and just ever so slightly under my $57.63 billion prediction. In terms of earnings per share, Apple was 41 cents ahead of Wall Street estimates, and was 22 cents ahead of my prediction.
An important point mentioned on the conference call was that investors and analysts should look at results that exclude the iPod. Apple's total revenues were up by 5.65% over the year-ago period. That rise included a $1.17 billion fall in iPod revenues, or 54.60%. If you were to exclude the iPod, Apple's revenue growth for the quarter was 8.12%. This was one reason why Q2 guidance was a bit light, and I'll get to that later.
Product analysis:
I'll start first with the iPhone, since this is obviously Apple's biggest product line. Apple sold just over 51 million iPhones in the quarter, which was well below the 55 million plus analysts were looking for and the 56.4 million I was looking for. However, there was a huge bright spot. The average selling price for the iPhone in Q1 was $636.90, up from $577.27 in fiscal Q4. I modeled around $580 for the average selling price, expecting older models and the 5C to drag down the average. So I went too high on the unit sales number, and too low on the average selling price. What does this mean? Apple's pricing power was very strong. In terms of total iPhone revenues, $32.5 billion was only about $215 million below what I was looking for. While the unit number was not great, Apple maintained a lot of pricing power here. Apple mentioned supply constraints on the conference call.
The iPad is the second biggest product for Apple, so I'll discuss that now. Apple came in at over 26 million iPads, a bit above the 25 million analysts were looking for and the 25.2 million I was looking for. In terms of average selling prices, the average was up a little more than a dollar over the fiscal Q4 value to more than $440. Pricing power was fairly decent here, and that's good given the reduction on the older model.
Apple's third biggest product line is the Mac, and we've been hearing for over a year now how weak the PC industry has been. Apple came in at nearly 4.84 million Macs, well above the 4.5 million I was looking for and the 4.6 million analysts were looking for. In terms of average selling prices, Apple came in at $1,322, compared to $1,230 in fiscal Q4. Obviously, the PC is not dead for Apple, since the company sold just 4.06 million units in the prior year period.
The final product category to discuss is the iPod. This was once Apple's flagship product, but now is the least of the four names. For the quarter, iPod unit sales fell off a cliff, coming in at just 6.05 million, compared to 12.68 million in the year-ago quarter. This number was well below even the most bearish of analyst estimates. Apple's beat would have been much bigger if the iPod had came in closer to estimates. Total revenues for the iPod represented less than 1.70% of Apple's total revenues. With the iPod slowdown being larger than expected, this was one of the reasons why Q2 guidance was a bit light.
Finally, let me touch on Apple's other revenues, which include revenues from the iTunes store and device accessories, plus some other items. Apple came in at $6.26 billion for these other revenues, which was a little below analyst expectations. Apple had $5.58 billion from these other revenues in the year-ago period.
Margin analysis:
In terms of margins, Apple did extremely well. Gross margins came in at 37.93%. This was well above my expectation for 37.40%, which itself was at the top end of Apple's 36.5% to 37.5% guidance range. Strong iPhone selling prices and iPhone revenues representing 56.43% of Apple's total helped boost the gross margin figure.
On the operating side, Apple had guided to operating expenses of $4.4 billion to $4.5 billion. Apple came in at $4.383 billion, so that number was better than expected. Other income items and the tax rate also came in a little better than expected. Apple's bottom line blowout was fueled primarily by the gross margin beat, but other items further down the income statement also helped.
Balance sheet and capital returns update:
Apple's cash pile grew substantially in Q1. Apple produced operating cash flow of almost $23 billion, helping the cash pile to grow to $158.84 billion, up from $146.76 billion at the end of Q4. Apple returned $7.7 billion to shareholders in the quarter, through the dividend as well as $5 billion plus in share repurchases. Apple bought back 9.6 million shares during the first quarter.
While the cash pile grew, Apple's domestic cash balance dropped slightly to $34.4 billion. Apple's domestic (US-based) cash resources are the only pile from which Apple can pay dividends or buy back stock. To use any foreign funds, which are over $120 billion now, Apple must either repatriate and face a huge US tax bill, or borrow against them. Apple borrowed $17 billion during 2013 to accelerate part of the repurchase plan. I would not be surprised if the company borrows some more during 2014. Apple has returned $43 billion to shareholders so far, with an expectation for $57 billion more by the end of calendar 2015. I will be looking for a sizable increase to the dividend this year, considering how much the share count has dropped in the past year plus.
Q2 guidance:
One thing I referenced in my preview was that Q2 estimates had been on the rise for several weeks thanks to the China Mobile deal. The following table shows how Q2 estimates have fared since the beginning of December.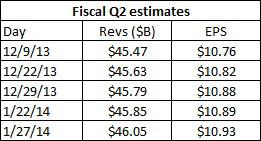 I was worried that Apple would be a little conservative with its guidance, and the company surely was. Apple mentioned a number of items, including currency issues and deferred revenues, so please see the conference call for all of the details. I also mentioned in my preview the fact that earlier release dates for the iPhone 5S and 5C, especially in China, would pull revenues into fiscal Q1. I stated that revenues pulled into Q1 would offset some potential gains from the China Mobile deal in Q2. Apple issued the following guidance for fiscal Q2, the quarter that runs through the end of March:
revenue between $42 billion and $44 billion.

gross margin between 37 percent and 38 percent.

operating expenses between $4.3 billion and $4.4 billion.

other income/(expense) of $200 million.

tax rate of 26.2 percent.
Obviously, the revenue guidance seems a bit light, and we know Apple is usually conservative. Don't forget, Apple came in more than $1 billion ahead of its fiscal Q1 guidance midpoint, guidance that was $850 million ahead of analyst estimates at that point. Apple gave plenty of reasons for the weak guidance, so we'll see how they play out during the quarter. Using Apple's guidance and the Q1 diluted share count, I get an EPS range of $9.28 to $10.33, with a midpoint of around $9.80. Before you panic, the midpoint number I had for Q1 was a dollar below where Apple came in for Q1, so I expect a number above $10 in Q2. Apple was a victim of too many analysts raising expectations too much. On the flip side, Google (NASDAQ:GOOG) analysts have been cutting their estimates recently, but nobody seems to be talking about that at all.
More tech earnings this week:
Apple was the first big tech name to report this week, but it certainly won't be the last. On Wednesday afternoon, social media giant Facebook (NASDAQ:FB) will report its fourth quarter and full-year results for 2013. Some negativity popped up at Facebook's last report when some stagnant teen usage numbers led some to question Facebook's growth story. For the fourth quarter, analysts are looking for revenues of $2.34 billion, which would represent growth of almost 48%. On the bottom line, analysts are looking for non-GAAP earnings of $0.27, compared to $0.17 in the prior-year period. Obviously, the issue of teen usage will be something critical to watch. Investors will also be looking to see how Facebook is monetizing mobile, which was a key concern after the IPO. Facebook shares have more than doubled since last summer, and the valuation looks extremely rich to many. A good report on Wednesday may calm those valuation fears.
On Thursday afternoon, Google will report its fourth quarter and full-year 2013 results. The internet giant has been one of the best names in large cap tech for investors in recent months, up until the last couple of days. Current analyst estimates call for GAAP revenues of $16.76 billion. There are a few ways to calculate Google's prior-year revenue number, as the company was in the midst of selling its Motorola Home unit. For those looking for prior-year numbers, click here. Non-GAAP earnings per share came in at $10.65 in Q4 2012, and analysts are looking for $12.21 on Thursday afternoon. Google shares are off about $65 from their 52-week high hit recently, and that was after a nearly $20 recovery on Monday.
It will be interesting to see how the market reacts to Facebook and Google later this week. Apple got hit after its poor guidance, but Microsoft (NASDAQ:MSFT) recently jumped after a strong report but weak guidance. Microsoft investors were claiming the company was being conservative with its guidance, which also missed, but not as much as Apple's guidance did. Still, Apple is always held to a different standard, so Apple has to be perfect. Microsoft and Google don't always need to be great, and sometimes get a pass. Apple should get a pass here.
Final thoughts:
Before everyone rushes out and panics, here's a few key items that investors should consider:
Despite a 4 million plus unit miss on the iPhone and iPod sales coming in more than 27% below the average estimate, Apple still beat on both the top and bottom line.
All three major product categories saw strong average selling prices, with the iPhone showing a huge sequential jump.
Apple in its quarter produced more revenues than did Google, Microsoft, and Intel combined, based on current Google estimates.
Apple produced almost an entire year's worth of net income for Google in a single quarter.
At the last trade in the after-hours session, Apple's dividend yield was 2.41%.
Apple still has about $32 billion on its buyback remaining, expected to be completed at the end of calendar 2015. That's an average of $4 billion per quarter. The fall in share price means Apple can buy back more shares.
Apple bought back nearly as much stock in the quarter as Microsoft did in all of 2013.
In the end, Apple beat on the top and bottom line, and guidance was light. This isn't really a surprise, as this seems to happen a lot with Apple. Shares were punished in the after-hours session, and are now about $70 off their 52-week high. Those investors that were wondering if they should jump in at $570 now have a stock at $506. Apple looks a lot better now, and investors should look at buying some or adding more on the dip.
Disclosure: I have no positions in any stocks mentioned, and no plans to initiate any positions within the next 72 hours. I wrote this article myself, and it expresses my own opinions. I am not receiving compensation for it (other than from Seeking Alpha). I have no business relationship with any company whose stock is mentioned in this article.
Additional disclosure: Investors are always reminded that before making any investment, you should do your own proper due diligence on any name directly or indirectly mentioned in this article. Investors should also consider seeking advise from a broker or financial adviser before making any investment decisions. Any material in this article should be considered general information, and not relied on as a formal investment recommendation.