It has been several years since I have recommended Canadian natural gas stocks in earnest. This is coming from an author who bought Enerplus (NYSE:ERF) when it was a $3 income trust back in the late 1990's.
In the aftermath of the 2012 CNOOC/Nexen and Petronas/Progress Energy takeovers, I wrote in a December 2012 article that the premiums on mid-cap Canadian natural gas producers would deflate as oversupply would put pressure on netbacks. The shares would now have to trade on the merits of the individual company strategies.
Some of the stocks I mentioned have done phenomenally well, such as Peyto Exploration (OTCPK:PEYUF) and Whitecap Resources (OTCPK:SPGYF). Others such as Legacy Oil+Gas (OTCPK:LEGPF) and PetroBakken, now known as Lightstream Energy (OTCPK:LSTMF), not so much. The reasons relate to some simple but important themes determining whether energy companies can add value, or will destroy it, in a declining price environment.
Increasingly, I find the environment for deep tight gas plays in Canada more attractive than the oil players, which have profited from high crude prices for some time now.
The Canadian natural gas producers do not have to worry about heavy oil differentials, accusations of high carbon intensity, crude via railway spill risks, or the need for pipeline capacity and Presidential approvals. The stocks have been beaten up, yet some are making very good netbacks processing their own raw gas.
One growth oriented producer that attracted me was Birchcliff Energy (OTCPK:BIREF), due to its Alberta Montney/Doig play exposure, and ability to process its own raw gas. The stock was recommended to my report subscribers at $7.45 CAD per share in early January. Birchcliff closed at $8.50 CAD, up 14% so far (excluding currency effects).
For those who may be uninitiated, sometimes in oil and gas we identify the area on the map a natural gas producer is operating in, for example, the Peace River Arch, in Alberta. Other times we are referring to the geological zone below the ground which the company is attempting to exploit. In this case, the Upper Montney, Lower Montney, Doig, etc represent stratospheric areas below ground, rich in dry natural gas, natural gas liquids, crude oil, or all three.
The Montney "play" crosses two provinces in Western Canada and is considered to be one of the premier shale gas plays in North America.
Here is a snapshot of the players in the B.C. Montney, with a list of how many drilling rigs each has had released by the province in 2012.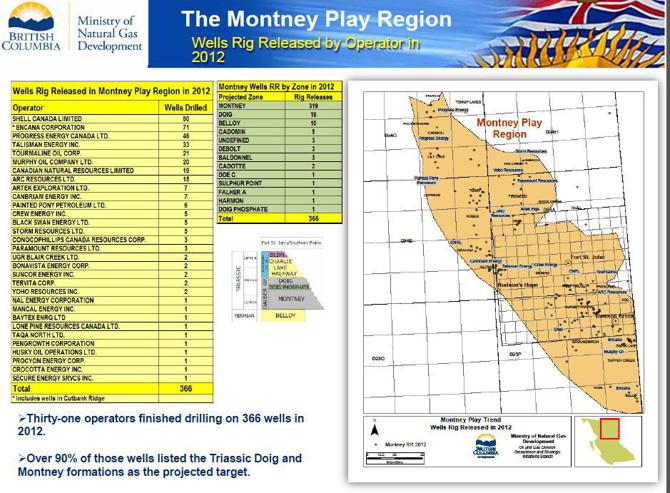 Source: British Columbia Ministry of Natural Gas Development, June 2013.
Here is the natural gas production in the Montney from these players.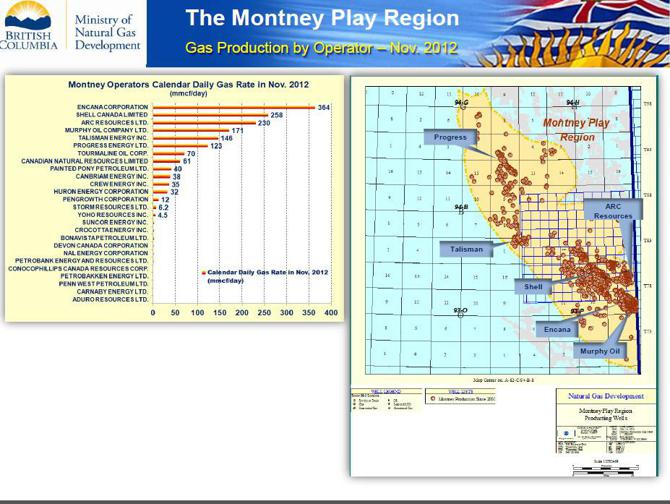 For those who think Canadian natural gas might be a declining business due to the growing production south of the border, Statistics Canada reported today that production increased 7.1% in November 2013 over a year ago, the highest amount for the month of November since 2008.
Exports of Canadian natural gas to the United States increased 3.9% to 6.7 billion m3 (236 bcf), the first gain since September 2012.
A player I like exploring in the B.C. Montney is Crew Energy (OTCPK:CWEGF), which trades primarily on the Toronto Stock Exchange.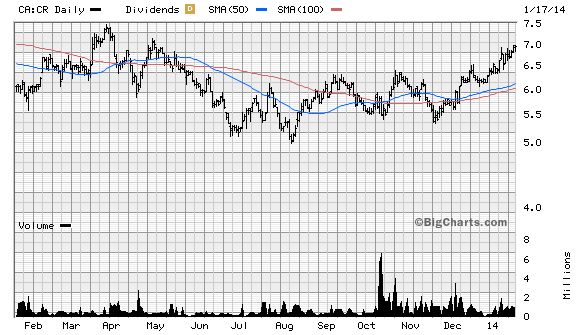 Crew closed the acquisition of 81 sections (a section is 640 acres) or 51,840 acres of B.C. Montney rights for $35.2 million ($679/acre) increasing the company's land position to 377 net sections or 241,280 acres. The company's land value @ $600/acre is worth $145 million alone and Montney land often goes for several thousand an acre depending on location. Crew has 1.05 million net acres company-wide, with +2,500 drilling locations.
Crew says it has 91 tcfe petroleum initially in place (TCIIP). Even though this includes unrecoverable or currently uneconomic amounts of natural gas, this is a staggering amount compared to the value of the company, which has an Enterprise Value of $1.2 billion CAD.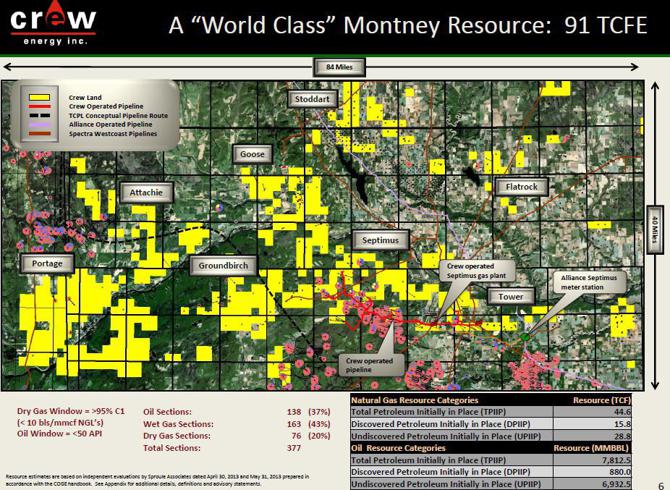 Crew's Septimus Montney play is very close to that of Tourmaline Oil (OTCPK:TRMLF), a larger and fast-growing natural gas player that could easily make a bid for Crew. Tourmaline just announced a $190 million equity deal. Crew has increased its Montney natural gas production from 6,000 boe/day to 9,000 boe/d as of the Q3 2013 report in ten months.
Crew processes its Montney gas at their 65 mmcf/d Septimus plant, which reduces costs and boosts netbacks.
The company is forecasting 10-11,000 boe/day in Q1 2014 from the Montney. This is of course, mainly natural gas, and translates to 60-66 million cubic feet per day, which should fill the Septimus plant.
A note about "barrels of oil equivalent" or boe. Although companies continue to equate 6,000 mcf of gas with a barrel of crude oil based on calorific content at the wellhead, the economic value of natural gas versus crude oil, depending on heat content and grade, location etc, is more in line with 20,000 mcf per barrel. That's the ratio I use in my analyses of energy companies, and this is far more conservative.
Crew has some interesting and valuable assets in other parts of the WCSB which provide diversification and could also be sold. Crew has heavy oil production at Lloydminster, Saskatchewan, which is benefiting from the reduced discount Western Canada Select heavy oil is receiving these days. They also produce natural gas and liquids in the Alberta Cardium play, and light oil production at Princess, Alberta.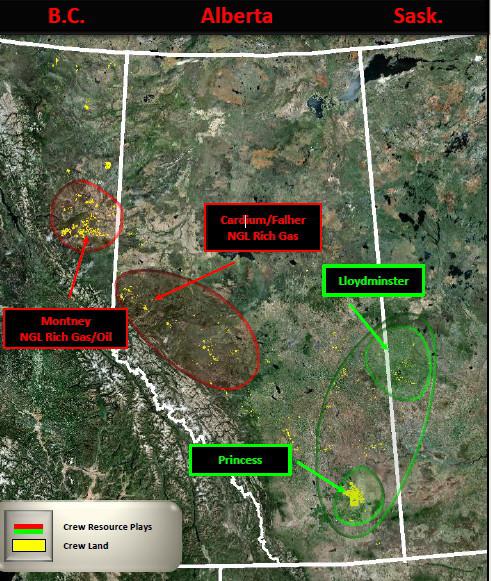 Company wide, Crew produced 28,016 boe/d in Q3 2013, and this was up 6.6% from 26,281 a year before. The company is forecasting strong growth in production and reserves per share for 2014. The company is forecasting 30,000 boed average production in 2014 (apprx. 54% natural gas, 46% liquids).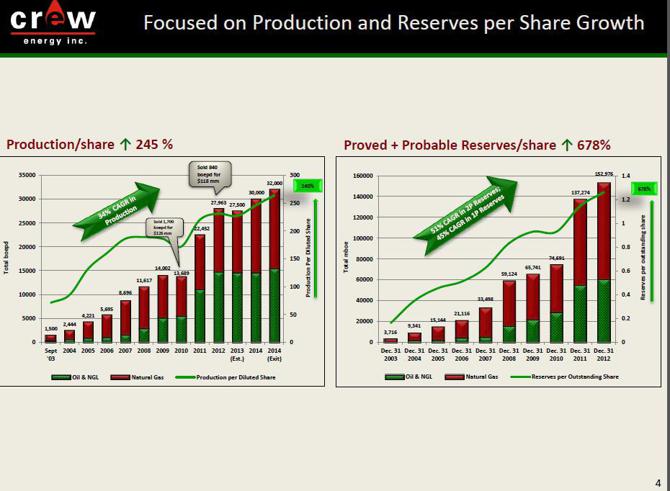 Crew's 2P (proven and probable) energy reserves for the year ended 2012 were as follows. The company will be releasing its 2013 report on February 18, and I expect a material increase due to the higher natural gas prices that were in effect at the end of 2013 versus 2012.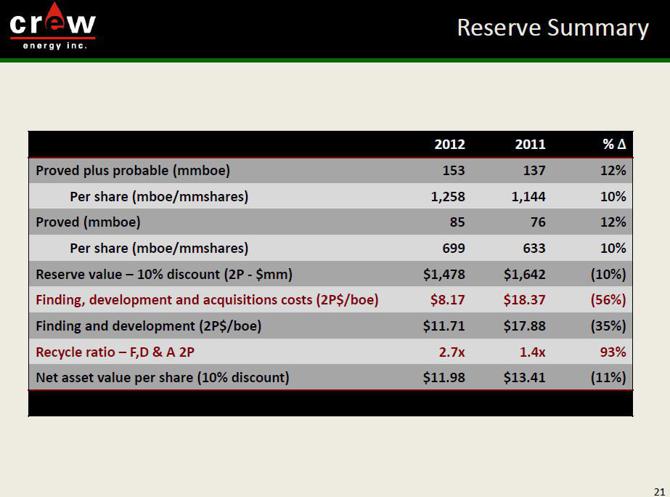 Crew has 121.6 million shares outstanding and expects to exit 2013 with $388 million in net debt outstanding. The debt to cash flow ratio at year end 2014 is expected to be a manageable 2.17 times.
The company expects to earn $1.65 CFPS in 2014, based on 30,000 boe/d production and commodity prices that are lower than they are now.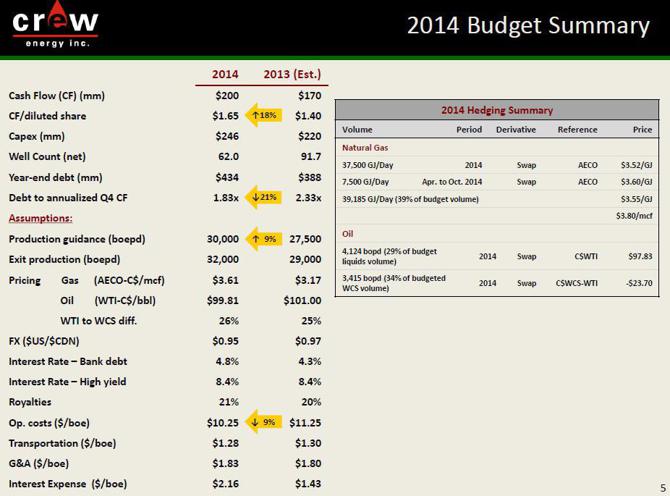 What we call the twelve month "strip" for natural gas sales, averaged $4.30/mcf at the benchmark AECO storage hub on Friday, versus $3.65/mcf assumed in the Crew 2014 budget, according to the Petroleum Services Association of Canada.
Even if natural gas prices weaken this summer, Crew had outstanding hedges on 22.5 mmcf/d or about 25% of their current 91 mmcf/d production, at $3.53 and $4.00 as of Q3 2013. However, they have added hedges and now are 39% hedged on natural gas at $3.80 and 29% hedged on crude oil at $97.83 CAD. The hedges have probably been limiting upside on the stock, but I think analysts and potential acquirors will eventually look through the hedges to see the underlying value. Crew's Septimus has one of the highest well IRRs in the B.C. Montney. We will get the Q4 2013 report on March 7.
In addition, the Canadian price of WTI was at $107.73 and the WCS heavy oil discount to WTI was only 19.2%, better than in the 2014 budget. Here are some cash flow sensitivities Crew has provided. If prices stay at current levels, cash flow would come in at $233 million or $1.92/share.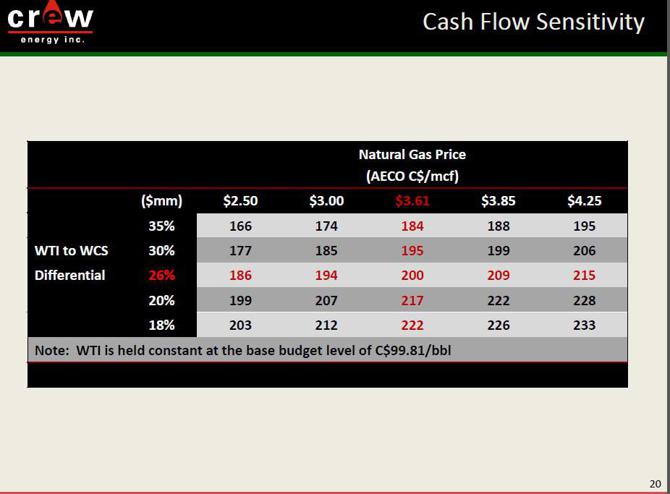 Crew shares closed at $6.82 CAD yesterday, or 57% of Net Asset Value.
At $6.82 CAD, Crew is trading at only 4.13 estimated 2014 CFPS. My feeling is the multiple should be higher, to reflect the reasonable growth potential of the company, and its attractiveness as a takeover candidate. At a 6 times multiple, Crew would be trading at $9.90, for capital appreciation potential of 45%. The company does not pay a dividend. If CFPS rises to $1.92 the shares could be valued at $11.52.
The stock had a significant short position of 22.5 million shares as of January 15, or 18.5% of the outstanding. I don't know why the short position is so high. The CEO Dale Shwed is experienced and formerly with Baytex Energy (NYSE:BTE). High short positions are common with Canadian mid-cap natural gas producers. This is emblematic of the negative sentiment towards these names, which I think, is misplaced.
Disclosure: I am long CWEGF, BIREF. I wrote this article myself, and it expresses my own opinions. I am not receiving compensation for it (other than from Seeking Alpha). I have no business relationship with any company whose stock is mentioned in this article.