As a retiree, I am drawn to Closed End Funds (CEFs) for their income potential. However, in a strong bull market, CEFs can also provide exceptional capital gains. Last year is an excellent example. The S&P 500 had a banner year, gaining more than 30% but many CEFs had even stronger performance. But after being burned in 2008, risk is just as important to me as return. Therefore, I decided to analyze the best performing CEFs of 2013 and assess how much risk you had to assume to obtain the rewards.
Before launching into the analysis, it is important to understand Return of Capital (NYSE:ROC) in a bull market environment where a fund's assets are appreciating. In a CEF, the cash available for distributions comes from interest, dividends, and realized capital gains. If a fund distributes more than this cash, it is considered return of capital. However, not all ROC is "bad". For example, if fund assets have appreciated but have not been sold, then the Net Assess Value (NYSE:NAV) has increased by "unrealized capital gains". When it comes time for a distribution, a fund manager may decide not to sell some of his best performing assets because he believes they will appreciate even more. If he had sold the asset, he would have had plenty of cash for the distribution. However, since he decided not to sell, he may have to delve into savings to pay the distribution and this results in a tax event that is called "return of capital". This type of ROC is not destructive. My rule of thumb is that ROC is not destructive as long as the NAV continues to increase. The CEFs that I looked at in this analysis all have increasing NAV so any ROC was non-destructive.
To select funds for my analysis, I used the data available at CEFConnect.com to select the best performing CEFs based on the following criteria:
Return on NAV for 2013 was greater than 25%
Return on Price for 2013 was greater than 25%
The fund had at least a 6 year history so I could review how well it performed during the bear market of 2008.
The fund was relatively liquid with an average trading volume exceeding 50,000 shares per day
The fund had a market cap greater than $150M
The following 11 CEFs met all these criteria.
For reference I will compare the CEF performance with the S&P 500.
SPDR S&P 500 (NYSEARCA:SPY). This cap weighted ETF contains all 500 stocks in the S&P 500. It has and expense ratio of only 0.09% and yields 1.8%.
To assess the selected CEFs, I plotted the annualized rate of price return in excess of the risk free rate (called Excess Mu in the charts) versus the volatility of each CEF for the year 2013. The Smartfolio 3 program (Smartfolio.com) was used to generate this plot. The data is shown in Figure 1.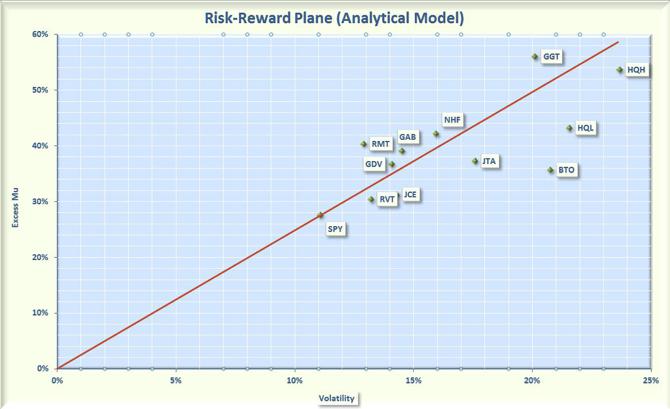 Figure 1. 2013: Risk vs. reward for CEFs
As is evident from the figure, there was a large range of returns and volatility values. For example, HQH had a high rate of return but also had a high volatility. Was the increased return worth the increased volatility? To answer this question, I calculated the Sharpe Ratio.
The Sharpe Ratio is a metric, developed by Nobel laureate William Sharpe that measures risk-adjusted performance. It is calculated as the ratio of the excess return over the volatility. This reward-to-risk ratio (assuming that risk is measured by volatility) is a good way to compare peers to determine if higher returns are due to superior investment performance or from taking additional risk. In Figure 1, I plotted a red line that represents the Sharpe Ratio associated with SPY. If an asset is above the line, it has a higher Sharpe Ratio than the S&P 500. Conversely, if an asset is below the line, the reward-to-risk is worse than the S&P 500.
Some interesting observations are apparent from Figure 1. First off, because of the way they were selected, all the CEFs generated larger returns than the S&P 500. However, when the stock market has an outstanding year like 2013, it is not easy for an actively managed fund to generate comparable returns without taking great risks. Yes, all the CEFs had higher volatility than SPY but most of the funds were close to the "red line", which means that investors were adequately compensated for the extra risk. In particular, all three of the Gabelli CEFs actually beat the SPY on a risk-adjusted basis. And the funds managed by Royce were also superior, with RMT booking the best risk-adjusted return and RVT not that far behind. I believe this is a testament to the fund managers and illustrates that carefully selected CEFs can be an advantageous addition to your portfolio.
NHF was somewhat of a surprise. This fund has a large percentage of senior loans and bonds which would normally dampen performance. The fact that the managers could generate such a large risk-adjusted return is exceptional. The two worst performers on a risk-adjusted basis were BTO and HQL but even these had impressive performance last year.
So you may be thinking that the performance of these CEFs were due to lucky decisions in 2013. How would these CEFs rate if we looked at performance over a longer time period? To asses longer term performance, I re-ran the analysis for a 5 year look-back period (2009 through 2013). The results are shown in Figure 2 and are even more impressive than the 2013 results. Just about all the CEFs (except for RVT and BTO) beat the SPY on a risk-adjusted basis. The only CEF that lagged significantly was BTO. Over 5 years, HQH, HQL, and GGT booked the best risk-adjusted performance. The Gabelli funds once again turned in impressive performance on both an absolute and a risk-adjusted basis.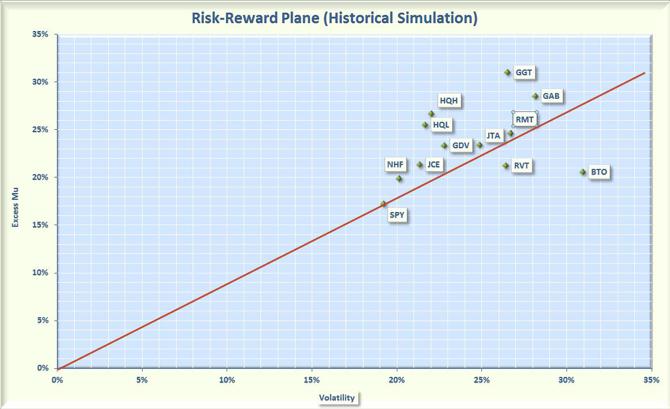 Figure 2. Risk vs. reward for selected CEFs over 5 year period
Bottom Line
No one knows how the market will perform in the future. However, over the past 5 years, carefully selected CEFs have added performance and diversity to a portfolio. During this bullish period, active managers, such as Gabelli and Royce, often outperformed the S&P 500 index on both an absolute and risk-adjusted basis. These CEFs were more volatile than the market so should only be considered by the risk tolerant investor. In particular, good performance in a bull market cannot be extrapolated to a bear market since all these bull market winners were plummeted in 2008. Like most investments, CEFs can offer advantages in some environment but should be watched carefully for signs of trouble as we move into 2014.
Disclosure: I am long GAB, GGT, HQH, SPY. I wrote this article myself, and it expresses my own opinions. I am not receiving compensation for it. I have no business relationship with any company whose stock is mentioned in this article.