Karl Mills leads Jurika, Mills & Keifer's investment and portfolio management activities and works with the firm's financial advisory clients. Jurika, Mills & Keifer is an independent investment advisory firm based in Oakland, California.
Previously, Karl was vice chairman of Jurika & Voyles, another Oakland based investment management firm. During his 14 years there, he was involved in all aspects of the company's investing and other activities and played a major role in building the firm. The firm oversaw $7 billion in client assets when it was sold in 1997. Karl received a BA in English from Bates College and an MBA from Northwestern University's Kellogg School of Management. He earned his Chartered Financial Analyst designation in 1992.
Seeking Alpha recently had the chance to ask Karl about his single highest conviction holding in his fund at present.
Hi Karl, for starters can you tell us a bit about your investment approach in your fund?
We launched the Counterpoint Select Fund at the end of 2006. Our approach to managing the Fund, as well as the name "Counterpoint" flows from our many years of experience and the belief that the best investment practices often run counter to conventional wisdom and practice.
We think and act independently and are willing to make significant investments contrary to consensus opinion where we discern value and opportunity. Unlike most mutual funds, we do not feel compelled to be fully invested, to adhere to any benchmark, or subscribe to conventional notions of "value" or "growth." This is part of the ridiculous and artificial construct that governs much of our industry and has much more to do with asset gathering than sensible investing.
Instead, we invest as business "owners," focusing on the fundamental value, inherent quality, and future potential of a business. Our simple mantra is "buy great companies at good prices and good companies at great prices." We focus on companies with well-established, durable, and valuable business franchises that give them a sustainable competitive advantage. We are particularly fond of "fallen franchise" opportunities when a good company with a strong franchise gets taken out to the proverbial woodshed on Wall Street for a temporary and fixable problem. For us, we are always looking at the tradeoff between quality, value and opportunity and a little controversy often comes with a bargain price.
We also believe in focus and concentration. We want to make our ideas and insights matter and therefore concentrate the Fund in 15-25 core holdings. Most mutual funds are over-diversified. In theory, this is to prevent any single investment from hurting performance, but it also prevents any single good idea from making much of a positive difference. Really good opportunities are rare, and when they come along, we want to make them matter. In all cases, we are looking for asymmetrically favorable opportunities and the size of a position in the fund is driven by the potential gain relative to the potential loss. We will often use options to both control downside risk if we are wrong, and to enhance the upside gain if we are right.
The Fund is managed using a combination of top-down strategy and bottom up fundamental analysis. The top down-strategy guides our asset allocation and sector focus. If conditions warrant, we can hold substantial levels of cash and/or hedges on positions or the overall market, as we did in the fourth quarter of 2008 and first quarter of 2009. This helped the preserve value during the worst of the economic and market downturn.
We are ourselves substantial investors in the Counterpoint Select Fund and our interests are very much aligned with our shareholders. So we care a lot about capital preservation as well as appreciation and think of risk and reward both at the portfolio level and the individual security level.
Finally, our smaller size and focus on highly liquid companies gives us the ability to be quick to react to opportunities and deteriorating situations. This is an important asset, as we have learned. "Perfect Storms" are supposed to be rare, but seem to happen frequently. While everyone claims to be a long-term investor, there are times when it pays to just get out of the way.
What is your highest conviction stock position in your fund right now?

Our highest conviction name is Qualcomm (NASDAQ:QCOM).
Founded in 1985 in San Diego, Qualcomm has rapidly grown to become one of the leading wireless communications technology companies in the world. They created and own a large amount of intellectual property around CDMA (Code Division Multiple Access) which is the backbone of 3G (third generation wireless) communications.
They also own significant intellectual property in emerging 4G technology. In total, they have over 11,000 patents and have created a dominant competitive franchise in one of the fastest growing parts of the technology sector and economy. They both license their technology as well as develop and supply chips to hardware manufacturers based on this technology, such as handset manufacturers.
To what extent is Qualcomm an industry pick for you, as opposed to a pure bottom-up pick?
Qualcomm is both a top-down industry pick and a bottom-up fundamental pick.
From a top-down perspective, Qualcomm sits at the epicenter of the most powerful areas of growth and innovation in the entire technology sector. The conjoint development of faster wireless communications standards, such as the shift to 3G, as well as technology platforms and applications to take advantage of this capability, such as Apple's (NASDAQ:AAPL) iPhone, has led to a dramatic growth in usage and data consumption.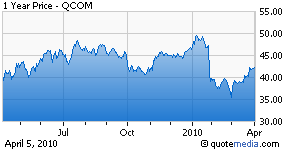 It has also spawned a virtuous cycle of smarter devices, leading to new applications leading to greater usage leading to smarter devices. More data, more users, more devices, providing the world's knowledge to anyone, anywhere, anytime, wirelessly.
It's a very powerful and empowering evolution: from pagers to analog phones to digital phones smart phones, to smart-pads and sub notebooks, to all kinds of unimagined devices and capabilities down the road. The launch of Apple's iPhone several years ago was a watershed event in this evolution, leading to a blurring in the lines between communications and computing devices.
With this evolution, we have seen a phenomenal increase in data usage, which is growing at over 100% per year. This is Moore's Law squared. (Moore's Law suggests that the processing power of an integrated circuit can double every two years). Just think of the increase in data involved from sending a text message to making a video with your phone and uploading it to Facebook, or downloading songs, videos, applications, movies, and sharing them with your friends.
All of this evolution creates ever-greater demand for more and faster mobile devices (and chips) by more users, around the globe. This is all good for Qualcomm, which sells and/or licenses the technology that makes these devices work.
From a bottom-up fundamental basis, Qualcomm's stock is cheap and represents a compelling investment value.
How do you see Qualcomm's current competitive environment?
The competitive environment in the communications space is intense and is driven by several major cross currents: a secular trend of declining average selling prices, rising capabilities, and rising volumes.
Qualcomm is well positioned in this environment. With its vast intellectual property portfolio linked to 3G and 4G wireless communications, as well as other areas, it has a substantial competitive advantage and pricing power. Qualcomm gets paid license royalties from, and/or supplies chips to all major handset manufacturers.
As a major innovative force, and $11 billion of cash on its balance sheet, Qualcomm has the financial horsepower to outspend its closest competitor, Broadcom (BRCM), two to one on research and development.
Can you talk about valuation?

As of this writing, Qualcomm currently trades at $42.00 a share with expected earnings in 2010 and 2011 of $2.60 and $2.80 respectively. In addition to strong sales and earnings growth, Qualcomm has no debt and over $11 billion in cash and marketable securities on its balance sheet, representing almost 20% of its market value.
On an enterprise value to EBITDA basis, Qualcomm trades at 13 times 2011 estimates, which is at discount to its closest competitors. It has historically commanded a premium valuation. Our intrinsic value estimate for the company is $60.00.
We also think that Qualcomm is cheap relative to the market, which trades at a similar P/E multiple but lacks Qualcomm's growth potential.
What is the current sentiment on Qualcomm? How does your view differ from the consensus?
Current sentiment towards the stock is negative, but improving. In December of 2009, at an analyst day, Qualcomm management gave a very upbeat view of their business and future trends, and so expectations going into second quarter results in late January were high.
To the surprise of many, Qualcomm lowered its guidance in January because of a more aggressive pricing environment during the quarter, resulting in lower average selling prices. Investors, feeling burned, dumped the stock, causing the shares to fall over 25% between January and March 1st, to levels not seen since March of 2009 at the peak of the credit crisis. In our view this was a dramatic overreaction on the part of disgruntled investors, and we started adding aggressively to our holdings.
More recently, Qualcomm has announced a stock buyback and recently raised its outlook and earnings guidance for the year. The shares have since rebounded to $42 but remain, in our opinion, cheap, especially for such a preeminent, well positioned and well capitalized company in such an important and fast-growing part of the world economy.
Does the company's management play a role in your position?
Management isn't central to our thesis in all cases, but in this case it is. We do not think that management handled the whipsaw in guidance between December and January well, but their longer-term reputation as managers, innovators and formidable competitors is sterling. Many analysts on Wall Street felt burned, but we think this a short-term problem that will be overcome with strong results.
Having said that, it is important to us and to our thesis that actual results validate management guidance, strategy and action.
What catalysts do you see that could move QCOM stock?
Possible catalysts include improving sentiment on the part of investors towards the company, evidence that average selling prices are stabilizing and increasing, continued wins for its chips and processors in mobile devices including smart-phones, smart-pads, sub-notebooks, and other devices.
The company has also been an active buyer of its own stock at these levels.
What could go wrong with this stock pick?
A deteriorating competitive environment leading to declining average selling prices, litigation, inconsistent management guidance, or macroeconomic factors that affect the entire industry.
Thank you very much, Karl.
Disclosure: Counterpoint Select Fund is long QCOM
Read more High Conviction Picks »
If you are a fund manager and interested in doing an interview with us on your highest conviction stock holding, please email Rebecca Barnett.