(Editors' note: Trading of GNLAF is highly illiquid. Investors would be advised to consider the listing on the Toronto Stock Exchange under GDC.TO)
Genesis Land Development [(OTC:GNLAF)(GDC.TO)] ("GDC" or "the company") is a small, chronically undervalued $150 million market capitalization real estate developer and owner of an extensive land bank in Canada. The company trades only lightly on the TSX, but has picked up some interesting catalysts.
The company has a colorful history, including impolite allegations of its former CEO and Founder Gobi Singh and other members of the previous management for failing to adequately disclose certain non arm's-length transactions in 2008. GDC's Board of Director's ("BoD") cleaned house in 2011 by accepting Mr. Singh's resignation and installing a new management team which is now comprised of CEO Bruce Rudichuk and CFO Mark Scott, two real estate veterans in Canada.
To add to the turmoil, GDC received an unsolicited and preliminary, but never consummated go-private offer at $5.80/share from Jupiter Acquisitions Ltd in April 2011. At the time, the Jupiter offer represented a 30% discount to GDC's 2010 year-end third-party appraisal of its net asset value ("NAV"), which was at that time pegged at $8.25.
The Jupiter deal, which had "support from key GDC shareholders" representing 16% of the share capital, ultimately was not consummated for reasons that aren't well described in the regulatory filings. While there are not many details as to why the Jupiter deal fell by the wayside, one has to ascribe at least some possibility that the now failed proposal was not acted on by Jupiter as a result of corporate governance issues. The $5.80 go-private is 72% higher than the current $3.33 stock quote ascribed by the market today.
Turning to the corporate governance issue, GDC's largest shareholder, Smoothwater Capital, recently turned activist to improve corporate governance and unlock dormant value in the business. Smoothwater's CEO and portfolio manager, Stephen Griggs, is well-known for extolling the benefits of and implementing good corporate governance practices at various Canadian enterprises.
It follows, then, that the reason this investment opportunity exists is due to (1) a discount due to GDC's affiliation with past issues relative to corporate governance; (2) uncertainty relative to Smoothwater's recent proxy fight and ultimately, its success, to install new directors - Mr. Griggs is now Chairman of the Board - with aligned incentives and "more skin in the game"; and (3) relative obscurity of GDC among the international investment community.
The BoD now includes three members - Mr. Griggs, Mark Mitchell and Loudon Owen - who collectively own 35% of GDC's share capital (according to the proxy materials). As such, the BoD now has considerable clout, and more important, appropriate incentives to make decisions that will be accretive to equity value.
Simply put, the opportunity exists because GDC has not been especially well run in the past and still suffers from a "corporate governance discount." After last summer's governance shakeup as a result of Smoothwater's proxy solicitation, the BoD now has considerable leverage and incentive to maximize GDC's equity value.
Even with the past corporate governance issues at GDC, one must always assess price relative to underlying value. To that end, GDC owns a large asset base comprised of land in Western Canada, and trades at a meaningful discount to an independent third-party's assessment of net asset value ("NAV") and also to its peer group, including Melcor Developments Ltd (OTC:MODVF). Therefore, I think the current price does not reflect any of the real governance changes and operational improvements that are underway at GDC.
With certain activist investors (Smoothwater Capital) now involved and committed, it seems like equity value will be unlocked as lingering corporate governance/trust issues are resolved and investors re-rate the value of GDC's asset base and real estate development business.
The Assets
First, to GDC's asset base. GDC owns a large land bank in Western Canada, much of which has been approved for development in the Greater Calgary and Airdrie municipalities. Owning a significant shovel ready land base is a competitive advantage for GDC as a vertically-integrated land owner and real estate developer because it is able to realize margin both from the lands it owns and the real estate it develops and sells on that land. The company also generates margin through selling non-core land holdings and lots.
According to the most recent Annual General Meeting presentation materials, GDC has an approved land bank that will satisfy their needs for many years into the future, as seen below.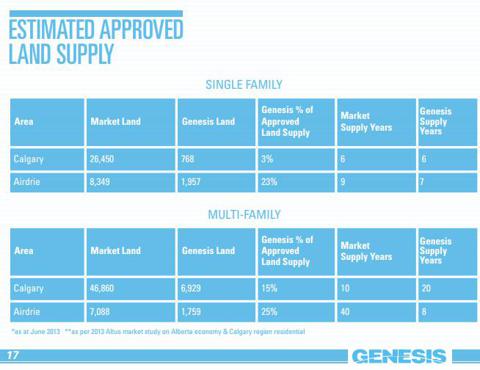 What's The Land Worth?
As part of the corporate governance measures put in place, GDC engages third-party real estate appraisers on an annual basis to assess the value of its land holdings.
At year-end 2012, the third-party appraiser estimated the after-tax NAV to be $6.61 per share, about an 11% decrease year/year. A decrease is not something one would expect in a Calgary real estate market that is generally appreciating in value, which is one reason why activists are pressing for change.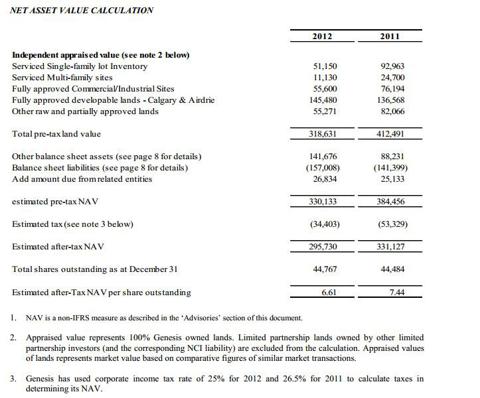 Source: Management Discussion & Analysis, March 20, 2013.
One might qualify the appraised value as not representative of fair value - the price a willing buyer and seller would transact, knowing all relevant facts and neither compulsed to sell. But GDC has sold many of its land assets at very close price levels to the appraised values. To wit: in 2011, GDC was receiving consideration at or slightly more than the appraised value of the land, as seen below.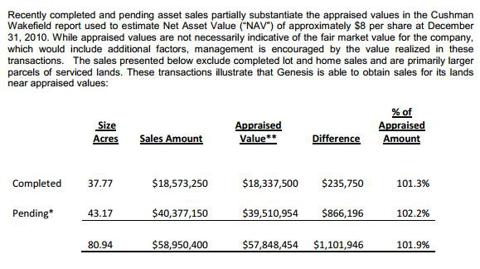 Source: GDC Press Release, dated October 13, 2011.
I understand the appraiser generally used a market-based approach to value the land which I believe is appropriate. Therefore, given recent sales are close to appraised values, I am placing a fair amount of reliance on the BoD's year-end stated NAV as a good approximation of the underlying value of GDC's land assets.
It appears that Smoothwater does as well, and indicated its disappointment that shares trade at such a wide discount (50%+) to NAV in the Information Circular presented to shareholders in the recent July 2013 proxy solicitation.
Discerning investors should note that liability side of the NAV calculation has changed considerably since the end of 2012. Debt has been reduced from $97.2 million to $48.2 million, on the back of debt repayments from significant cash inflows, most notably the completion of a 32-acre parcel transaction from its Sage Hill Crossing project sold to Riocan REIT (OTCPK:RIOCF).
Management indicated that they are commissioning the third-party appraiser to perform another valuation on its land assets for year-end 2013 which will be disclosed in the 2013 Annual Report.
Before considering GDC's real estate development business, investors are paying less than the value of GDC's dormant land assets. Using the year-end 2012 NAV assessment as an approximation of value, GDC currently trades at a ~50% discount to NAV, a far wider discount to the 30% discount ascribed in the proposed Jupiter deal. While land developers do typically trade at a discount to NAV, the current price is unusually large and doesn't account for the growing real estate development business at GDC.
The Real Estate Business
To buttress the land value held by GDC, management is focusing its efforts on increasing volumes and margins of its real estate development business. This makes sense as it allows GDC to leverage its land bank and monetize it either through lot/acre sales or by building real estate on the land. This arrangement allows GDC to diversify its revenue base and allows management to earn margin on both land and real estate development activities.
After reaching a run rate of 190 home sales in 2009, the level of sales dropped to 150, 65 and 90 in 2010, 2011 and 2012, respectively. Home sales fell dramatically from the 2009 high, and are now rebounding. Management expected to deliver 150 homes in 2013.
Through the 9 months ended September 30, GDC sold 122 homes at an average selling price ("ASP") of $384,000 per home, up from just 57 in the prior period. Management's stated goal of 150 home sales in 2013 is quite achievable given GDC received 135 net new orders in the year and because there is real estate currently in production.
While GDC has recently been operating its real estate development business at a 20% gross margin levels, there does appear to be room for improvement. Historically, GDC was operating at 30%+ gross margins, before the corporate governance issues that led to the management upheaval in 2011.
With those issues generally behind GDC, a new, qualified management team and Smoothwater's activism, I expect operating margins to improve. Management indicated it intends to optimize its cost structure putting it in line with industry standards by the end of 2014. In my view, gross margins in the home-building business can retrace back towards historical levels over the next several years as volumes pick up and more revenue is spread across the fixed cost base, allowing the operating leverage in this business to be exposed.
Risks
There are reasons to be worried that the Canadian residential real estate market is overvalued, generally speaking. However, real estate must be assessed by each individual market, and Calgary is one of Canada's stronger markets with net immigration and strong employment trends as a result of the growing oil/gas sector. The $384,000 ASP for GDC's new homes in Calgary doesn't strike me as being prohibitively expensive relative to Calgary resident's purchasing power, other Canadian cities such as Vancouver or Toronto, or most American cities.
The significant discount to NAV and GDC's efforts to pay down debt to a nominal level over the course of the past year, provides a certain margin of safety should the Canadian real estate market collapse, which I view as an unlikely, black swan event.
Again, the under leveraged balance sheet provides GDC management considerable flexibility, and shareholders protection in the event of a black swan, Canadian real estate event.
Conclusion
GDC is offering investors an interesting play on Canadian land and a "free call option" on a real estate development business at the current price. Downside risk should be limited given the wide discount to NAV, a new management team and an underlevered balance sheet.
With a recent shake up at the management and BoD levels, and a committed activist investor in Smoothwater Capital, I expect that investors will begin to re-rate the business in 2014.
On the back of better corporate governance and improved operations at the home-building business, I think shares should trade closer to an estimate of the year-end 2013 NAV, which will likely be in the $6.50 to $7 neighborhood. Using a 30% discount to NAV (using the Jupiter deal as a benchmark), fair value for the land assets is likely at least $4.50/share, or about 35% higher with the home-building business thrown in for free.
Disclosure: I have no positions in any stocks mentioned, but may initiate a long position in GNLAF over the next 72 hours. I wrote this article myself, and it expresses my own opinions. I am not receiving compensation for it (other than from Seeking Alpha). I have no business relationship with any company whose stock is mentioned in this article.