In January I predicted that "major" bankruptcies in 2010 would number around 300 (see Notable Bankruptcies of 2009). According to Bankruptcydata.com, there were 29 "major" filings in the first quarter of 2010. Assuming that bankruptcies are equally distributed throughout the year, this puts us on pace for around 120 bankruptcies. That would be well shy of my prediction.
What a difference a year makes!
As I mentioned in previous posts (see Notable Bankruptcies of 2009: Q3 and Notable Bankruptcies of 2009), the stylized fact that the pace of corporate bankruptcies diminished throughout 2009, and now into 2010, begs the question of whether the underlying cause was a structurally improved economy or the massive Fed/Treasury liquidity programs keeping weaker firms on artificial life support.
Although the economy certainly seems to be improving (the recent uptick in employment stands as evidence of such an improvement), I still believe that the drop in bankruptcies has a lot to do with the Fed/Treasury liquidity programs. We will find out shortly as the Fed/Treasury now begin to unwind such programs, and with peak stimulus now behind us. In this sense then, I believe that the true test for corporate balance sheets (and by extension, the economy) will come in the second half of the year.
It is therefore still my expectation that the pace of corporate bankruptcy filings will increase throughout 2010. If fundamentally weak companies are being propped up by the provision of credit/liquidity to an economy that cannot structurally support them, it is only a matter of time before bankruptcies begin to reflect the true underlying economic fundamentals.
Anyhow, below you can find an updated list of what I see as the "noteworthy" bankruptcies of 2010, as reported by Bankrupctydata.com (please note that this is not an exhaustive list):
Affiliated Media, Inc. (Newspapers)

Anthracite Capital, Inc. (AHR) (Real Estate)

Atrium Companies, Inc. (Windows and Doors)

Black Gaming, LLC (Gambling)

Electrical Components International, Inc. (Manufacturing)

EnviroSolutions Holdings, Inc. (Waste Disposal)

FirstFed Financial Corp. (FED) (Banking)

Haights Cross Communications, Inc. (Publishing)

International Aluminum Corporation (Real Estate)

Mesa Air Group, Inc. (MESA) (Airlines)

Morris Publishing Group, LLC (Media)

Movie Gallery, Inc. (MVGR.PK) (Retail)

Neenah Enterprises, Inc. (OTC:NENA) (Manufacturing)

Orleans Homebuilders, Inc. (OHB) (Real Estate)

Penton Business Media Holdings, Inc. (NASDAQ:PME) (Media)

Regent Communications, Inc. (RGCI) (Media)

Spheris Inc. (IT Services)

Uno Restaurant Holdings Corporation (Restaurants)

Xerium Technologies, Inc. (NYSE:XRM) (Paper)
In addition to the "notable" bankruptcies (e.g., those firms with assets greater than $50M) tracked by Bankruptcydata, the U.S. government tracks all bankruptcy filings by type (e.g., Chapter 7, Chapter 11, Chapter 13). You can find detailed bankruptcy statistics at the U.S. Courts website or from ABI. Business bankruptcies for all of 2009 came in at 60,837 compared to 43,546 for 2008.
Click to enlarge: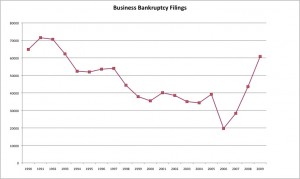 The chart above presents annual (calendar year) business bankruptcy filings from 1990-2009 (click on the picture for a larger image). The number of filings had been trending steadily downward from 1990 through 2006. In 2007 the numbers began to reverse course. My expectation for 2009 was for 55,000 total business bankruptcies (see Notable Bankruptcies of 2009: Q1).
Taking stock of my 2009 predictions: They were a bit on the high side in the "notable" bankruptcy category, but a bit on the low side for total business bankruptcies. So I underestimated the number of small-firm bankruptcies and over-estimated the number of large-firm bankruptcies.
What can we make about the difference in accuracy across my predictions given that they were estimated using the same predictive methodology?
I think it speaks to the nature of the Fed/Treasury liquidity provisions and its impact on the broader economy. That is, the reason we did not observe large-firm bankruptcies more in line with my prediction is probably because larger firms had greater access to liquidity and were beneficiaries of the stimulus program. By contrast, smaller businesses struggled to access capital markets thereby exacerbating their crisis. Putting numbers to it: There was an 8% increase in large-firm bankruptcies from 2008 to 2009, but a 40% increase in small-firm bankruptcies.
This is why I believe that the dip in the pace of large-firm bankruptcies throughout 2009 was more a function of liquidity provisions than a wildly improving economy. The difficulty small firms had obtaining capital was a recurring theme in 2009. And for good reason. Unfortunately, I don't expect that to change anytime soon.
Disclosure: No positions