As part of my overall investing philosophy, I tend to favor large well established companies with a predictable revenue and earnings stream. The large predictable earnings stream allows for a better prediction of future profits coupled with a predictable rising dividend stream. The predictable dividend stream allows for supplementation of income which is critical for covering expenses along with retirement planning.
In the article below, I will examine the investment case for Intel (NASDAQ:INTC) and IBM (NYSE:IBM). Each of the previously mentioned companies has dramatically underperformed the S&P 500 over the past three years as their respective businesses are undergoing some fundamental changes. Both INTC and IBM have reported their respective fourth quarter numbers allowing for an accurate review of the past 3 years underperformance.
Intel recent 3 year performance data.
| | | | |
| --- | --- | --- | --- |
| Annual Results | 2013 | 2012 | 2011 |
| Revenue in Billions | 52.7 | 53.3 | 54 |
| Gross Margin | 59.8 | 62.1 | 62.5 |
| Operating Income | 12.3 Billion | 14.6 | 17.5 |
| Net Income | 9.6 Billion | 11 | 12.9 |
| Earnings per Share | $1.89 | $2.13 | $2.39 |
| Dividends per Share | 0.90 | 0.87 | 0.78 |
| Shares Outstanding in millions | 4,981 Billion | 4,996 Billion | 5,194 Billion |
Used basic share count info taken from 10-q dated 11/2011, 10/2012 and 10/13.
IBM recent 3 year performance data.
| | | | |
| --- | --- | --- | --- |
| Annual Results | 2013 | 2012 | 2011 |
| Revenue in Billions | 99,751 | 104.5 | 106.9 |
| Gross Margin | 48.6 | 48.1 | 46.9 |
| Operating Income | 19.52 | 21.9 | 21.003 |
| Net Income | 16.48 | 16.6 | 15.8 |
| Earnings per share | 15.06 | 14.37 | 13.06 |
| Dividends per share | 3.70 | 3.30 | 2.90 |
| Shares outstanding in millions | 1094.5 | 1137.2 | 1188.6 |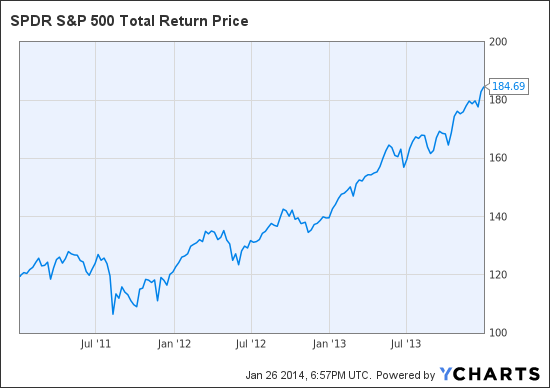 SPY Total Return Price data by YCharts
I would like to examine each company's respective revenue and earnings growth first. As we can see from the tables below, both INTC and IBM have managed to shrink revenues over a 3 years basis. To say the least, this is an underwhelming performance as evidenced by the respective shares underperformance versus the S&P 500 index. INTC is facing a decline in their PC client group sales which make up over 60% of their overall revenue. There is an ongoing shift to greater usage of mobile devices of which INTC has failed to make significant inroads. To INTC credit they managed to show strong tablet growth over the back half of 2013.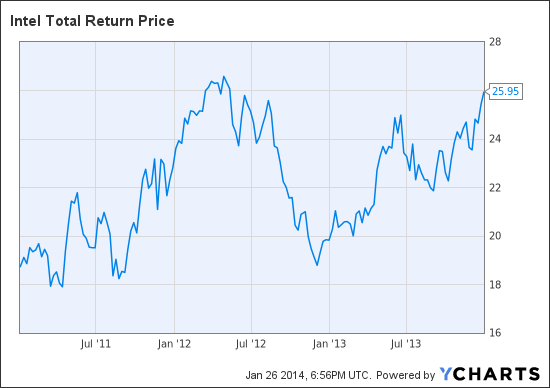 INTC Total Return Price data by YCharts
IBM has also faced similar headwinds as the industry has changed as evidenced by weaker hardware sales. There is an ongoing shift in the industry to a cloud based model with a reliance on cheaper networking gear. IBM has responded to the challenge by making acquisitions in their software division with particular focus on cloud based solutions.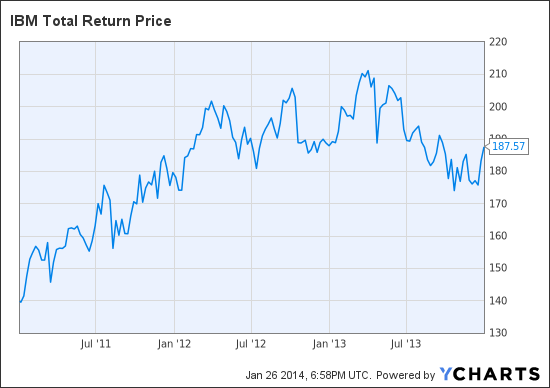 IBM Total Return Price data by YCharts
IBM and INTC performance diverge when it comes to the all important gross margin metric. In IBM's case the buildup of the software division has greatly enhanced gross margins as this unit operates at a stunning margin of over 88%. Gross margins of this magnitude are rare in the business world and traditionally denote a company with a very strong and defendable moat. The software division has now grown into IBM's second largest division behind Global technology services.
Unfortunately, the same can't be said at this current time for INTC. At the time of writing this article, INTC mobile division, dubbed other Intel architecture is producing losses as they attempt to establish a beachhead in this tough market. Their second largest division is the data center group which has performed well. The Data center group exhibited an 8% year over year growth which is an excellent performance. The weakening of INTC PC client group along with the continued losses in the other architecture division has had a negative impact on gross margins.
The affect of a higher gross margin is positively reflected in IBM's earnings per share growth. In spite of lower gross revenues, by repurchasing shares at a CAGR rate 2.79% over the past 3 years, IBM earnings have grown. The $2 per share price increase works out to a CAGR of 4.86%, not exactly stellar but it is actual growth. In INTC case, the share reduction plan was unable to offset the reduction in gross margin causing earnings to fall over the last three years.
In my view the most important part of the discussion revolves around total return to shareholders. I measure total return in the form of dividends and shares repurchased. As a long term shareholder, I would be greatly rewarded by any company who consistently raises the dividend and repurchases shares outstanding at a rate greater than inflation. This simple act will increase my buying power (dividends) and enhance overall share returns (buybacks) as long as the company consistently generates higher earnings well into the future.
IBM performs wonderfully when viewed by the above definition. IBM has raised its dividend from 70 cents in 2004 to its current rate of $3.70 for a CAGR of 18.12%. The company has relentlessly reduced the shares outstanding from 1,646 billion to 1095 for a CAGR of 4.16%. Using the HIGHEST quoted share price of 2004 of $100 per share an investor would have a capital return of 80% not including dividends reinvested.
The story for INTC is quite different. INTC also raised its dividend, going from 16 cents per share to its current rate of 90 cents per share for a CAGR of 18.85%. INTC also reduced its shares outstanding, going from 6253 to 4981 billion for a CAGR of 2.3%. Unfortunately, the same can't be said about share performance, using the LOWEST quoted price in 2004 of 19.6 per share as investor would have a capital return of roughly 27.55%. The main reason for this underperformance is the price investors were willing to pay for forward earnings. INTC routinely traded at a P/E above 20 from 2004-2009 reducing in my view the effectiveness of a share repurchase plan. IBM in the same time frame never traded above a 20 P/E with most reading coming in at 14 or less. I don't blame previous management for repurchasing shares; I just wished they were a bit more selective in doing it.
The ten year view of INTC in my view masked some of the recent weakness in returning funds to shareholders. INTC last dividend increase was in September of 2012, which is very disappointing to say the least. To further compound matters, the company is reducing the amount spent on share repurchases. For 2013, INTC repurchased slightly more than 2 billion dollars worth of shares down roughly 3 billion from the year before.
IBM continues to plow forward with its very effective strategy of yearly dividend increases and share repurchases. For 2013, IBM spent roughly 14 billion in repurchasing shares coupled with a dividend increase announced in the second quarter. In my view, I would rather own a security of a company that consistently raises its dividend over one that may pay out a higher rate yet the dependability of yearly increases isn't there.
In conclusion, INTC and IBM are similarly challenged large cap companies. Both are attempting to transform their respective businesses to meet the new needs of their clients. For my particular investing style, I favor the consistency and predictability of IBM's business model versus the more cyclical nature of INTC. I thank you for reading and I look forward to your comments.
Disclosure: I am long IBM, . I wrote this article myself, and it expresses my own opinions. I am not receiving compensation for it (other than from Seeking Alpha). I have no business relationship with any company whose stock is mentioned in this article.
Additional disclosure: Investors are always reminded that before making any investment, you should do your own proper due diligence on any name directly or indirectly mentioned in this article. Investors should also consider seeking advice from a broker or financial adviser before making any investment decisions. Any material in this article should be considered general information, and not relied on as a formal investment recommendation.