"At PIMCO we always try and be open with the press and the public. I mean, isn't that what voters want from their politicians?" - Bill Gross
One of the most anticipated dialogues of the year concerning the global economy and markets is the January Barron's Roundtable discussion, which features several top pundits of the investment community.
The Roundtable discussion mostly revolved around stock pickers, however one prominent investor who always takes part in the commentary is PIMCO's Bill Gross, also known as "The Bond King."
Income investors who take part in the domestic stock market and bonds are always eager to hear Gross out, to learn where he puts his money and to decide if following the King's advice is prudent.
On the January 25, 2014 issue of Barron's Magazine, part 2 of the Roundtable discussion was recapped with Bill Gross's picks, which is available online here.
The argument Gross presents follows the strategy that capitalizes on a continued steep yield curve. The chart below showcases the current yield curve (royal blue), as well as the change from one year ago (sky blue) and one month ago (purple).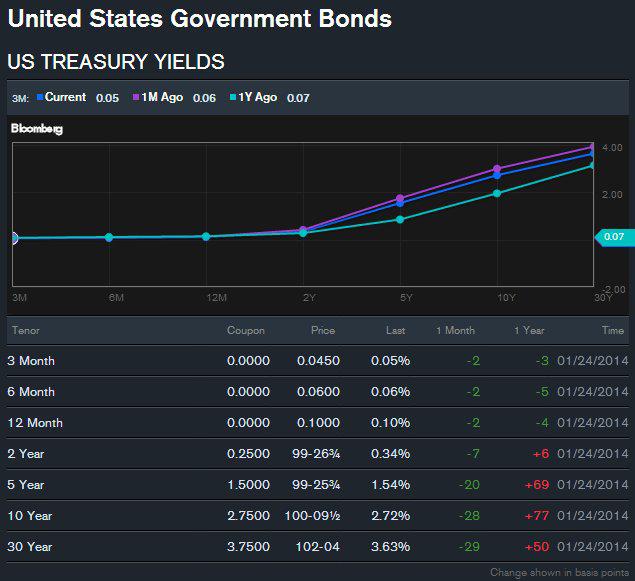 As noted by the current vs. one year ago bond prices, the curve has steepened. According to Gross, the sweet spot in the curve is the intermediate-term range, which he explains as five to six-year maturities.
The argument goes that if the curve remains steep, that intermediate-term issues will appreciate as they come closer to maturity. He calls this a "roll-down" strategy, which counts on short-term rates remaining low, thus keeping the steep yield curve intact.
1. PIMCO Dynamic Income Fund (NYSE:PDI)
The first Gross selection for 2014 is the PIMCO Dynamic Income Fund , a closed-end fund which trades at a 3.4% discount to NAV. The fund currently invests primarily in non-agency securities and holds some corporate bonds.
Bill Gross not only recommended PDI as his first choice for the Barron's Roundtable discussion, he also put his money where his mouth is. Gross currently owns nearly $3MM in PDI shares, which was also his largest insider purchase in the last six months.
The management team at PDI is Daniel Ivascyn and Alfred Murata, who were just named Morningstar Fixed-Income Fund Manager of the Year 2013 for the performance of the PIMCO Income Fund, which trades both institutional shares (MUTF:PIMIX) and class D shares (MUTF:PONDX).

The fund managers use a very similar strategy with PDI as they do with PIMIX, however PDI uses leverage to enhance results. PDI currently yields 7.67% on market price, with a current effective leverage rate of 45.45%.
Last week Morningstar also released 2013's Best-Performing Taxable-Bond CEFs, where PDI was ranked #1 for a total NAV return of 16.6% (which includes dividend reinvestment).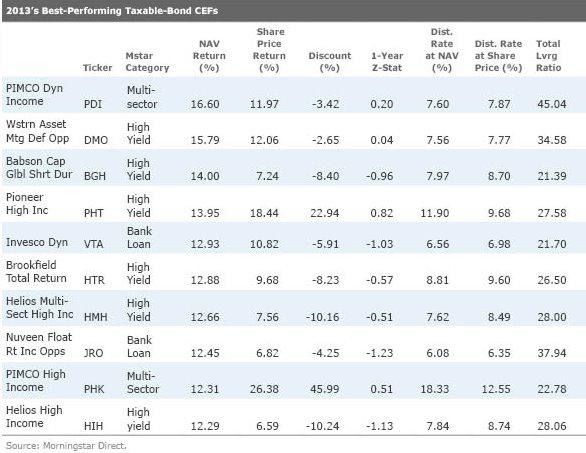 To make the icing on the cake, Daniel Ivascyn has been named this month as one of two deputy CIOs. Not only has he outperformed peers, he is stepping up to become a visible executive at the PIMCO team.
Speculation calls on Ivascyn as a top succession candidate to Bill Gross, as previous succession shoe-in Mohamed El-Erian just announced his resignation last week as CEO and co-CIO, which will be effective as of mid-March 2014.
2. PIMCO Municipal Income Fund II (NYSE:PML)
For investors interested in tax-free income, Gross recommends the PIMCO Municipal Income Fund II as his second Barron's pick.
PML was a poor-performing fund last year, losing on both NAV and market price. Currently, the fund has regained its premium, which sits at 0.44%, while distributing 6.92% in dividends on a monthly basis.
Gross notes that PML does not own Puerto Rico or Detroit debt, which investors currently fear. The fund invests in longer-term assets to find yield, which is a negative for investors looking to hone in on the "sweet spot" in the yield curve as Gross has previously mentioned.
3. Reaves Utility Income Fund (NYSEMKT:UTG)
UTG is a fund that Gross has recommended in the past, which is aimed at utility investors. The fund uses leverage to enhance results and currently trades at discount of 8.16% to NAV. The yield is 6.5% and is distributed monthly.
UTG is diversified into several categories, all related to utilities such as electric utilities and telecom.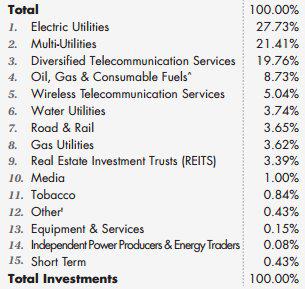 The top ten holdings include Verizon Communications Inc. (NYSE:VZ) and AT&T, Inc. (NYSE:T).
For those who are looking for a deeper discount in the utility space, the Cohen & Steers Infrastructure Fund (NYSE:UTF) is a great alternative that is worth researching. UTF trades at a 12.07% discount to NAV while offering a yield of 6.99%, distributed quarterly.
4. PIMCO 0-5 Year High Yield Corporate Bond Index ETF (NYSEARCA:HYS)
The final Gross selection for the Roundtable is HYS, a high-yield corporate bond ETF that concentrates on the shorter end of the yield curve. According to Gross, if yield spreads widen, HYS is better protected with shorter maturities.
In my opinion, HYS may be a great play here however, the PIMCO multi-sector bonds CEFs such as PTY, PDI and PCI offer fixed-income diversification and leverage that offers higher yields and overall better results.
To learn more about PDI and UTG, please read 5 High-Yield Monthly Income Investments For 2014, which offers analysis on both funds.
Disclosure: I have no positions in any stocks mentioned, and no plans to initiate any positions within the next 72 hours. I wrote this article myself, and it expresses my own opinions. I am not receiving compensation for it (other than from Seeking Alpha). I have no business relationship with any company whose stock is mentioned in this article.