Qualcomm (NASDAQ:QCOM) has been slowly gaining attention from institutional and retail investors. Last fiscal year their revenues were up 30% from the year prior, which is amazing for the No. 2 weighted company in the Nasdaq 100. We track the top 12 companies included in the Nasdaq 100 and Qualcomm stands out as a business that deserves the increasing attention.
The company's first-quarter earnings are set to be announced on Jan. 29, and according to CEO Dr. Paul Jacobs, they forsee double-digit compound annual growth this year and the next several years afterward. The assumption is that 3G/4G/LTE adoption will increase across the world, with China being a major growth sector for the technology. Qualcomm is well positioned as the supplier for that growth.
Although it's easy to see the Qualcomm bus heading down a wide open freeway to profits in chips and licensing, there are several issues that have the potential to slow down that growth:
R&D expenses for CDMA-related technologies continues to rise. Maintaining a position in this space is critical for Qualcomm's position as the pseudo research arm of the cellular industry. If they can't keep innovating for the industry, the industry will find other ways to advance.
All growth comes with increased expenses and optimally, a rationalization of those expenses. With double-digit growth every year, Qualcomm needs to display a measured approach to allowing their SG&A expenses to grow.
Two-thirds of Qualcomm's current revenue comes from semiconductors. Qualcomm will need to carefully allocate resources to maintain this growth in light of the growing cellular licensing opportunities coming to the table.
At the end of their last fiscal year, Qualcomm laid out a revenue projection for Q1 of $6.3B-$6.9B. Wall Street is coming in on the high end with a $6.69B consensus, and the Estimize crowd is coming in a little higher at $6.71B based on 22 estimates. The revenue generation capability does not appear to be impacted and a beat of the Wall Street number is certainly possible.
More interesting to us is the earnings per share (EPS) as the headwinds that Qualcomm faces are mostly in turning those revenues into profits (higher R&D, higher general expenses, etc.). Qualcomm projected a $1.10-$1.20 non-GAAP EPS (adding back in QSI, share-based compensation, and acquisition-related items). Meanwhile, the Street is looking for the full $1.20 and the Estimize crowd is looking for even higher at $1.23. Certainly a beat here will be a positive signal to institutional investors and has a high probability of pushing the stock price higher.
So, what do we know about the business that could lead to a beat? Think about those things that might slow down the Qualcomm bus and what Qualcomm is doing to ensure an open road:
The R&D expenses that continue to rise will be critical. Earlier this month Qualcomm announced the acquisition of 2,400 mobile patents from Hewlett-Packard (NYSE:HPQ). HP obtained the patents with the acquisition of Palm and has been trying to monetize the IP that maintains importance in the mobile industry. This is a great way to monetize those patents for HP and will make 4G licensing sales to mobile phone manufacturers much easier for Qualcomm. Bundling added features from this new treasure trove will continue to keep this part of the freeway open for Qualcomm.
SG&A appears to be something that Qualcomm is addressing with the rest of their growth. Last quarter expenses were only up 4.78% from the year prior, while R&D expenses were up 20%. If SG&A begins to grow rapidly, we'll have some concerns about how this bloat will impact the business.
Semiconductors need to stay on track while the mobile business continues to be strengthened. The opportunity for Qualcomm to participate in the semiconductor and mobile licensing for the growth of the Internet of things is tremendous; however, the amount of attention on this space means that Broadcom (BRCM) and Intel (NASDAQ:INTC) will have a high desire to take some of this business.
One gotcha will be the QSI (Qualcomm Strategic Initiatives) segment. This is a grouping of strategic investments that Qualcomm expects to exit outside of their normal business cycle. This means the losses here may be higher than is acceptable in other parts of the business and this may bring the GAAP earnings down significantly.
What do we observe about the investor's behavior that could indicate how the price will react to earnings in a few days? Here are two charts that should help us get some situational awareness. First, the big-picture monthly bar chart.
Click to enlarge images.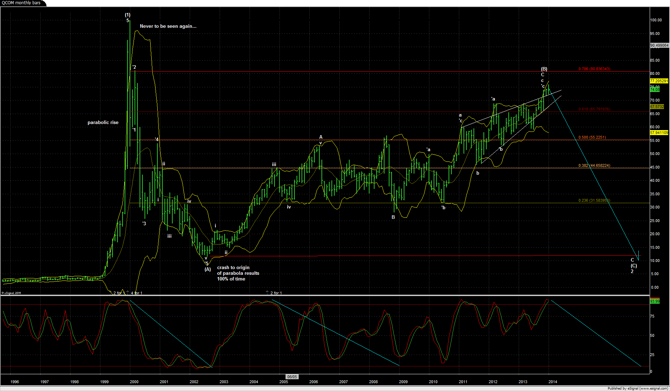 Everything about price must start at either the top or the bottom. Prices have yet to break above the all-time highs, so we will start at January 2000 as the top. From the top, there is an impulsive Elliott decline to the 2002 low, which we've labeled wave (A) down. The entire rise from the 2002 low to the current price levels is an overlapping corrective structure, which we've labeled wave (B). There are other ways to label the sub-waves, but the conclusion is the same: The wave is ending in the current price zone.
Our blue vector shows that a wave (C) should bring the price to test the 2002 lows over the next several years. History shows being long (especially leveraged long) with stochastics at these overbought extremes is a sub-optimal place to be. Even if investors only provide support in the low $30s, that is more than 50% below current levels.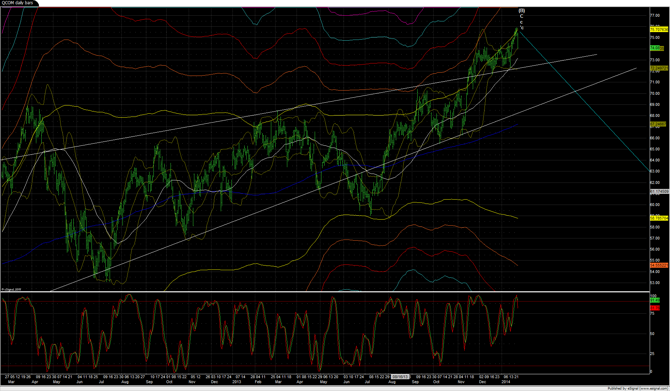 The second chart zooms in on the last couple years of price action, and has the same near-term conclusion. The vast majority of the upward energy has already been expended by the crowd, and odds strongly favor any earnings-related upward pop will be quickly reversed. We see this risk coming primarily from pricing pressure in semiconductors and difficulties continuing to grow R&D innovation at a steady pace.
We've already seen some retracement ahead of earnings during this recent market sell-off. Institutional investors are clearly seeing profit taking opportunities ahead of earnings. Note what follows after prices "thrust" above the upper white contracting triangle line: very sharp declines for several months. With the new cross-down of these daily stochastics, the path of least resistance must be seen as downward for the coming few months.
We will want to see strong indications of R&D growth, new licensing agreements, and a maintenance of the semiconductor business around the earnings time frame. If Qualcomm is unable to hit on these areas full throttle, our DSE (decision support engine) rates Qualcomm an immediate sell in the $70s, with $63 (+/-3) as the initial target over the next six to 12 months.
Disclosure: I have no positions in any stocks mentioned, and no plans to initiate any positions within the next 72 hours. I wrote this article myself, and it expresses my own opinions. I am not receiving compensation for it (other than from Seeking Alpha). I have no business relationship with any company whose stock is mentioned in this article.