YuMe Inc. (NYSE:YUME) stock has not done much after going public in July. There are two major reasons for this muted response:
Tremor Video Inc. (TRMR) came out with disappointing results
Questions over delay in the company's programmatic buying solution
There is little merit in these concerns. Looking at upcoming catalysts and the fundamentals of the business, this muted response may not last long and an in-depth analysis of the business should address these concerns. Milestones that may truly differentiate YuMe stock and fundamental performance, in the coming months, are:
Rollout of YuMe's programmatic strategy
Rise of "

cookie less" advertising

Mobile video growth to help cross platform video advertising
Improving earnings estimates
These should clearly define YuMe's executional and product differences compared to weak performers in the space. The business is well positioned in the fast growing video advertising space, which is rapidly getting interconnected across various screen types and looks very attractively valued. With annual EBITDA run-rate of $24 million (guidance Q4) and an enterprise value of less than $200 million, the stock has room for earning and multiple expansions.
Macro outlook is great: Emerging sub-sector growing rapidly
YuMe is a significant player in online video and mobile advertising, which are among the fastest growing segments of digital advertising. eMarketer expects the digital video market to grow 39% in 2014 and online video advertising to grow at 29% CAGR through 2016. Within online video advertising, mobile video advertising is expected to grow at 71% CAGR through 2016. Currently, it's still a tiny portion of total U.S. advertising spend. Online video advertising at $3-4 billion is 2% of total U.S. advertising spend.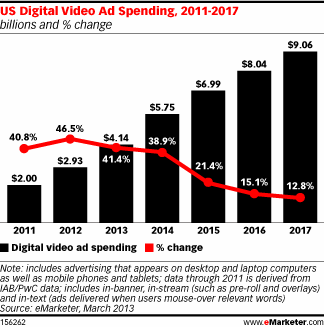 Advertisers are trying to reach a younger audience, who is moving away from the television and more towards online platforms like YouTube, Netflix and Hulu.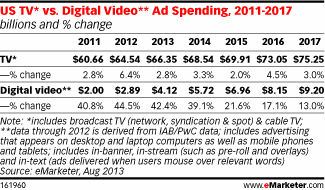 Out of the total video advertising budget, much of the growth going forward is towards digital video advertising as traditional TV spending is expected to grow at low single digits. YuMe, with its ability to offer digital video advertising across different screen types, is a direct beneficiary of this trend. Inventory shortages in the space are helping the players and CPM rates, which should stay stable.
YuMe platform can deliver better than others
YuMe is delivering better than others due to a well-differentiated, sound and scalable platform. Some of its features that are truly differentiated in the current ad tech space are:
Interconnected platform
Ready for

cookie less advertising

Revenue share around Placement Quality Index (PQI)
Users are adopting various platforms like mobile or TV to consume digital content. YuMe is the only provider with embedded software for all major screen types or digital platforms - smartphones, tablets, web-video players, connected gaming consoles and connected TV's. Revenues from mobile and connected TV doubled in the last quarter, which attests to the value of interconnected platforms.
The use of cookies as an effective targeting tool is increasingly coming up against privacy and technological issues, both from users and advertisers alike. YuMe's Audience Amplifier technology utilizes its proprietary SDK's embedded on devices, cookies and contextual targeting tactics, which is ideal for higher end premium advertising across various screen types. Use of the"cookies only" approach has serious technological and scale limitations in video advertising, especially on tablet, mobile and connected TV.
Scalability and operating leverage, visible so far, is sustainable since YuMe's Placement Quality Index (PQI) is based on detailed audience targeting and forms the basis of its revenue share arrangement with publishers. For advertisers, it provides more accurate audience targeting.
The company is executing much better than Tremor
One of the biggest concerns for YuMe and ad-tech investors has been Tremor's performance. Tremor's third quarter results fell much short of expectations with revenues growing by 17% from last year. Guidance was equally bad with revenues set to decline by 15%. Tremor's over-reliance on desktop is making things difficult for the company.
Besides the product portfolio, the difference between Tremor and YuMe is evident from the fundamentals too.
YuMe executing much better than Tremor

Revenue growth

Q3 2013

Q2 2013

Q1 2013

2012

2011

Comment

YUME

39%

36%

33%

70%

32%

Faster growth

TRMR

17%

41%

43%

16%

Gross margins

YUME

48%

46%

45%

46%

38%

Higher margins

TRMR

40%

47%

44%

42%

35%

EBITDA margins

YUME EBITDA margins

4%

2%

-6%

10%

-11%

Higher returns

TRMR EBITDA margins

0%

6%

-11%

-7%

-12%
Going forward, this divergence seems to be expanding with Tremor's revenue expected to grow 18% compared to YuMe, which is expected to grow 30% using very conservative estimates.
It is a mistake to paint both the companies with the same brush, but an opportunity for investors to invest in a business with good technology and dominant share, while trading at a discount.
YuMe is rolling out fully enabled programmatic buying solution
Ad-tech investors are excited about programmatic buying and selling, which is partially fueled by the excitement around another video advertising name - Rocket Fuel Inc. (NASDAQ:FUEL). YuMe investors are somewhat concerned about the lack of fully enabled programmatic buying and selling distribution model, which YuMe should rollout this year.
Currently, YuMe predominantly uses the traditional Request For Proposal (RFP)/ IO sales process, but the platform is built for real-time targeting, delivery & optimization, so enabling programmatic buying is just a matter of adding another distribution model for the company. Programmatic buying is a software based self-service tool and YuMe is mainly selling directly to ad agencies and brand advertisers. Since programmatic business would be a different distribution model, it should have a limited cannibalization effect on existing revenues.
CEO, Jayant Kadambi, said the following in the most recent conference call regarding plans to rollout programmatic buying,
"In 2014, we intend to complement the vast audiences and inventory that YuMe Network publishers represent with additional source of traffic and inventory, including major public and private video advertising exchanges…We will augment the sales model to support advertisers seeking more efficiency and reach through programmatic solutions."
Not late to programmatic video ad buying party either
Investors might be concerned, but the market is still evolving. According to eMarketer, almost 33% of agencies and 25% of brands are still unfamiliar with programmatic ad-buying techniques. The survey also found that almost 50% of agencies and 45% of brands believed premium advertising was available through a programmatic environment. In such a marketplace, YuMe's more personal approach may be the right first step into the space.
According to Accustream Research, out of total media spend of $7.2 billion by video ad networks, trafficking platforms and programmatic systems, video ad networks cleared 17% of video spend, trafficking platforms delivered 56% and programmatic systems handled 27%. Total media spend growth of 44% last year attests to the promise of programmatic solutions.
Earnings have significant room for growth
For the third quarter, both revenues and EBITDA were above the company's guidance and street expectations. Even after revenue growth, margins expansion and operating leverage of last quarter, there is substantial room for improvement, especially compared to the company's target model.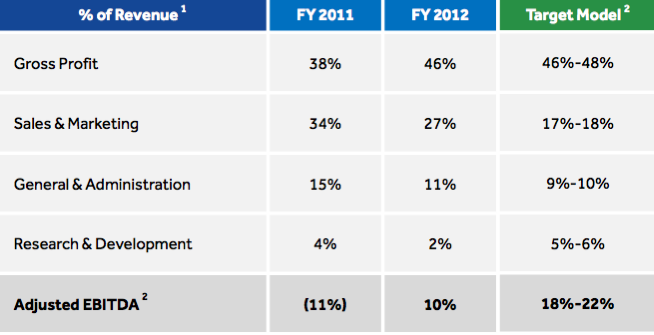 Source: YUME presentation
Due to revenue growth opportunities
YuMe has guided for 30% growth, which looks very conservative considering historical trends, current market and even seasonality. Last quarter, YOY revenue growth was 39%, but excluding presidential political spending in 2012 it was 53%. Looking at the trends, growth is clearly accelerating.
| | | | | | | |
| --- | --- | --- | --- | --- | --- | --- |
| YuMe Growth rate | LTM | Q3 2013 | Q2 2013 | Q1 2013 | 2012 | 2011 |
| Customers | 30% | 45% | 26% | 28% | 52% | 18% |
| Average revenue per customer | 8% | -5% | 7% | 2% | 16% | 121% |
| Total Revenue | | 39% | 36% | 33% | 70% | 32% |
Going forward, the Street's 30% annual growth expectations may prove conservative, especially looking at the following:
Rollout of programmatic offering, as discussed earlier
International markets, which grew at 100% and make 10% of total revenues
Mobile and connected TV markets, which doubled from last year
Besides these, growth should also come from market penetration, as the company still has only 563 customers and 70 of the Ad Age Top 100.
Due to margin expansion opportunities
The company's proprietary Placement Quality Index (PQI) has a somewhat direct relationship with volume, which in turn should help the gross margins. The revenue share model with publishers is based around the company's PQ index, so scale-related savings help gross margins. This trend is evident from the previous results:
| | | | | | |
| --- | --- | --- | --- | --- | --- |
| | Q3 2013 | Q2 2013 | Q1 2013 | 2012 | 2011 |
| Revenue growth | 39% | 36% | 33% | 70% | 32% |
| Gross margins | 48% | 46% | 45% | 46% | 38% |
Besides the gross margins, cash margins show a similar trend:
| | | | | | | |
| --- | --- | --- | --- | --- | --- | --- |
| | Q4 Guidance | Q3 2013 | Q2 2013 | Q1 2013 | 2012 | 2011 |
| EBITDA margins | 10% | 4% | 2% | -6% | 10% | -11% |
Substantial room for earnings upside
Street estimates are for 30% revenue growth and 17 cents EPS for 2014 but even if we use normalized yet conservative estimates, the earnings number looks a lot different.
| | |
| --- | --- |
| IF target achieved | 2014 |
| Revenue Growth | 40% |
| Revenue ($M) | $220 |
| Gross Margins | 47% |
| Operating Margins | 8% |
| Net margins | 5% |
| Share count (NYSE:M) | 32 |
| | |
| EPS | $0.36 |
In terms of leverage, a back of the envelope calculation shows
Every 1% of operating expense reduction results in almost 5 cents of EPS improvement.
Every 10% increase in revenue growth results in approximately 3 cents of EPS increase
Considerable value, if one digs a bit
The best way to ignore the value on offer is to look at it based on trailing earnings, where it looks very expensive. Let's dig a bit and value the franchise:
Valuing on cash earnings basis

Market cap

$235

Cash

$64

Enterprise value

$171

Guidance Q4

2014

2013

2012

EBITDA margin

10%

14%

5%

12%

EBITDA

$6

$29

8

$12

EV/ EBITDA

7 (annualized)

6

21

14
If we value on the EBITDA basis, the stock at 7 times next year EBITDA certainly looks like a bargain. It's important to note that company's target EBITDA margins are in 18-22% range.
Valuing YUME at a customer level

Market Cap ($M)

$235

Cash ($M)

$64

Enterprise Value ($M)

$171

Enterprise value of average customer

Customers (ttm.)

563

EV/ Customer ($M)

$304,521

Avg. revenue/ customer (ttm.)

$248,000

EV / Avg. revenue per customer

1.2
At current valuation, every customer that generates approximately $250,000 is being valued at an enterprise value of $304,000.
Valuing on comparable acquisition value

Adap.tv price paid ($M)

$405

Adap.tv est. 2013 revenue ($M)

$130

P/S paid

3.1

YUME P/S (2013)

1.5

Discount to Adap.tv acquisition price

52%
Last August, AOL Inc. (NYSE:AOL) acquired Adap.tv for $405 million. YuMe is trading at almost 52% discount, if valued on similar multiples.
There is a strong pipeline of IPO's in the sector that is sure to draw interest and coverage of the space. Some of the most promising candidates are Rubicon Project, Tubemogul, Brightroll and SpotXchange.
Conclusion:
Concerns over the name are overblown and providing an opportunity for investors looking for a fast-growing business at a reasonable price. Good results, rollout of new offerings and coverage should remove any outstanding doubts in the coming months. My target price is $15.
Disclosure: I am long YUME. I wrote this article myself, and it expresses my own opinions. I am not receiving compensation for it (other than from Seeking Alpha). I have no business relationship with any company whose stock is mentioned in this article.