By Evelyn Rusli
Rhapsody is going solo and cutting prices along the way. The digital music service is spinning off from its parent companies, MTV/Viacom and RealNetworks (NASDAQ:RNWK). The newly independent company is called: Rhapsody International. In honor of its new status, the company is also releasing an Android app and dropping its premier monthly subscription fee by a third to $9.99 a month, from $14.99.
"We are free to move forward and chart our own market course," says Rhapsody's President Jon Irwin.
Under the spin-off, which was initially announced in early February, RealNetworks and MTV/Viacom will each maintain a 47.5 percent stake in Rhapsody, according to an SEC filing this Tuesday. The restructuring will leave Rhapsody with a nice nest egg: Real Networks provided $18 million in cash, in addition to content licenses and other assets in exchange for stock while MTV/Viacom promised $33 million in free advertising for its share. In addition, there are two minority stockholders which own the remainder of the company, including Vivendi's Universal Music and a private investor (who owns a relatively small portion).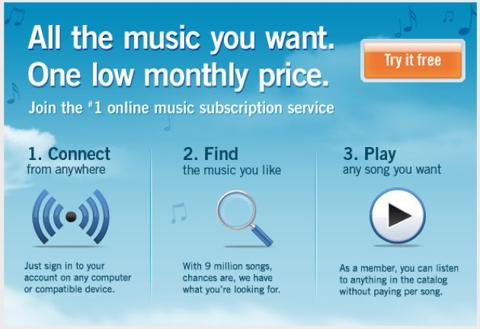 Rhapsody International also announced the official launch of its Android app today. The app, which is free to download and free to try for seven days (afterward you pay $9.99 a month for a subscription), gives users full access to Rhapsody's entire catalogue.
The hefty price cut to $9.99 is just another acknowledgment that the music subscription market is getting fiercely competitive. Rhapsody, under the RealNetworks/MTV umbrella, has struggled to grow its subscriber base and stay ahead of the mobile app curve. In fact, Rhapsody has been slowly bleeding customers, the company had roughly 750,000 subscribers at the end of June 2009. In less than a year, that number is down to roughly 675,000. Meanwhile, competitors are nibbling at their turf: Spotify is preparing for its US launch, Apple (NASDAQ:AAPL) just acquired Lala.com, and MOG recently launched its All Access music service.
The company is still deciding how it will communicate its subscriber numbers going forward. However, he says Rhapsody's growing increasingly optimistic on the iPhone and the new Android apps— so far its iPhone app has enjoyed more than 1.5 million downloads. In addition, the company is releasing a Blackberry app by the second half of this year and hopes to become profitable for the fourth quarter as well (the business currently generates about $130 million in annual revenues). While he acknowledges that his top competitors like Spotify and Thumbplay are generating serious buzz, he says Rhapsody is best positioned to eventually dominate the mobile space: they're "really starting from scratch, we're on the path to profitability, we have the proper funding in place and significant marketing in place, with a history of partnerships like Verizon (NYSE:VZ), Sonos…that we can expand upon."\