Having been a Groupon (NASDAQ:GRPN) user for the past two years, I am inclined to go against investor sentiment and take a long term position that I believe has a chance of paying off significantly.
Flash-sales have become popular recently since Groupon pioneered the method. Many smaller operations have mimicked the method of sales which encouraged skeptics and short-sellers to isolate that factor as their justification for shorting the shares. However, I believe that fact is tangential to the larger story of what will allow Groupon to continue its growth trajectory over the long term.
The timed sales aspect is an impetus to get consumers to act more quickly but that alone is not what makes Groupon successful. It is a necessity more than anything and not the reason why consumers are there in the first place. What I believe is the key to Groupon's success is that many consumers, myself included like inside deals. As a member of both Costco (NASDAQ:COST) and Wal-Mart's Sam's Club (NYSE:WMT), I can relate to the fact that there are items that tens of millions in America like to purchase wholesale. When buying products wholesale, one is agreeing to buy bulk for a better price - in advance.
Although they are also increasing their tangible product sales as demonstrated by their recent acquisition of online flash sales fashion retailer Ideeli, the major part of their deals are in services and other intangibles. From that perspective, Groupon could be regarded as a Costco - for services. It allows consumers to obtain a special price on all kinds of entertainment, dining, vacation packages, auto-repair, carpet cleaning etc.
In the sense that Groupon has pioneered a new way of conducting discount retail with an existing medium, it reminds me of the beginning of HSN & QVC. Bud Lowell Paxson took a broadcast medium, one that had existed for decades and monetized it in an innovative way. Products had been sold on television before but not in the way HSN did it with timed-sales. My impression when those networks came on the scene was ambivalence. I never dreamed that so many millions of consumers would become obsessed to the degree they have, turning television shopping into a multi-billion dollar industry.
A year ago, I suspected that Groupon might be an acquisition target for John Malone's Liberty Media, thinking it might be an extension of a QVC run by Dr. John C. Malone or HSN. The flash-sales or timed sales aspect of Groupon has some similarities to the way home shopping works on television; so I had envisioned some possible synergies and cross-promotion benefits between the two businesses.
With HSN (HSNI) at a mere $3 billion market capitalization, it would no longer be feasible considering Groupon's current valuation. As Groupon reportedly turned down a $5.3 billion offer even before going public and currently valued at $7 billion, I believe we are at the floor at this point. Although Malone's Liberty Media (LMCA) could feasibly make a deal, I no longer think it would be likely to happen.
As we have seen with Amazon.com, companies that are early movers and gain critical-mass can dominate sectors for decades even if there is little barrier to entry to their market. Groupon can potentially be to services, what Amazon (NASDAQ:AMZN) is to merchandise. Amazon would certainly like a piece of the action as evidenced by its investment in Living Social, however, there is room for competition and I believe Amazon is spread thin in its many endeavors (like competing with Netflix).
Groupon has a jump start, strengthening brand and is in a class practically by itself. The growth potential in the US alone is so profound that my focus is on execution of strategy and their gaining critical mass - more than guessing or quibbling over a few pennies per share at this point.
Out of a $16 trillion annual GDP, Arts & Entertainment account for $600 billion in annual spending in the US alone. That's just one segment and does not account for others in which Groupon participates.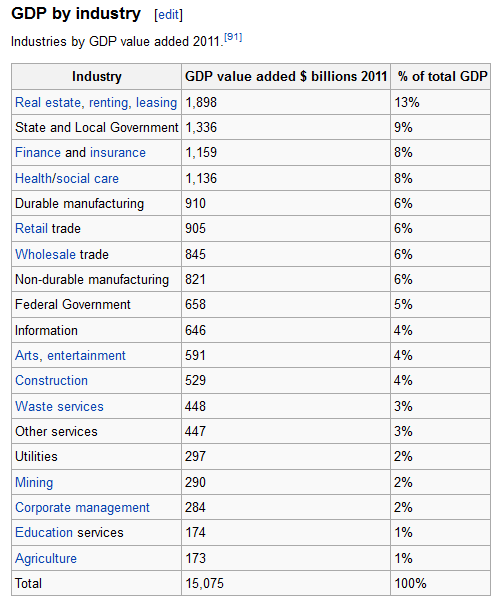 Groupon is currently operating in 44 countries and based upon the trillion dollars plus annual expenditures the segment represents, I'm looking for a potential three-fold increase in market cap over the next two years and believe it can continue solid growth for a decade.
If Groupon dominates the way I suspect they will, a five-fold increase in investment could be achieved before a three-fold increase in stock price if one uses the LEAPS. Option premiums are rather high these days on the greatest performers of the past year. If you want to speculate on further revenue and earnings surprises on companies like Netflix, Tesla, LinkedIn or Yelp, you are going to pay high premiums for the LEAPS. I have already made my returns on half of those and am looking for the next such opportunity - before I have to pay a high premium.
Groupon is not a little darling among options traders as of yet. The time-value premiums I have paid for Groupon leaps are so diminutive that it makes little sense to buy the shares. I have been purchasing the January 2016 Calls with the $5 Strike price. As you can see from the quote below from the CBOE, the options are in the money by more than $5.00 a share, yet remarkably, one can buy two years of time at the $5 strike price for just a little over a buck per contract.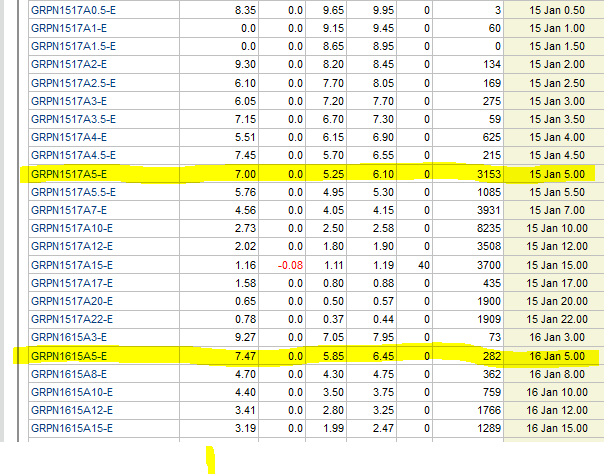 That is the kind of deal I look for as a value investor who occasionally uses options. My thesis is totally fundamental. I care nothing about what anyone's chart says, have no momentum concerns and am just an investor who believes this company is going to execute well under new leadership and grow it's market cap substantially.
This has been a year of the comeback. As we have seen Facebook stage a rally after a year languishing far below its IPO price, if we see Groupon reach its $20 IPO price from 2011, these contracts would be in the money enough to take them from$600 to $1,500 without accounting for time value. It could go substantially higher if this stock comes back in favor and the options holder has over a year left in time value.
There is plenty to discuss as I have read the contentions of naysayers, including one advanced years ago by a Wharton professor who wrote that the business model is doomed to fail. I disagree but understand the line of reasoning. There are plenty of theories to debate that were not addressed here and I look forward to doing so in the discussion certain to ensue below in the comments section.
Disclosure: I am long GRPN, . I wrote this article myself, and it expresses my own opinions. I am not receiving compensation for it (other than from Seeking Alpha). I have no business relationship with any company whose stock is mentioned in this article.