In general, I believe that certainty breeds investing success. So even if the long-term ramifications on large-scale health care legislation is poorly understood, the near-term certainty of passage should have produced market-beating gains for Health Care ETFs.
Beyond my certainty-uncertainty reasoning, you also have traditional undervaluation in a lot of health care stocks. You have a large number of M&A transactions in biotech. You even have recent historical examples (e.g., Citigroup, AIG, GM, etc.) where following the government's involvement has benefited investors.
However, in the 11 trading days since Congressional approval, Health Care ETFs are not yet in a leadership position. Here's how they have fared:
% Gain
iShares Medical Devices (NYSEARCA:IHI)
2.34%
PowerShares Dynamic Biotech and Genome (NYSEARCA:PBE)
2.02%
iShares Nasdaq Biotechnology (NASDAQ:IBB)
1.22%
State Street Biotech (NYSEARCA:XBI)
0.53%
Vanguard HealthCare (NYSEARCA:VHT)
0.33%
SPDR Select Health Care (NYSEARCA:XLV)
0.09%
Pharmaceutical HOLDRs (NYSEARCA:PPH)
0.06%
iShares Healthcare Providers (NYSEARCA:IHF)
0.04%
S&P 500
2.42%
Medical Devices (IHI) have long been one of my favorites. Yet, the sub-sector only performed on par with the stock market melt-up. Moreover, it might not have done that well, were it not for a timely dividend payment.
Perhaps we might expect the hospitals and insurers to struggle. Yet biotech and pharma's underperformance is a bit surprising to me.
Is it too early to assess legislative impact on the industry's performance? Possibly. Or maybe the market's melt-up will continue favoring financial stocks and consumer stocks… at least until bad news is more difficult to spin.
An overbought market in the near-term? Well, 5 consecutive weeks of incremental gains, plus a 6th that is in terrific shape. The path of least resistance is certainly higher, but the same could be said for a very ugly yield trend.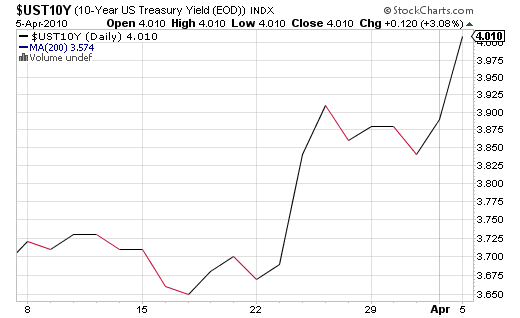 You can listen to the ETF Expert Radio Show "LIVE", via podcast or on your iPod. You can review more ETF Expert features here.
Disclosure Statement: Gary Gordon, MS, CFP is the president of Pacific Park Financial, Inc., a Registered Investment Adviser with the SEC. The company and/or its clients may hold positions in the ETFs, mutual funds and/or index funds mentioned above. The company does not receive compensation from any of the fund providers covered in this feature. Moreover, the commentary does not constitute individualized investment advice. The opinions offered herein are not personalized recommendations to buy, sell or hold securities.